What is Twitch? It is a popular online service used to stream and watch digital video broadcasts. While you may have heard that it is for video games, it has expanded to include streams dedicated to a variety of content, including music, talk shows, art, and more. It isn't just for your teenage nephew anymore. Streaming has grown at a fast rate over the last few years, but Twitch remains number one. In this article, we will tell you everything you need to know about this service to give an in-depth answer to "What is Twitch?" including the biggest streamers on it, how to become a Twitch Affiliate, all about Twitch Extensions, and more. We will even discuss why it is one of the best live-streaming videos for business.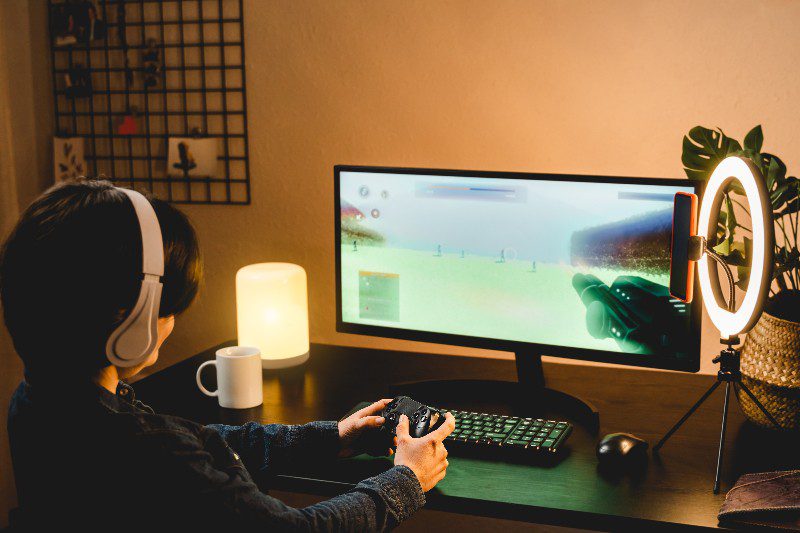 Understanding This Streaming Platform
Have you ever watched someone play video games online? If so, you most likely have used Twitch and have some understanding of "What is Twitch?" At its base, it is Amazon's video game streaming service. It is an interactive live-streaming service for content including gaming, entertainment, sports, and music. Its leading driver of traffic, however, is video games. It is one of the highest sources of internet traffic in North America. It currently has 140 million monthly active users. There are also more than nine million unique broadcasters per month.
History
It began as a spinoff division of justin.tv and gaming was the main priority. However, it became so popular it led to an entire rebrand of justin.tv and a redefinition of "What is Twitch?" The name was changed to Twitch Interactive in 2014. Later that year, Amazon bought the platform.
Roblox vs. Twitch
If you are newer to the world of online gaming, you might be wondering about how Roblox compares to Twitch. While Twitch is a live streaming app, Roblox is an online game platform and game creation system. 
How to Get This Streaming Platform
It is available for streaming on many platforms. You can go to the official Twitch website. Or, you can get the Twitch app, which is available on iOS, Android, Windows, Mac, PS4, PS5, Xbox One, Xbox Series XIS, and devices like Apple TV and Chromecast. You can create a Twitch account for free.
Streamers
Twitch streamers "broadcast" their gameplay or activity by sharing their screen with fans and subscribers who can hear and watch them live.
Top Streamers
The number one streamer on Twitch is Ninja, with more than 18 million followers on his channel. Auronplay and Rubius are quick on Ninja's heels. Kai Cenat is also growing rapidly. Some other top streamers on Twitch are Tfue, xQc, and Shroud. However, Tfue recently retired from streaming.
How Much Does a Twitch Streamer Make?
Smaller streamers get between $50 and $1,500 monthly, depending on their subscriber base and how much they interact with fans. But it is possible to make a living for Twitch. Many successful Twitch streamers make between $3,000 and $5,000 monthly from subscriptions. The most famous and popular streamers can earn between $300,000 and $500,000 per month!
Twitch Female Streamers
Unfortunately, women on Twitch have struggled to get the same viewership figures as men. However, more and more females are attracting major viewerships on Twitch. Some of the most-watched female Twitch streamers include:
Amouranth

Ironmouse

Saddummy

Jinnytty

39daph

Pokimane

Rivers_gg

Kyedae

Shylily

dda_ju
Twitch Emotes 
A Twitch emote is a Twitch-specific emoticon. Its goal is to engage and reward the viewers of a channel. Twitch emotes typically use custom art, illustrations, or the streamer's face. If you reach the Affiliate or Partner level, you can upload your own emote.
Twitch Emote Size
You are required to submit your potential emote in each of the three sizes: 28 x 28 pixels, 56 x 56 pixels, and 112 x 112 pixels.
Twitch Affiliate
If you want to earn real currency, and not just digital coins and treasures, you might want to consider becoming a Twitch Affiliate. A Twitch affiliate is a qualified streamer who can earn money by live-streaming video games, creative content, and musical broadcasts on the platform.
Twitch Affiliate Requirements
In order to become a Twitch Affiliate, you must meet four requirements: 
At least 500 total minutes broadcast in the last 30 days 

At least 7 unique broadcast days in the last 30 days 

An average of three concurrent viewers or more 

At least 50 followers
In addition, all of these must be completed within a span of 30 days. You can set goals and track your progress on the "Path to Affiliate Achievement" on your Creator Dashboard. Each time you complete a task, you will see a checkmark.
Twitch Partner 
If you are ready to level up from Affiliate, it's time to become a Twitch Partner. The Twitch Partnership Program is for creators who stream a variety of content. Twitter Partners are expected to act as role models to the community.
Twitch Partner Requirements
In order to become a Twitch Partner, you must meet the following criteria: 
Complete the Path to Partner achievement; or demonstrate large, engaged viewership and following on other services

Create content that conforms to Twitch's Community Guidelines, Terms of Service, and DMCA Guidelines 

Maintain these criteria on a consistent basis
Twitch Extensions
Extensions allow Twitch users to interact in more ways. You can use up to six extensions on your Twitch channel. These include two components, one overlay, and 3-panel extensions. 
Components: Component extensions are a part of the video (for example, closed captioning), but the viewer can hide them at any point.

Overlay: An overlay extension will appear over the video in a transparent way.

Panels: A panel extension is displayed in your Twitch "About Me" section. It might be a schedule, affiliate marketing, or even a mini-game. 
Alert Sounds for Twitch
One Twitch extension allows you to customize your sounds for Twitch alerts. Sound Alerts lets viewers play sound effects on your stream to celebrate special moments. It helps boost viewer engagement and strengthen your community.
Twitch and Digital Marketing
If you want to get your brand in front of a young, engaged audience, Twitch might be the answer. Twitch can also be used for marketing purposes. It is one of the best video streaming platforms for business. For example, you can use Twitch to promote your DJ business. For help with Twitch marketing, contact SEO Design Chicago!
FAQ: 
What is a Twitch Affiliate? 

What are the Twitch Affiliate requirements?

Who are the biggest streamers on Twitch?

How much do Twitch streamers make?

What is a Twitch emote?