Dance music is one of the fastest growing genres in the world. Whether you produce your own music for concerts or play hip hop at parties and events, a well-mixed DJ (disc jockey) set can get everyone out of their chairs and onto the dance floor. In this article, we'll examine some of the best practices for promoting DJ businesses with digital marketing!
5 Tips For Effective DJ Marketing
Whether you're a world-class DJ or just starting your career, marketing is hugely important for your DJ business. After all, you put lots of effort into your craft and you want people to see and hear you play music! Here are some useful DJ marketing tools to get your audience's attention.
Make A Website
If you want to know how to start a DJ business, other than buying a DJ controller or other DJ gear, creating a website is one of the first steps. When starting a business, you should have a website, and DJ businesses are no exception! Your website is the lifeline of your business: it has all of your information and it's usually the first thing that your fans or clients will see. Thanks to WordPress, it has never been easier to create a website for your business.
Your music should be the main focus of your website. A great way to do that is with video content: fans and potential clients want to see your DJ skills in action! You can embed videos from Youtube or Vimeo on your homepage to showcase your DJ abilities.
If you produce your own music, it is a good business idea to link your Spotify, Soundcloud, and Apple Music pages to your website to allow fans easy access. You should also have a section for upcoming performances, as well as your contact information so prospective clients can hire you for their event.
Create A Logo 
Your logo is one of the most essential marketing tools for your DJ business. A good logo is the calling card of your brand. It is a way for your audience to connect with you and learn about your brand at a single glance. Your logo does not have to be intricate, but it should be clean and professional.
If you don't know where to get started with your logo, don't worry! There are tons of ways to create a logo without paying for an expensive graphic designer. Fiverr has lots of graphic designers that can help you out for as little as $5. You can also ask friends and family, or try designing it yourself if you feel confident enough!
Sell Merchandise
Once you've created a logo, merchandise is a great next step. While it does require an investment on your part, it can be a huge benefit to your DJ business. There are tons of reasons to create merchandise for your DJ business.
First, merchandise generates more income: artist t-shirt sales generated $3.1 billion in 2016. Additionally, your fans will jump at the opportunity to represent you and your music with well-designed merchandise. Finally, merchandise is an awesome conversation starter! If one of your fans wears your shirt or puts your sticker somewhere visible, it may lead to new fans finding you.
Promote Yourself On Social Media 
Social media is arguably the best way to reach a global audience. Over 3.8 billion people around the world use social media, making it a useful tool for your DJ business. Social media is a great place where DJs promote themselves, share images, videos, and other creative content that helps their brand. You can also connect with other DJs, a great way to network and form professional relationships!
Facebook, Instagram, and Twitter are three of the most influential social media websites, and all can add value to your DJ business. Facebook is great for presenting information, like concerts or new music.
Instagram is great for sharing videos and images of your DJ skills. While Twitter is good for sharing information, its main benefit is connection with those who support you. Whether you are a wedding DJ or you play clubs, social media is essential to any DJ business plan.
Interact With Your Fans
Your fans are the engine that drives your DJ business. Without them, no one would come to your events, buy merchandise, or share your social media posts. In such a connected world, it's very easy for fans to communicate with their favorite artist. Connecting with your fans can take a small, semi-dedicated fanbase and turn them into a legion of supporters all over the world!
An easy way to interact with fans is to ask them what they want to see from your brand. Is there a specific song they want you to play? A dream collaboration? New types of merchandise? Your DJ marketing becomes more effective when you communicate with fans, much like a focus group. It also shows your audience that you value their opinion, which will lead to more support.

5 Tips For Effective DJ Advertising
DJ marketing is a great first step for getting your name out there, but DJ advertising can take your popularity to new heights. Below you can find some of the most effective DJ advertising techniques to ensure that companies or promoters choose you for their next event!
List Yourself on Google and Bing
Google and Bing are great places to start your DJ advertising journey. Google and Bing control more than 90% of the market, so you'll open your DJ business up to tons of prospective clients.
When you register with Google and Bing, it also means that you appear when people search for DJs in your area. This is a great form of search engine optimization. SEO is very important for DJs because these days, so many bookings for DJs are made online.
Google Ads are also a great way to advertise yourself. These advertisements can really boost your recognition as they often appear right at the top of the first search engine results page (SERP). While these services are not free, they can generate an amazing return on investment as people will be far more likely to notice your DJ business.
Utilize Every Platform
Search engines are not the only place you can promote yourself. Social media is incredibly useful, as well as email marketing and print advertisements. The more you put yourself out there, the more clients are likely to take notice.
One under-utilized advertising platform is LinkedIn. While it may seem counter-intuitive to advertise on a business-based social platform, many companies look to LinkedIn when choosing a DJ for private events. If you are able to get your DJ business to the top of the list on LinkedIn, you may find even more opportunities.
Hand Out Business Cards
As with any small business, a well-designed DJ business card sends a powerful message. It shows you're confident in your brand and serious about promoting yourself. You can leave business cards on your DJ table at an event, and hand them out to people who pass by.
DJ card design should reflect your branding and logo. If you're having a conversation with someone, handing them a business card designed with your logo demonstrates interest and leaves a lasting impression.
DJ business cards also hold a distinct advantage over traditional digital marketing. Many advertisements tend to get recycled, or cast aside in favor of other, more profitable advertisements. If someone keeps your business card after a conversation, there's a chance they'll find it buried in their wallet later on. It's an effective, yet passive way of promoting your DJ business and reaching potential customers.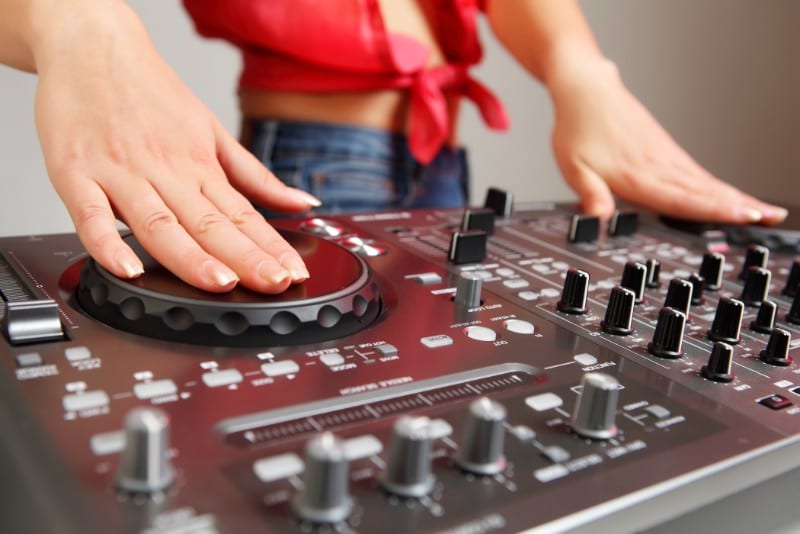 Use Effective Branding
Aside from logos, there are many more ways to effectively brand your DJ business. Color scheme is important: you want to make sure that your website, business card, and all material that a DJ promotes have a uniform look. It shows that you are consistent and professional in your DJ advertising.
Another is your website: does it look modern? Is it well organized? Asking friends and family to look over your branding will help to recognize areas that need improvement.
When thinking about how to most effectively brand your business, it's important to consider your main audience. For example, a DJ who specializes in kid's birthday parties should probably use lots of bright colors and exciting logos. If you specialize in corporate events, you may want to choose something more minimalist, like a simple typeface with your DJ name.
Make Video Content
Video is vital for DJ businesses. 92% of marketers claim that video is an important part of marketing, up from just 78% five years ago. For DJ businesses, video content is especially important.
If you write a description of your DJ set and post it on your website, it might not resonate with your audience or potential customers. A video, however, puts your skills on full display. Prospective clients will hear your music, see your techniques, and watch the crowd dance the night away.
Recently, a new video streaming platform has revolutionized DJ business: Twitch. While mostly used for video game live streams, DJs have enjoyed lots of success broadcasting on Twitch. Live broadcasts are a great way to keep fans engaged, and Twitch offers a donation service so fans can send you money during your performance. If you're unable to secure gigs, Twitch sets can keep your skills sharp while building your brand.
If you're ready to take your DJ business to the next level, contact SEO Design Chicago to get started. Our dedicated team of experts is here to help with everything from videography to social media marketing and all of your DJ business solutions!