If you have a website for your business, you probably think the main reason is to drive sales – whether that's through online purchases or getting people to reach out to you about your services and agree to pay for them. But there's also a secondary goal – controlling the online identity of your business. 
If someone uses Google to search for your business name, your website should be the first result. Go ahead and try that. Now look at the results below it. What do you see? 
Most people will see things like Yelp reviews, NextDoor reviews, social media accounts for your company, Glassdoor (reviews and salaries about your company from anonymous employees), and/or the LinkedIn profiles of the key employees in your company. Here's the thing – some of those sites may include negative reviews or comments about your business. After all, you can't please everyone and people love complaining anonymously on review sites. You don't want people to read those, right? Especially if they're not accurate or your company was just having a bad day. Here's one way to push those sites down on page one of search engine results pages (SERPs) – create and maintain a Wikipedia page about your company.
What Is Wikipedia?
Wikipedia is an online encyclopedia with excerpts that can be edited by any person who starts the page. It can also be edited by others. People, like page creators, can add hyperlinks to their own websites. In addition, others can link to your Wikipedia page.
Because there are so many links coming into and out of Wikipedia, it consistently rates high in SERP on almost any topic. 
Why Does Wikipedia Matter for Businesses?
Search engines like Google and Bing won't reveal exactly how they determine what web pages appear first (or rank higher) when a person searches for something. But what we do know is that they definitely have a search engine algorithm, a formula that weeds through billions of web pages to return results to users in an orderly fashion. 
One of those factors is how many hyperlinks a website has. Another factor is how many websites link to a website. Collectively, these two factors are called "link building."  Experts have long theorized that link building is one of the most important factors in how Google, Bing, and other search engines rank your website. 
Wikipedia always ranks high in SERPs. So you should make sure your website has a Wikipedia page. That way, you can ensure people find out more info about your business. Wikipedia will also increase the rank of your website, in theory.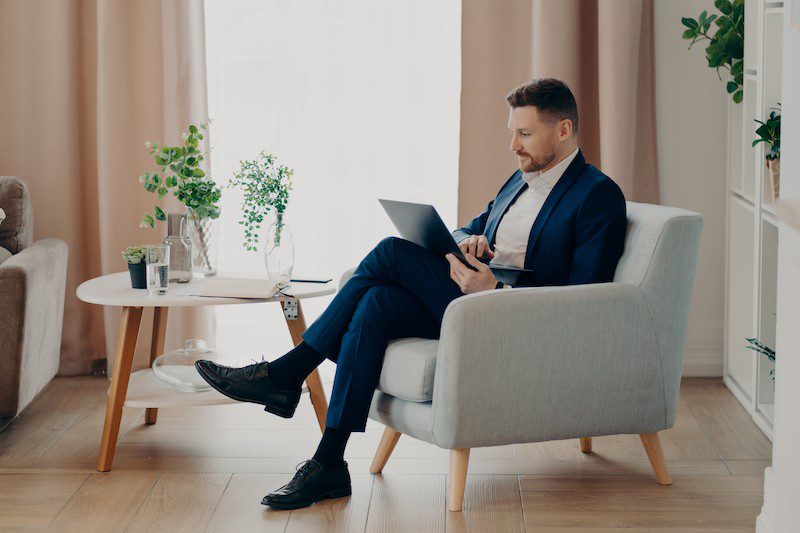 What You Need to Know About Wikipedia Pages for Businesses
While you can create a page for your business on Wikipedia, you should always be cautious of Wikipedia's guidelines. 
They are:
Companies, nonprofits, bands, artists, and more can have Wikipedia pages. 

You cannot have an employee, friend, family member, or paid writer put a page together for you. Technically, you're not even supposed to write your own page about your own company unless you have multiple sources that have written about you. 

You cannot overtly try to sell goods, services, or products on Wikipedia.

You can't trash your competitors.

You cannot link to your own web pages. 

You must link, in the references at the bottom of every Wikipedia page, to what others have written about you. That's why it's so important to try to get your company mentioned in news stories. These sources must be notable

. According to Wikipedia, "Notability requires only that these necessary sources have been

published

."

You can link to other Wikipedia pages about your topic. 

You can't "lock" your Wikipedia pages so people can't edit it. The whole point of Wikipedia is to have community writers and editors. 

You can request a review through talk pages if you feel someone has unfairly edited your page.  
But Isn't It Impossible to Have a Page About a Company on Wikipedia?
Not really. There are gray areas and you can always request reviews. If you write or edit a page for a company you own or work for, you must adhere to Wikipedia's Conflict of Interest Disclosure Guidelines. This means you need to make it clear to the reader that the writer or editor has a conflict of interest.  You should also tag the page with certain language to make sure that you are making it clear what your relationship is to the company. 
Here's the best way to do that:
Start a Wikipedia account

. You cannot write a page until four days have passed. It helps if you also make edits to some other articles on Wikipedia. This shows you didn't join JUST to write about your own company.

On your user page, explain your relationship to the company you're writing about.

Find a number of reliable sources that have information about your business and what you focus on. Include those links in the request. Your own organization's website cannot be one of these links. 

Create a draft through the Wikipedia:Article wizard. This will tell you what to do to avoid getting your page deleted. 

Submit the draft. If accepted, your draft will now be one of Wikipedia's articles. If it's not accepted, they'll explain why. 
What's an Example of a Company That Has Created a Page on Wikipedia?
Kyle Thompson is a Chicago-based photographer who epitomizes what it means to be an artist and a small business. His Wikipedia page was launched in 2018. It included descriptions of his early life and work. He added references to reviews of his work, a profile of him from a blog, and an article about his photos. At some point, it was nominated for deletion. But in the talk section, he objected to that, and Wikipedia administrators agreed he had enough links, and was neutral about his work. So his page still stands. 
Now, Google his name. Although Google results differ for everyone, here in Chicago, his official site is the first result, followed by his Instagram, and then his Wikipedia page. This makes him seem professional and gives the user a glimpse into his work without clicking anything.
We chose him as an example because he has a common name. In fact, there's a PGA golfer with the same name. But with Wikipedia, an official website, and social media, the photographer surfaces at the top of SERPs. 
What Do Experts Think of Wikipedia?
A variety of experts and thought leaders realize that Wikipedia is one of the most important tools online. Here are some quotes:
"A Wikipedia article is a process, not a product." ~ Clay Shirky, writer and consultant
"Wikipedia is a victory of process over substance." ~ Ethan Zuckerman, famous blogger
"Wikipedia is just an incredible thing. It is fact-encircling huge, and it is idiosyncratic, careful, messy, funny, shocking and full of simmering controversies – and it is free, and it is fast." ~ Nicholson Baker, Writer and Journalist
What Should Business Owners Do if They Don't Want to Create a Wikipedia Page?
Maybe writing, finding sources, and more aren't your cup of tea. That makes sense. You can still have a Wikipedia page. You just need to make it clear to users that the page was written by someone for money.
The page must be clearly labeled as a paid contribution. According to Wikipedia, "A paid contribution is one that involves contributing to Wikipedia in exchange for money or other inducements. It includes adding or removing content from any page, including articles and talk pages. If you receive, or expect to receive, compensation for your contributions to Wikipedia, you must disclose who is paying you to edit (your "employer"), who the client is, and any other relevant role or relationship. It does not matter whether you are paid directly by the client, or paid indirectly by an employer on behalf of the client. Editors who receive payment for their edits or actions on the English Wikipedia must comply with both the Wikimedia Foundation's Terms of Use and the local policies and guidelines of the English Wikipedia."
Most users won't even notice the difference between a paid contribution and a regular page. We have written Wikipedia pages, press releases, and all sorts of content for companies. It's one of our areas of specialty. So reach out to SEO Design Chicago to learn more!