Digital Marketing Options for Mechanics
SEO Design Chicago offers digital marketing services for mechanics and auto repair shops across the United States. We know all the marketing tools of the trade to help you find more customers in need of your services. We are the best mechanic marketing agency.
Pay-Per-Click Marketing for Mechanics
If you are looking to get new clients for your auto repair shop fast, then we will create a pay-per-click campaign for your shop. We will use relevant keywords to advertise the exact services you offer.
Facebook Ads for Mechanics
These days, everyone uses Facebook. We will create a Facebook Ads campaign for your auto repair shop so that you are top of mind next time customers need a mechanic in their area.
Google Ads for Mechanics
When someone needs a good mechanic fast, they turn to Google. That is why we create Google Ads for your auto repair shop, so you appear at the very top of the search results. This makes you appear more professional and more customers will choose you over the competition.
We also offer Instagram Ad campaigns, LinkedIn ad campaigns, Snapchat ad campaigns, and other types of advertising to help you promote your auto repair shop.
Content Creation for Mechanics
Blogging is an important tool for mechanics to connect with their customers. Our team will create and regularly update a blog answering all the types of questions your customers might have about auto repair. We will write blog posts sharing expertise relating to the auto industry, your customers' need and questions, and highlighting the importance of regular auto maintenance.
Social Media Content Creation for Mechanics
If you want to stay a mile ahead of the competition, you need to be on social media. Our social media management team will create content for platforms like Instagram, LinkedIn, and Facebook to help you connect with more customers. Most auto repair shops skip social media, but it can help you build loyalty and trust, which is of the utmost importance for mechanics.
Website Content Creation for Mechanics
SEO Design Chicago creates website content for mechanics. Our mechanic clients typically have impersonal, generic website content. But our content creation team writes easy to understand, personal content that helps you answer your audience's questions about auto repair and uses keywords that appeal to search engines. This helps attract new customers to your website.
Web Developers for Mechanic Websites
SEO Design Chicago's web design and development team will help you create a new website for your auto shop, or update your existing website to make it more user-friendly. We can also create new pages of content for your website. We can also complete a website analysis to help you determine ways to make it faster and better for your clients.
Local SEO for Mechanics
One of the most important websites we offer for mechanics is local SEO. Almost every client who is looking for a mechanic is in your geographic area, even if they are visiting when their car breaks down. Our team helps you rank for local keywords. Whenever someone searches for a "mechanic near me" on Google, we will help you rank high.
Local SEO Strategies for Mechanics
Our local SEO strategies for mechanics begin with researching the best keywords for your auto repair shop. Then, we will create a local SEO strategy for your website. When someone in your neighborhood is looking for a new mechanic, local SEO will help them find you and not one of the other mechanics nearby. SEO Design Chicago can help you improve your local search ranking.
Online Business Listings for Mechanics
Your auto repair shop should be listed on all relevant websites. From local directories in your area to local auto websites, this will help you not only connect with new customers locally, but it will also help boost your local search ranking. Our team will help you find the best places to list your business online.
Google My Business for Mechanics
As a mechanic, you might not have put a lot of thought into your Google My Business page. Many potential clients who Google your shop will find your Google My Business page first. Our local SEO experts will claim and update your Google Business Profile to ensure that is professional and earns the trust of any potential clients who find you online.
Bing and Yahoo Listings for Mechanics
Some potential customers will search for a mechanic in their area on other search engines, like Bing and Yahoo. That is why our team will create listings for you on those search engines, too. You will be surprised how much traffic this can bring to your garage.
SEO for Mechanics
The most important components of mechanic SEO are:
On-site Optimization
Ongoing Quality Content Creation
Off-site Authority Building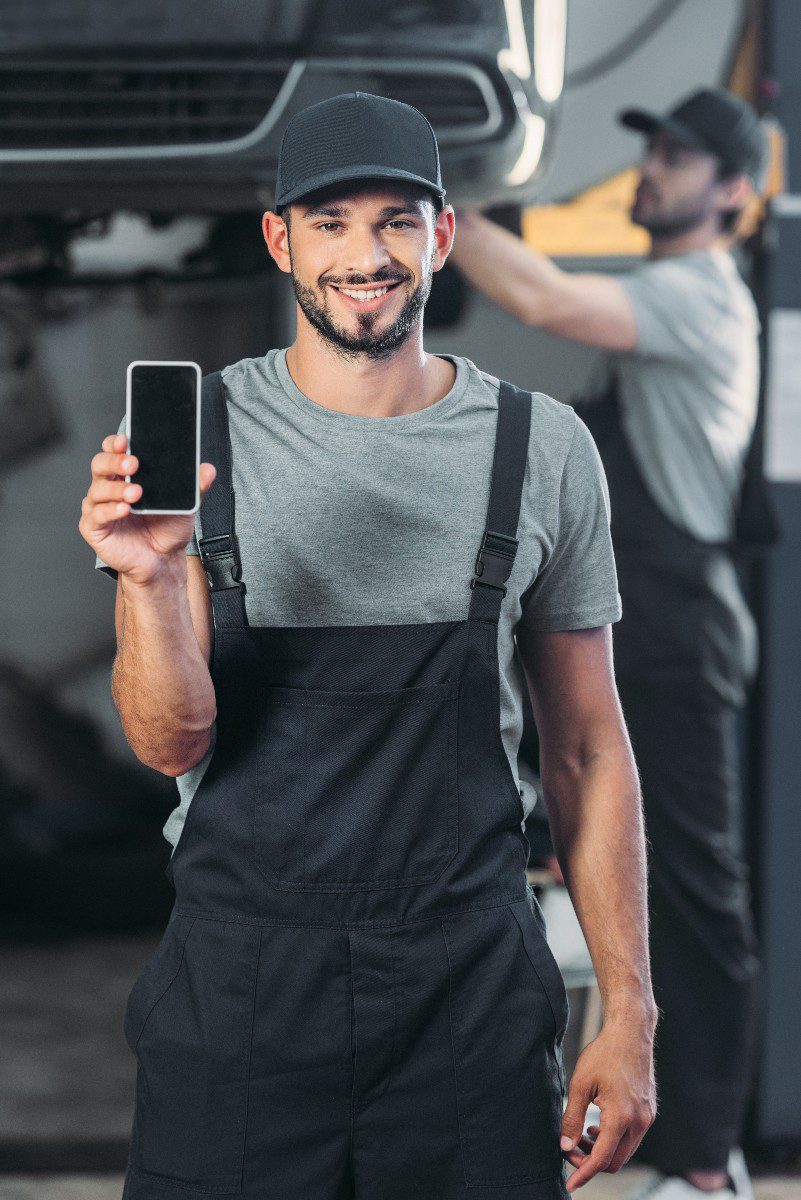 SEO Analysis for Mechanics
You know how to fix a car, and we know how to fix your SEO. The first step of any successful SEO service is a complete SEO analysis of your online presence. SEO Design Chicago will complete a thorough analysis of your SEO, and identify any areas that require improvement. Our SEO analysis has helped several of our other mechanic clients improve their search ranking.
SEO Services for Mechanics
We offer the best SEO services for mechanics. Our mechanic SEO services are built around your individual garage. We utilize on-site SEO and off-site SEO tactics to improve your search ranking. When we boost your SEO ranking, we help attract more leads and more business for your auto repair shop.
Link Building for Mechanics
Link building is an important part of mechanic SEO. Our team will help build internal and external links for your website. Just like you fix broken vehicles, we will fix any broken links we find on your site.
Digital Marketing Consulting for Mechanics
SEO Design Chicago works business auto repair businesses across the automotive industry. Our team offers all the digital marketing services that mechanics need to build their business. Come to us for all of your digital advertising, search engine optimization, web design, and other needs.
Email Marketing for Mechanics
Our team sends regular emails to your client base to stay in touch with customers and tell them about the latest deals you're offering and services they might need. For example, we might gently remind a client that they are due for an oil change. This incentivizes them to visit your garage, and perhaps buy additional services.
Social Media and Web Analytics for Mechanics
Our team uses the latest analytics tools to provide you with regularly updated reports on the status of your marketing and social media campaigns.
SEO Design Chicago Offers the Best Mechanic Marketing Services
If you are a mechanic, don't just sit around and wait for new clients to show up. Instead, attract new clients with SEO Design Chicago's mechanic marketing services. Our team is ready to help you rev up your marketing engine!
free seo analysis
Mechanic Marketing Resources
Unless you are an avid collector of cars or actively watch live NASCAR races on [...]