Are you a business owner who knows that your website needs some SEO help, but you don't want to pay for SEO services? That's what our do-it-yourself SEO guide is for. After all, 68% of all online experiences start with a search engine. So whether you get help with SEO or decide to handle it yourself, you need to implement some SEO campaigns for your website. We'll give you all the tips you need to implement some search engine optimization strategies on your site to give you an immediate boost in the search results. While we would love it if you utilized the knowledge of our experts at SEO Design Chicago to help you with your SEO, we still want you to succeed online, even if you choose not to use our services. So let's get started!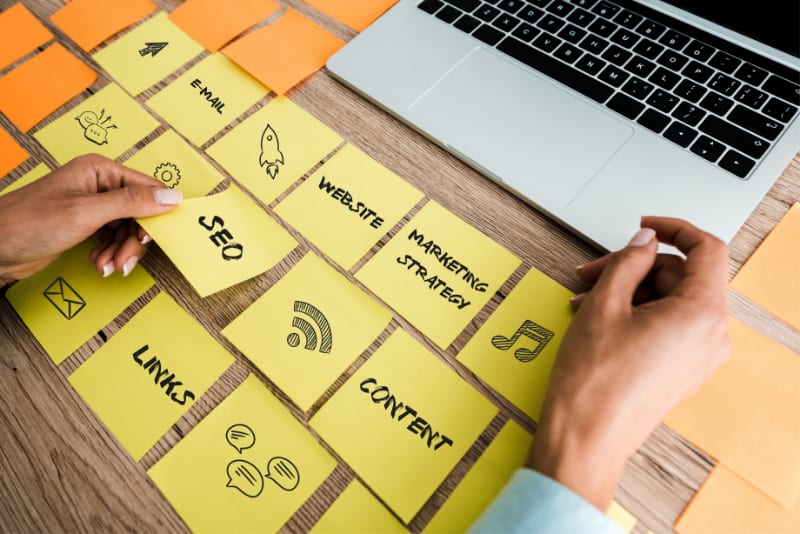 What is SEO?
Before we get into do-it-yourself SEO, we need to discuss the meaning of SEO. Search engine optimization is the practice of driving traffic to your website through search engine results. There are hundreds of agencies that provide SEO services to businesses to help them increase their search rankings, like SEO Design Chicago. The typical cost for SEO services varies from about $500 to $5,000 per month, depending on your needs. However, some companies opt not to pay for SEO services and do SEO DIY themselves. If you have some internet knowledge and access to some free tools, there are a few basic SEO principles you can apply to your website yourself.
DIY SEO Principles You Need to Know
There are eight main principles you will need to know to get started with your DIY search engine optimization:
Research Your Competition
The first step of any SEO strategy, and particularly a DIY SEO strategy, is to research and understand who your competition is online. Even if you aren't a competitive person, the nature of search engines is to put websites in competition against one another. This is why it's so important to know who your competition is and what strategies they are using to rank high on the SERPs (or search engine results page.)
Know Your Users
The primary goal of any website should be providing valuable content and information for its visitors. While there are many tips and tricks we can teach you about SEO, the best chance you have of succeeding is by creating excellent content. So, in order to provide them with content that will help them, you need to know who your users are. Narrow your target audience down and be as specific as possible. Which demographic are you targeting? What are their wants and needs? The more you know about your audience, the better your chances of getting them to find your website online will be. You can do this by engaging with them online, or by using more advanced tactics, like data analytics.
Use SEO Web Design
While most SEO experts focus mainly on content, it is imperative not to forget about your website's design when it comes to SEO. That's right: web design is part of search engine optimization. Search engines like websites that are user-friendly, responsive, and quick to load.
How is your Website Navigation?
Just like web design, your website's navigation is important for SEO purposes, too, though it is often overlooked. Your website users – and search engine crawlers – need to be able to move about your site seamlessly. There are some website navigation design best practices that every website should follow. Is your website well-organized? Are users able to find the information or product they are looking for quickly and easily? Having excellent content on your site is worthless if your site visitors, not to mention search engines, can't find it.
Perform Keyword Research
Keyword research is an integral part of any SEO strategy. You need to perform keyword research in order to choose the correct keywords to target. While many people think it is best to choose a keyword based on volume, that is not always the best strategy. Choosing the right keywords can be the difference between a successful SEO strategy and an unsuccessful one. One good tactic is to choose one target keyword for each web page of your site. The good news is, there are keyword research services and tools to help you make the right decisions, like the Google Keyword Planner.
Post New Content on a Regular Basis
Search engines love fresh, new content. One of the best ways to attract positive attention from search engines is by updating your website's blog on a regular basis with new posts. However, keep in mind that in this case, quality is more important than quantity. Make sure the blog posts you create are is valuable, helpful, and informative for your readers. Does it answer questions they might have gone to a search engine looking for the answers for? If so, it will help your SEO.
Practice Internal Linking
Another way you can do SEO yourself is by working on link building for your website. While internal links are helpful for website visitors to find new pages to visit on your site, it also helps search engines. For example, if you are writing a new blog article for your website and you reference a topic you wrote about it in a previous article, it is the perfect opportunity to place an internal link with relevant anchor text. Internal links increase page views, give visitors contextually relevant navigation options, and help distribute ranking metrics across your site. However, don't just link randomly. Make sure to keep your internal links contextual and relevant.
Promote and Market Your Website! 
Another way to attract valuable search traffic is by marketing your website well. Part of this strategy includes earning backlinks to your website. A backlink is when another reputable website links to a web page from your site. This tells search engines that your content is valuable, because it is worth linking to. There are several ways to go about getting backlinks to your site, but one way is simply by having excellent content that other sites will want to link to. You can also post links to your site in blog comments on related topics, market your content on social media, and promote it elsewhere online.
Monitor Your Analytics
Lastly, it is important to monitor and track your analytics for your website. How else will you know if your do-it-yourself SEO tactics are really working and your search volume is increasing? There are several tools you can use to monitor your site. Our favorite is Google Analytics. Google Analytics is a free tool that helps you learn how people are finding and using your website. It can also help you identify any issues with your site. You should also use a tool like SEMrush to help you see which keywords your website is ranking for. It can help you optimize your site further.
Still Need Help with SEO?
If you still need help with your SEO strategy, SEO Design Chicago can assist you. Contact us today for an SEO package that will fit your needs, so you don't have to do it yourself! We can perform a site audit to help you determine where your site currently ranks and where it needs help.
FAQS about Do-It-Yourself SEO: 
What are some do-it-yourself SEO tips?
Can you do SEO yourself?
What is SEO?
What tools do you use for SEO?