This article is your guide for a social media platform comparison between the eight most popular platforms. It will provide user data for each platform, along with two pros and two cons of using them. This social media platform comparison will be helpful for any business deciding which social media platforms will be most effective for them.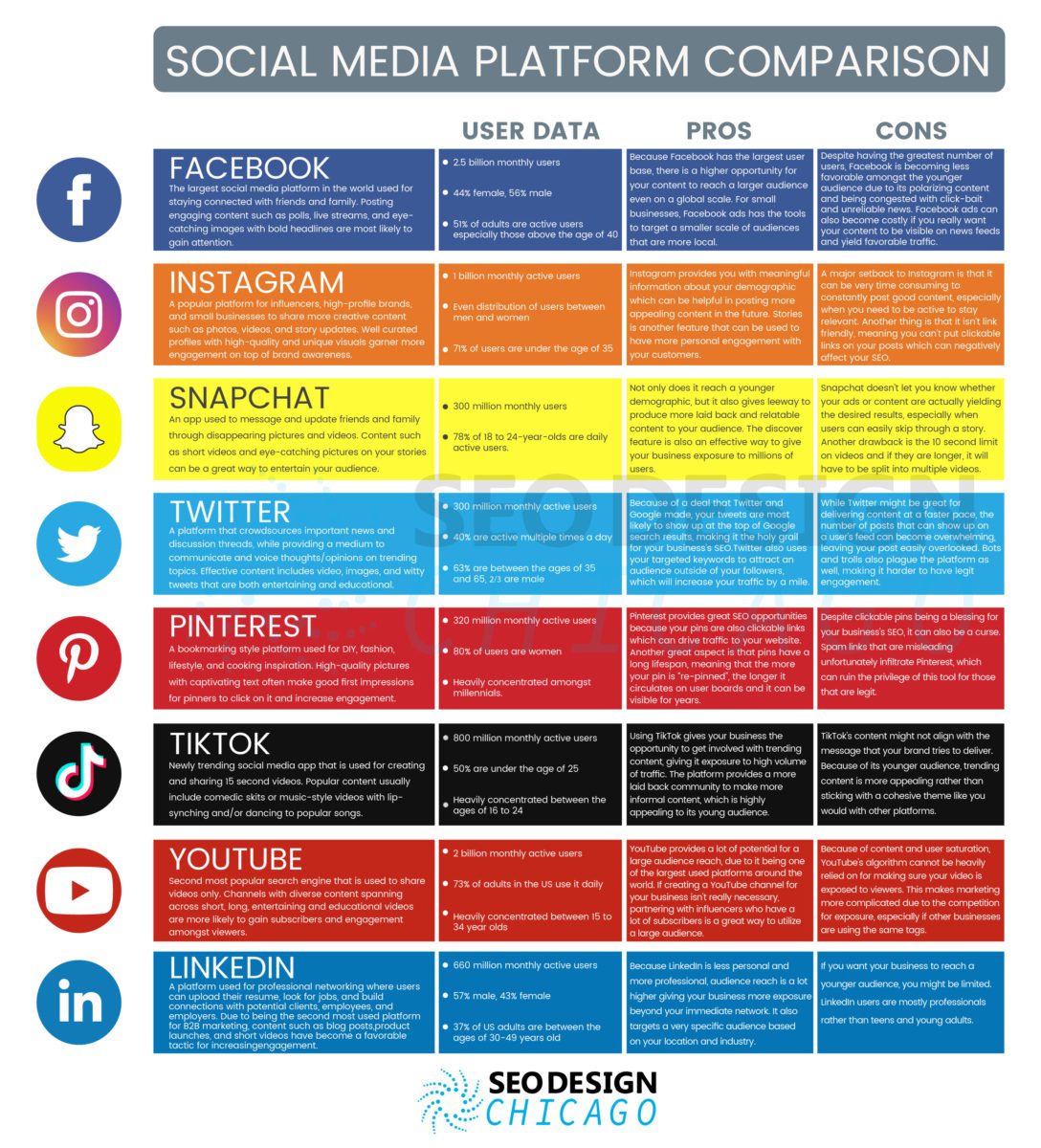 Facebook
No social media platform comparison would be useful if it didn't include Facebook. Facebook is one of the most popular social media platforms in the United States and in the world. In the United States, it is second in usage after only YouTube. The United States is second in the world for users, with 190 million users. 69% of American adults use Facebook and the people that use Facebook are on it very regularly. 74% of users visit the site at least once a day, with 51% of them visiting several times a day.
75% of Facebook users are women, while 63% are men. 76% of people between 18-24 and 84% of people between 25-30 use Facebook. 79% of people 30-49 also use it. Another 68% between 50-64 use it.
Facebook Pros
The targeting capabilities of Facebook and its Ads platform are some of the best that exist. 
Facebook also allows you to receive very detailed analytics about your audience. This insight can help you further refine your target audience.
Facebook Cons
In recent years, Facebook has become a platform that you need to pay to get the most out of. As the amount of businesses using the platform has grown, it has become harder to get the same reach you used to. For businesses, this means they probably need to pay for Facebook Ads in order to see the most activity and reach.
Conversion rates on Facebook tend to be very low, hovering around 1%. That can be very discouraging for businesses investing in advertising.
Instagram
Another important platform for a social media platform comparison is Instagram. Instagram also has over one billion monthly active users. Sixty-three percent of users log in at least once daily. 
User data shows that the platform is by far favored by younger people. 72% and 67% of thirteen to seventeen year olds and eighteen to twenty-nine year olds, respectively, use it. This drops to 47% for 30-49 year olds and 23% for 50-64 year olds. In addition, 35% of US teenagers rate Instagram as their favorite social media platform, behind only Snapchat. 
Instagram Pros
Instagram is one of the best platforms for featuring photos or videos. This can help you create a visual representation of your business and its products or services.
Instagram also has a high rate of engagement. In fact, Instagram's engagement rate is about 70% higher than Facebook's according to Nimap Infotech. Plus, the follower growth rate is 9%, compared to Twitter's .11%. 
Instagram Cons
The biggest pro of Instagram can also be considered one of its cons. Since it relies on photos or short videos, you cannot explain your post much further. The ideal length of any captions is between 138 to 150 words. For an advertisement, it should be less than 125 words.
Another disadvantage of Instagram is that captions on it do not support clickable links. Users would have to copy and paste a link into their browser, which very few are willing to do. The only place to leave a clickable link is in your profile's bio. 
Snapchat
Snapchat has much more of an appeal to younger users than older. At the end of 2019, they reported 210 million daily active users. Although Snapchat has global use, it has by far the most users in the United States at over 97.5 million users. The next closest country is France with 20.4 million users. 
69% and 62% of thirteen to seventeen year olds and eighteen to twenty nine year olds use Snapchat, respectively. This decreases greatly to only 25% of thirty to forty-nine year olds. It is  considered the most important social network by 41% of teens.
Snapchat Pros
Snapchat is good for creating a sense of urgency around your product, as nothing lasts longer than 24 hours on the app. 
This app can be a great place for influencer marketing. It is common for businesses to do "account takeovers," engaging the influencer's audience.
Snapchat Cons
When conducting a social media platform comparison for your digital marketing needs, unless your target market is tweens to college age kids, Snapchat is not the right platform for you. 
Because nothing lasts on the platform longer than 24 hours, it is very content heavy. You will need to constantly be producing material to remain active and relevant.
Twitter
A social media platform comparison shows Twitter's usage by American adults is lower than other networks. Only 22% of US adults use Twitter.
This platform is again favored by younger people. 44% of 18-24 year olds in the US use Twitter, and 31% of 25-30 year olds use it. The vast majority of Twitter users come from outside the United States. With 330 million global monthly users, 262 million of them are from outside the US.
Twitter Pros 
Twitter is a platform that allows you to connect with your audience on a personal level. Interactions are generally casual and this gives your business a real face to the people.
Twitter is also a largely free platform. Although you can participate in paid ads, these are generally most effective for large businesses. Many small to mid-sized businesses see benefits from their organic posts and interactions with their audience.
Twitter Cons
The easy feedback between customers and the business can also be a downside. People like to use Twitter as a place to vent their frustrations with a company and their products or services. Still, dealing with these positively can improve your reputation. 
Twitter is also a very time sensitive platform. For your posts to be the most effective, you need to tweet at the right time. Otherwise, they will easily be missed.
Pinterest
Pinterest user data shows that over 300 million people use Pinterest every month worldwide. Only 87 million of those users are in the United States.
User data is pretty evenly spread between age groups on Pinterest. Between 25-40% of everyone between 18-64 use Pinterest. This platform is favored by women over men, with 42% of women using it and only 15% of men on it.
Pinterest Pros
Pinterest has a very high conversion rate for a social media platform. 50% of users say they have purchased a product online after they saw it on Pinterest. In addition, 91% of users use Pinterest to plan offline purchases.
Unlike most other platforms, posts on Pinterest keep circulating for a long time. Their algorithm allows pins from even five years ago to still get click-throughs. 
Pinterest Cons
Like Instagram, Pinterest is most effective for visual content. However, it is restricted to photos. There are no videos on Pinterest. Pinterest also has a very specific audience, mainly women between 25 and 50. If this does not describe your target audience, it may not be worth the time investment. 
TikTok
This app has exploded in popularity recently. TikTok was downloaded 738 million times in 2019 alone, with over 2 billion total downloads. Its monthly active users are estimated to be 800 million. This figure would make TikTok the sixth-most used social media app in the world.
Young adults are by far the most frequent users of TikTok with 41% of users between the ages of sixteen and twenty-four. Users spend an average of just under an hour on the app per day. 90% of users access the app multiple times a day.
TikTok Pros
The most notable advantage of TikTok in a social media platform comparison is that it allows you to get very creative. The more creative your videos are, the more noticeable they will be. This will also set you apart from your competition.
For a company attempting to reach global markets, TikTok is a fantastic platform. It is available in 155 countries and 75 languages, making it possible to reach people you may not be able to on other platforms.
TikTok Cons
Creating your own videos is completely free, but utilizing their advertisements can quickly get very expensive. These should be reserved for the large companies that have a significant digital marketing budget.
No one knows how long TikTok will last. Will it stand the test of time like Facebook or disappear like Vine? Businesses will have to pay attention to when and if usership starts to wane.
YouTube
As mentioned previously, YouTube ranks higher than Facebook in usage by all US adults. 73% of US adults use YouTube and 38% of those users report logging in several times a day. 
The largest age demographic for YouTube is eighteen to twenty-nine year olds, with 91% using it. However, thirty to forty-nine year olds and thirteen to seventeen year olds also use it a lot, at 87% and 85% respectively.
YouTube Pros
Posting on YouTube can help your SEO rankings, as Google owns YouTube.
Videos tend to have a higher conversion rate than text-based content. It is twelve times more likely to be watched than a text post is to be read.
YouTube Cons
Unfortunately, YouTube is not going to promote your videos for you. You will have to promote them, which can quickly become very time consuming.
A social media platform comparison shows that creating content for YouTube is much more time consuming. Not only do you need to create the video, you need to edit it, upload it, and then finally optimize it. The title, thumbnail, description, and hashtags are all extremely important and will take time to curate.
LinkedIn
This platform is most popular with people that have professional careers. LinkedIn is popular for marketing to professionals.
The US has significantly more LinkedIn users than any other country in the world with 160 million users. However, this social media platform is used much less regularly than many of the others. Only 9% of US users visit LinkedIn more than once a day, and 12% visit every day. 23% visit several times a week.
The largest age demographics for LinkedIn are 25-30 year olds and 30-49 year olds. This platform seems to favor people with high incomes. 49% of people making more than $75,000 a year use LinkedIn. Only 26% of people making $30,000 and $74,999 use it.
LinkedIn Pros 
A LinkedIn profile can improve SEO rankings for a small business, as it comes across more legitimate. 
As LinkedIn is favored by professionals, having a profile can quickly establish credibility. Customers and employees can offer testimonials about the culture and make the business look good.
LinkedIn Cons
Although LinkedIn is free to join, it can quickly get expensive to access additional services. These services allow you more detailed information on users and businesses, but they can be too expensive for small to medium-sized businesses.
Another LinkedIn con is that Most LinkedIn users will receive a lot of spam messages. This can be time consuming to weed through and discouraging.
Social Media Advertising
In the world in which we live today, removing yourself from social media platforms is not an easy task, nor a terribly great decision. On the other hand, taking advantage of different social media platforms for your advertising needs can be a great choice. Imagine the traffic and the visitors you would have with just a single viral video. 
Social media advertising is an inexpensive tool that should be in every company's arsenal. For assistance with any of your social media advertising or content needs, reach out to SEO Design Chicago.