Amazon is the clear market leader in online retail, but what about the individual or small business sellers? In the article, we will explain the differences between Amazon Marketplace and Amazon Stores and how to use these platforms to increase your sales on Amazon.
Amazon Marketplace
When buying from Amazon, customers are purchasing directly from Amazon's own products and inventory as well as from external retailers. Amazon Marketplace is the platform for third-party sellers that makes it possible for customers to buy from other retailers all through the Amazon.com platform. 
How Does Amazon Marketplace Work?
Amazon Marketplace works by letting users sell their own items, and it has quite a few sellers. In fact, more than 50% of all Amazon sales come from third-party merchants. Once you create an account, Amazon will ask for information such as a selling agreement, billing information, tax information, and product information. Product information will include universal product codes, commonly known as UPCs, which are printed on packing to help identify items. Amazon holds the right to remove listings that do not meet the requirements for authentic UPC codes. 
After all of the information is complete, a merchant will be able to access their Seller Central dashboard and can further develop their listings. This includes opportunities to create a FAQ page, "About Seller" page, and company logo and designs. The dashboard also includes tabs to navigate product pricing, advertising, inventory, and managing orders. This Seller Central is the focal point for all Amazon third-party communication. 
Although an Amazon storefront is free, there are a few changes to keep in mind. When selling, Amazon offers an Individual plan, which charges $0.99 for every item sold. Or, Amazon provides a Professional Selling Plan which costs $39.99 per month, no matter how many units are sold.
Additionally, Amazon can charge referral fees, fulfillment fees, or other costs depending on product categories, fulfillment plans, and other variables. A good tip would be to keep your personal and business emails separate. That way you will not have any confusion or hassle if you use Amazon for personal purchases as well.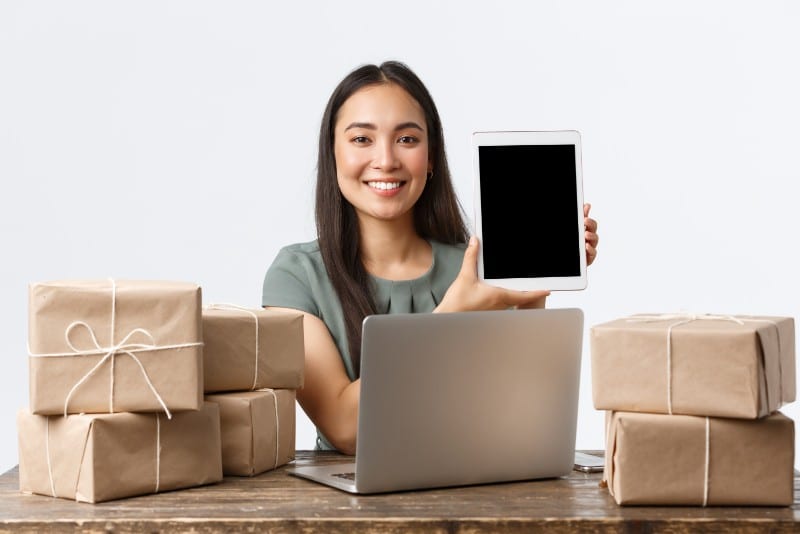 Options for Amazon Fulfillment
There are three options for Amazon fulfillment:
Fulfillment by Amazon
Fulfillment by Amazon (FBA) is an option seller can choose for any of their products. In this option, Amazon will store, package, and ship merchant products. Passing warehousing and shipping tasks off to Amazon provides the ability to offer products on Amazon Prime and eliminates customer service/returns. This comes at an additional cost including a percent of total sales and additional fees based on item weight, storage costs, handling fees, etc.
Fulfillment by Merchant
The second option is Fulfillment by Merchant (FBM) which makes third-party sellers responsible for picking, packaging, storing, and shipping products. This option is excellent for seller flexibility freedom, although sellers still must follow Amazon guidelines and policies. FBM does not incur additional fees, but does not allow items to be listed on Amazon Prime.
Seller Fulfilled Prime
The last option, however, does allow for a cross between these choices. Seller Fulfilled Prime (SFP) is a hybrid option. It lets merchants pick, store, package, and ship their own items and still list them as "Prime." In order to qualify for SFP, merchants must successfully complete a 300 item trial period to satisfy the Amazon Prime requirements including a cancellation rate of less than 1%, an on-time shipment rating of at least 99%, and use Buy Shipping Services for a minimum of 95% of the orders. These three fulfillment options allow third parties to efficiently access and serve Amazon's vast customer base. 
When establishing your product lists, it is important to keep Amazon's SEO strategy in mind in order to increase viewership. Keep relevancy in mind when developing both product descriptions and back-end keywords. Strong keywords will help your products rank high in search results, leading to more sales. Then, more sales will help your products stay in high search rankings.
Additionally, having strong product reviews will help gain consumer trust and popularity. This can be done by providing excellent customer service, using Amazon's "Request A Review" button, or reaching out to customers who reviewed similar products. 
Third-Party Sellers vs. Vendors 
An Amazon Vendor is another option when using selling features. However, it is an invite-only opportunity for manufacturers or distributors to sell their products directly to Amazon for resale. Amazon will purchase inventory for wholesale prices and control pricing all through the Amazon Vendor Central platform. This is a good option for sellers who do not want the hassle of advertising, pricing, and logistics. 
Why Use Amazon Marketplace?
Amazon Marketplace is a great opportunity for sellers to thrive. Amazon currently has more than 2.5 million currently active sellers on their website, but with $75.5 billion in sales revenue in the first quarter of 2020, there is a huge potential for sales. In fact, sellers can instantly reach hundreds of millions of online shoppers when choosing to list their items for sale on Amazon. Amazon also makes it extremely easy for users to access their purchase history. This allows for easy repeat purchases from customers. Additionally, Amazon offers back end support which handles tasks like inventory tracking and credit card processing. Similarly, there is an opportunity for Amazon shipping and fulfillment options for your business. 
Amazon Storefront 
An Amazon Storefront allows merchants who are already on Amazon Marketplace to display their products in a customizable and immersive shopping experience dedicated to their Amazon listings only. This separate section of Amazon was launched in 2018. It is Amazon's way of supporting and highlighting small-to-medium U.S. businesses. This is a way for the online shopper to still experience the "mom and pop store" feel, while companies are able to make their Amazon stores unique.
How Does Amazon Storefront Work?
Storefronts initiatives are promoted in three ways: Storefront of the Week, Curated Collections and Meet the Business Owner. Storefront of the Weekend and Meet the Business owner both highlight specific merchants to tell their brand story, while Curated Collections are specific categories of sorted items such as Home & Kitchen or Jewelry. 
Amazon has around 20,000 small businesses currently featured on Amazon Storefront. Any small business owner is able to request information. From there, Amazon will review the store based on category and if you are considered a good fit. This opportunity can allow you to create a design for your storefront that can be easily formatted to both desktop and mobile screens.
Who Can Have an Amazon Storefront?
Anyone can become a seller on Amazon storefront. When signing up you can use your personal Amazon account or create a professional account with your business email. Keep in mind that when establishing a selling account you must be able to provide credit card or bank information, a phone number, email, government-issued ID, and tax information. When setting up an amazon storefront, however, you must set up an Amazon Brand Registry.
According to Amazon, brand registry "helps you protect your intellectual property and create an accurate and trusted experience for customers on Amazon." The requirements to enroll in Amazon Brand Registry included an actively registered trademark and verification of that trademark. After setting this up, brands have the ability to search for content using images, easily report trademark violations, predictive automation, and other key branding information. 
Why Use Amazon? 
By further developing your own Amazon Store, shoppers get a glimpse into your brand story. Another benefit of utilizing Amazon storefronts is the opportunity to use analytics surrounding your page. These insights include information on the total number of unique users or devices that viewed one or more pages on your store on a daily basis, the number of page views within particular time frames, estimated total sales generated based off of store visitors in a particular time frame, and estimated total units purchased based off of store visitors in a particular time frame. 
The features available to Amazon Storefront sellers allow for brand protection, analytic opportunities, and internal promotional advancement. These allow for brands to increase their overall sales. Using this feature allows small businesses to continue to connect with customers and build communities, even when Amazon itself continues to grow. 
Is Selling on Amazon Worth it? 
With strong digital marketing, product lines, and selling support, using Amazon to sell can extremely beneficial for your business. Amazon provides many opportunities for different types of sellers to utilize the Amazon platforms for their own success. Not only does being on Amazon increase brand awareness and your business's reputation, website traffic, and potential customer reach, Amazon also allows for low start-up costs. When developing your Amazon selling strategy, try to consider potential niches for who you want to target. Similarly, focus on strong business operations which will allow for strong inventory management. Researching prices, costs, and additional fees will help you get a better sense of what your business needs are when pursuing digital selling.
Advertising on Amazon is extremely important, as this is what will help set your business apart from competitors and allow your brand to thrive. With all of these combined elements alongside a solid understanding of the different uses of Amazon Marketplace, there is incredible potential for Amazon selling success.