With so many ways that you can optimize local search, and so many services to be listed on, what are the best options for local advertisers?
This article aims to break down all of the organic and paid opportunities for advertisers that exist among four of the top localized search platforms (Google, Bing, Yelp and Facebook). After exploring this article, you may have a better appreciation for all of the opportunities that Local SEO offers for small businesses.
We will look at a real example of what someone may discover doing local search. In this example, we will look at local dog grooming.
Before looking at the various options we have for local search, lets talk about basics of Local SEO first.
Optimization of Google my Business
Optimization of Bing Places
Optimization of Facebook Business Page
Optimization of Yelp profile
Optimization of Local Citations and Directories
Google My Business
If you do nothing else as a small business, optimize your Google my business page. Google is more relevant in local search than ever before. Every business should complete their GMB profile as much as possible.
Make status updates regularly and talk about your products, services and offerings
Fill in the info section with NAP info, hours, service area, products services and bio.
Add pictures and videos if you have them as well as business attributes
Respond to all reviews good or bad.
If applicable to your business you can also add promotions or offerings
Store codes and custom identifiers for multi location businesses
Ability to add price range for services
You even have the option of using a specific link for appointments or cool messaging features to communicate with customers.
Bing Places for Business
Bing Places for Business, formerly called Bing Local should also be a top priority to setup for your business.  Bing Places will allow you to import your GMB information and even sync the changes from GMB.  Its all about consistency with local search and your listings.  Bing makes it easy to follow the rules of standardization and allows some additional options.
Do all of the following activities listed above for GMB
Setup a fundraiser on GoFundMe to benefit your business
Sync your business data with Google my Business daily weekly or monthly
Add advanced networks like Instagram or LinkedIn to your profile
Add Business Relationship info if you are a store within a mall or other business
If applicable to your business you can also add promotions or offerings
You even have the option of using a specific link for appointments or cool messaging features to communicate with customers.
Facebook Business Page
Your Facebook Business page also needs to be optimized.  Make sure that your FB Pixel is also installed and working properly on your website to increase conversion and targeting quality.
Facebook has a very robust system that is useful for local advertisers to target potential customers if they have extra budget. Facebook advertising costs can be as little as $5 per day for targeted local traffic The options are going to be similar to GMB and Bing with a few additional opportunities for optimization. These are some of the unique features:
Temporary service changes menu
Linking to your business Instagram account
Abilities to communicate with your customers using FB messenger
Add advanced networks like Instagram or LinkedIn to your profile
Job Postings for your business
FB Leads Integration
Integration to FB Ads Manager
FB Reviews actually show up on some Bing local listings so these reviews can be useful
Yelp for Business
Yelp has been a player in the local game for years.  Yelp used to dominate local search for businesses before Google and Facebook got in the game.
Yelp advertisers can pay for a number of leads and also placement in the top of local searches. See some examples further down the page.
Some additional insights on Yelp for Businesses
Google and Bing will often use Yelp reviews to show quality of the business if there are not enough reviews from Google or Bing
Yelp Advertising allows you to purchase impression based ads which can be valuable in certain industries especially when you are starting out or if you big ad budgets to dominate the market
Page upgrades and additional features are available if you partner with Yelp as an advertiser
Yelp is not as popular as it used to be, but still has value in many different categories for local search.
Local Citations & Directories
There are also some other important directories not to forget about depending on what type of local business you have. These are some of the best directories and local search citations that still have value for businesses and can help increase your rankings in local search.
Apple Maps
Amazon Alexa
Trip Advisor
Yellow Pages
Foursquare
Yahoo
BBB Better Business Bureau
Local Business Search Scenario
It's Superbowl Sunday, and Bud's nails are long and need to be trimmed.  He could also use a good dog grooming.  With my current vet in Wicker Park not allowing dogs with their owners into the building, this is not the best option for a nail trim.
Bud can be a little feisty when people are messing with his nails.
Instead, I may do a local search for dog groomers near me. Let's see what we discover.
How do the different platforms show results?
Is there a clear winner every time?
How do ads play into the listing results?
What kinds of organic and paid opportunities are there in localized searches?
Google: "dog grooming near me"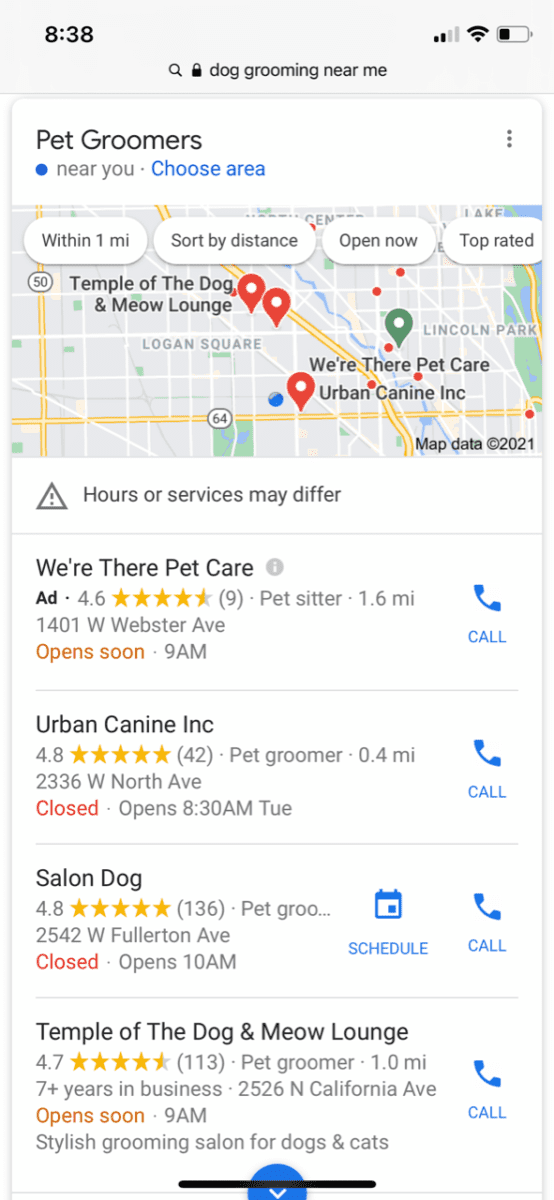 Bing: "dog grooming near me"
Yelp: "dog grooming near me"
Facebook: "dog grooming near me"
Google Local Searches
Google local search results had by far the most variety and opportunities for placements for local services out of all other options. There were also multiple advertisement opportunities for a business to get to the top of the page and various other placements on the page.
Google Localized Ads with Map
This is one of my favorite ad units for a multi location business.  There are driving directions in this example to multiple Petco locations.
Google Local Map Results
This is another great spot for your local business to get found.  Appearing in the top 3 map pack generates a lot of localized customer potential.  The ad unit here is also great.  This ad unit can appear if you link your Google my Business page properly to your Google Ads account.
People also ask (Featured Snippet)
The featured snippet for "people also ask" is one of our favorite features. You can typically achieve these with great original content that answers customers questions in your line of business.  Using schema markup on your website will also increase your chances of ranking for this structured data markup feature.
Google Localized Ads with Map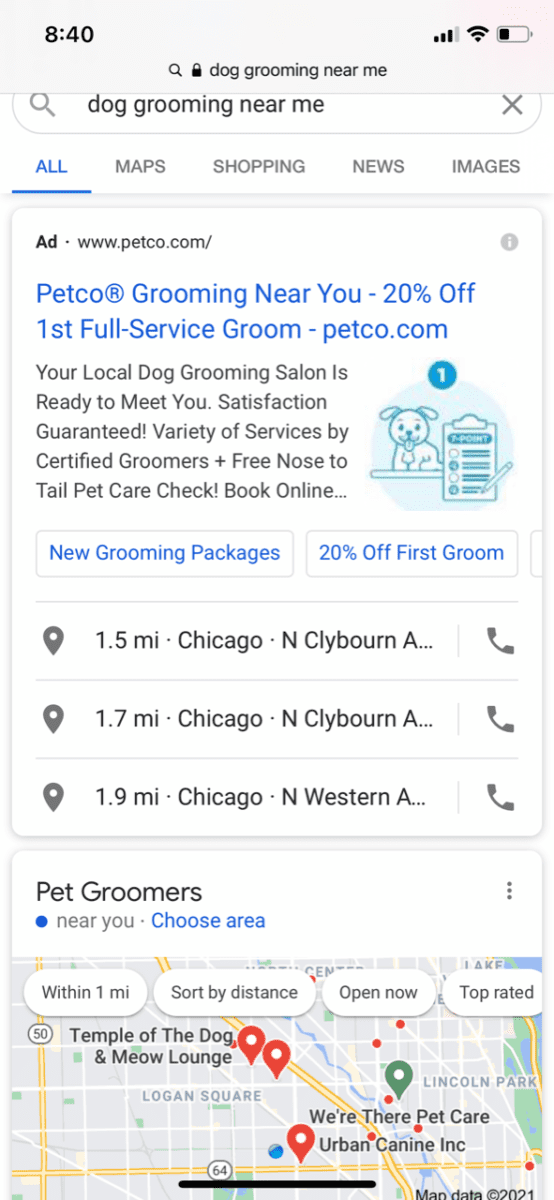 Google Local Map Results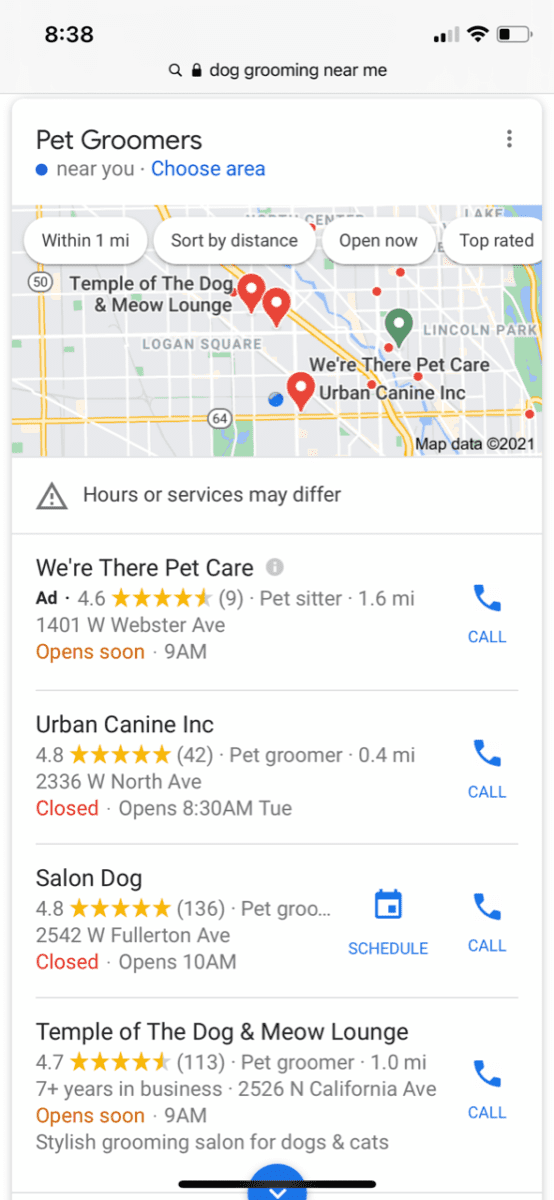 People also ask (Featured Snippet)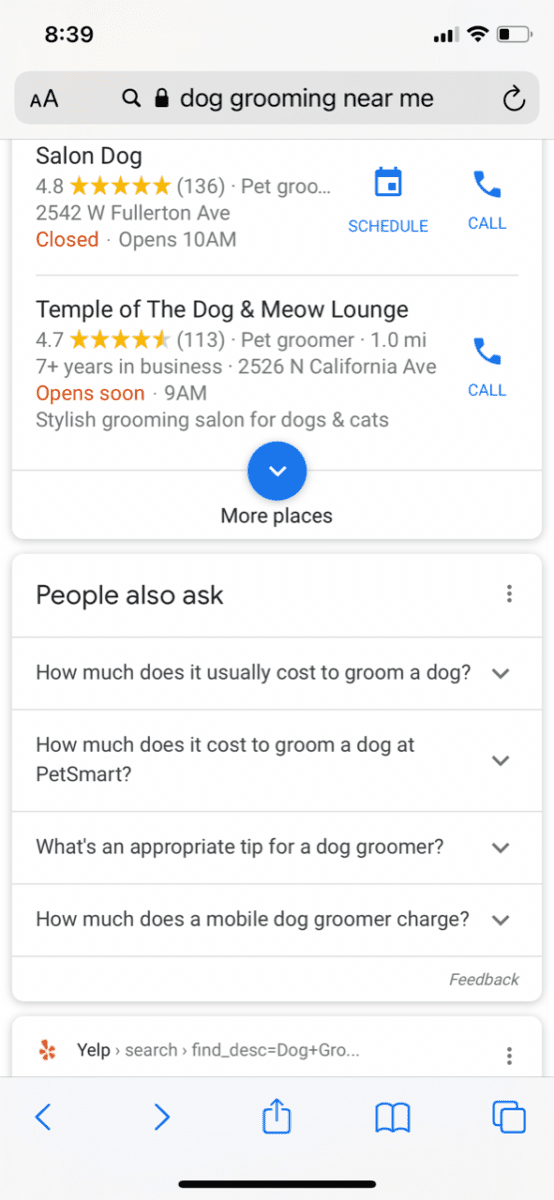 Google Localized Organic Results
Being number one in organic results is always the best you can strive for.  Ranking number one is not as helpful as it was years ago because of all of the ads and local map features that typically display above the organic results.
Many search engine users will skip directly to the top rated organic search when making a decision though. Recently a lot of third party and review aggregators have taken over these rankings.
Google Organic Results
After the "best of lists" these are typically where we are going to find te authority on the search.  When you hit the top 3-5 you will get much more search engine traffic opportunities.
Google Related Searches
If your first search wasn't exactly what you were looking for, related searches will help a user hone in closer on what they are looking for. If your business ranks higher for these related searches, you will have a better chance of winning the customer.
Google Localized Organic Results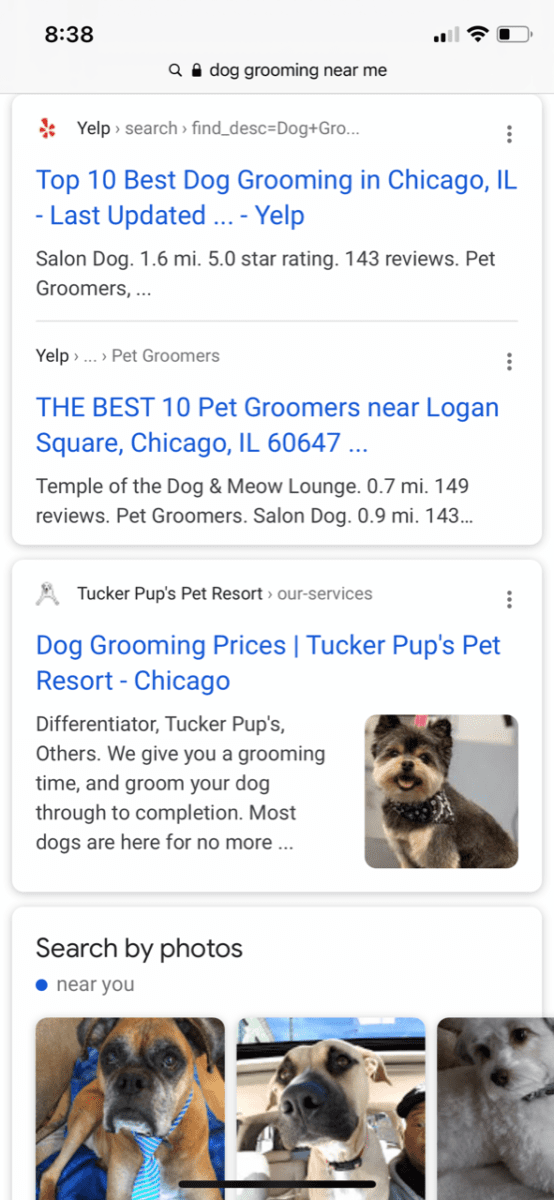 Google Organic Results
Google Related Searches
Bing Local Searches
The Bing local search results for dog groomers featured an ad from a national pet chain right at the top.  Throughout the Bing results, there were many ads scrolling down the page. There were some great highlights such as videos in the search.
Bing Localized Ads

The top of the page for our search yielded a strange name of the area that I am in that is not really accurate.  There is a national advertiser that takes over almost the whole page with a map of various listed businesses that is interactive below it.
Bing Local Listings

The local business profiles look really nice on Bing with easy to use call and direction buttons.  There are quite a few local business profiles
Following the top ad was a list of local pet groomers that appeared to sort and feature those that had ratings from foursquare and also Facebook ratings.
These results were a little different than some of the others I got.  This just shows you that you need to look at all of the top places people search for local businesses and optimize them all to get higher rankings and ore traffic.
Bing People also ask
(More Ads)
The questions related to this type of business also appear in Bing searches.  This shows you how important it is to have content that is relevant and answers common user questions to increase search rankings. This section also has yet another group of Bing ad opportunities
Bing Organic Results
The Bing Organic results show up next. Is your business in the top 3 for local searches in your selected category?
Bing Localized Ads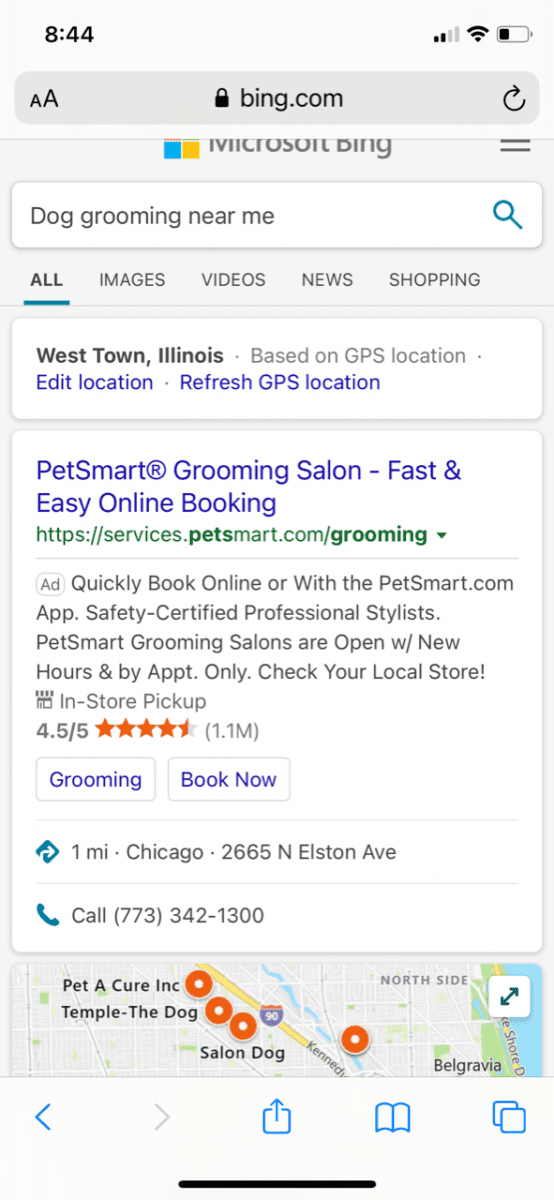 Bing Local Listings
Bing People also ask
(More Ads)
Bing Organic Results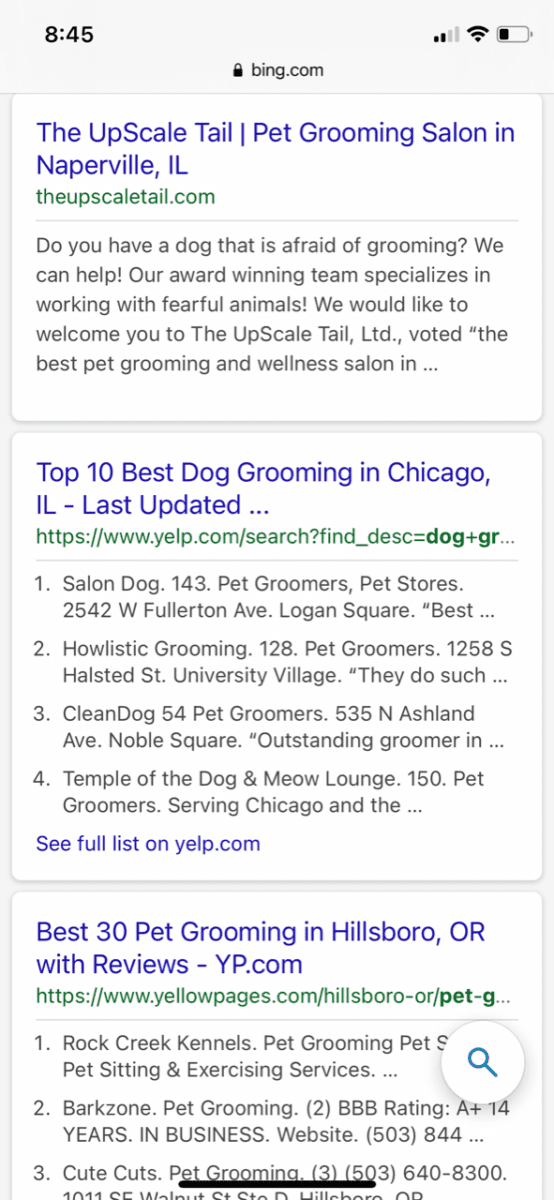 More Bing SERP Listings
Once again a lot of these results are best of lists and national advertisers.  This is an opportunity for local advertisers to create cutting edge content that will rank.
Videos
Videos are the future of everything for local business.  People want to consume information related to what they are searching for.  A well produced video gives an advertiser the opportunity to deliver a complete message to potential customers
Bing Related Searches
These are related searches that could guide a potential customer to your business with an updated and targeted search query.
See Results For
This shows up sometimes for Google too, but "see results for" is almost a definition of the query that was searched for.
More Bing Organic Listings
Bing Videos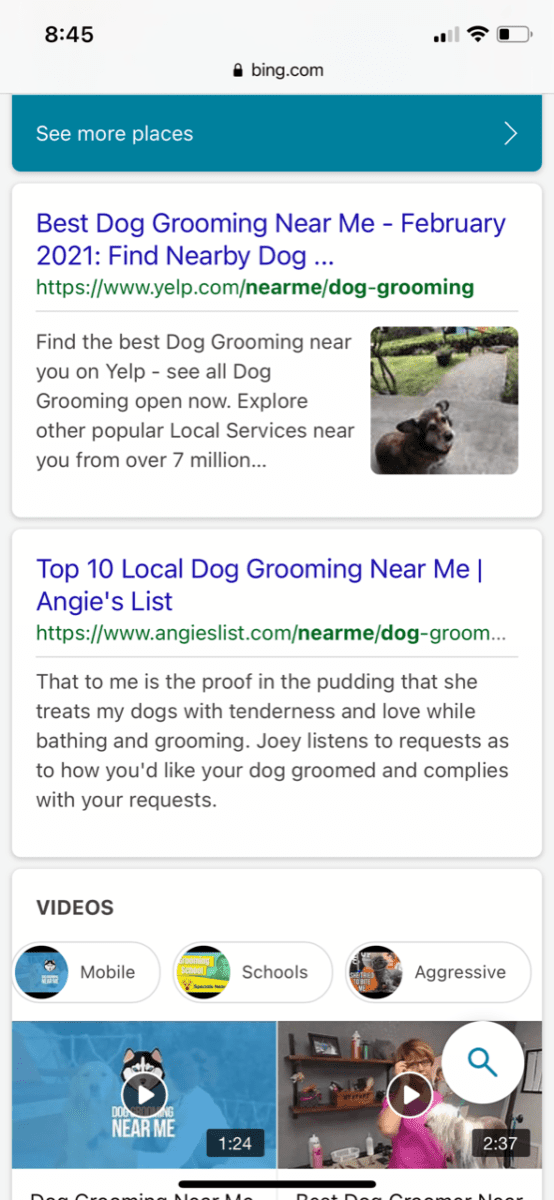 Bing Related Searches
See Results for
Yelp Local Searches
Yelp made me select a specific zip code for localized results.  You can see the premium featured accounts in Yelp noticeable by the options of being able to Request a quote, or request an appointment.
Yelp Local Search
Yelp Local Listings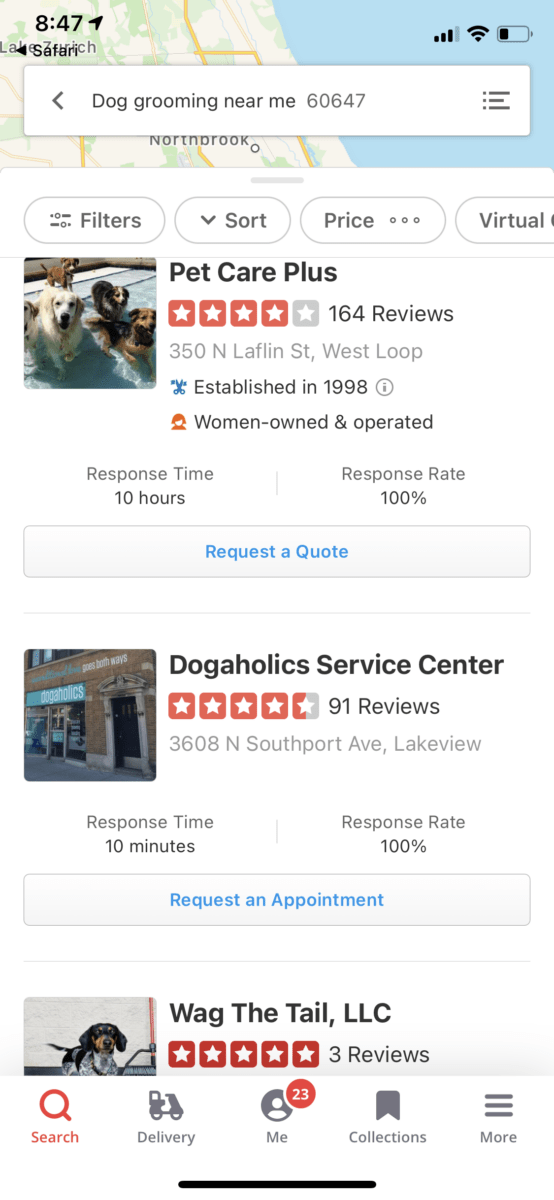 Yelp had a wide array of organic results and featured the business that we ultimately ended going to as the number one slot.
Yelp features for small businesses:
Multiple organic results, 20 exactly that I could easily access from my mobile device
Local map that highlights the types of businesses that I am looking for
 The sponsored results listed a national chain at the top, next a pet company called Meeow Chicago, that my or may not be suitable for dogs and the another business that would be a 30-45 minute drive away (most likely because they are paid advertisers).
Yelp Advertising Options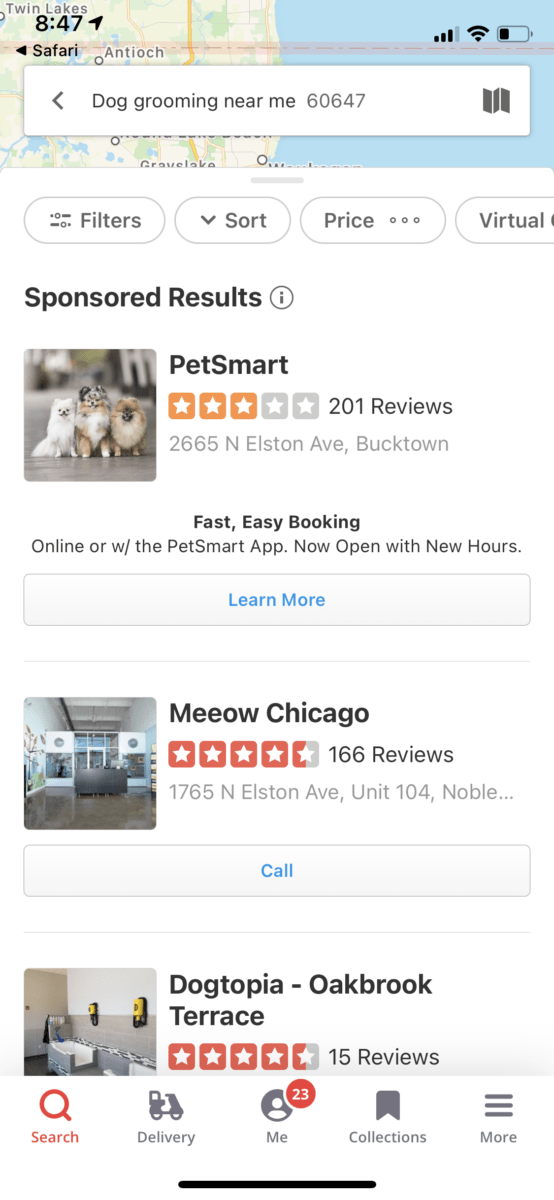 Yelp Top 3 Results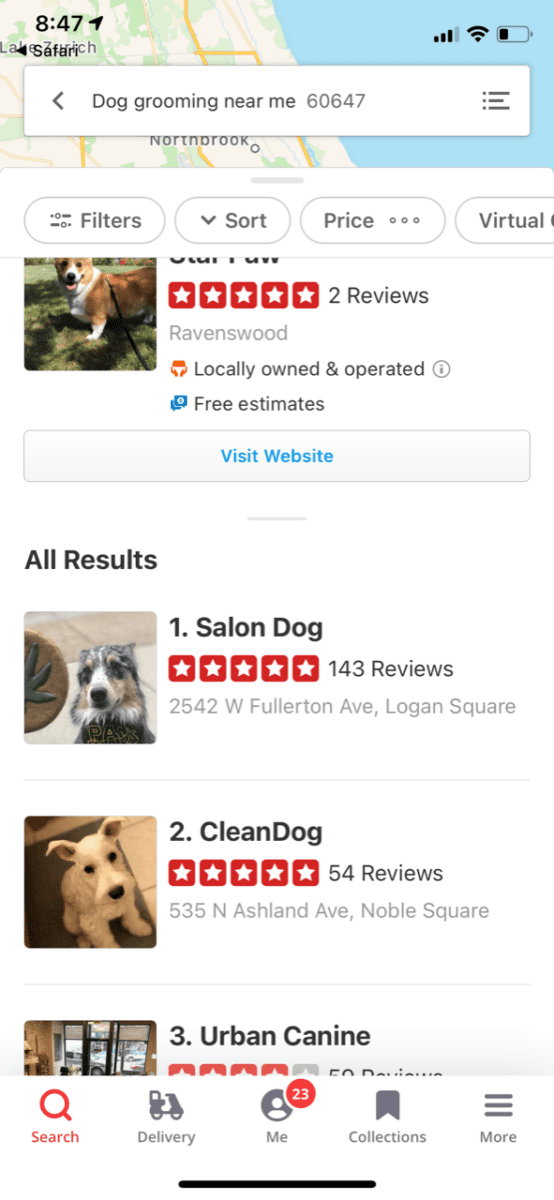 Yelp Top 5
Yelp Top 20 Listings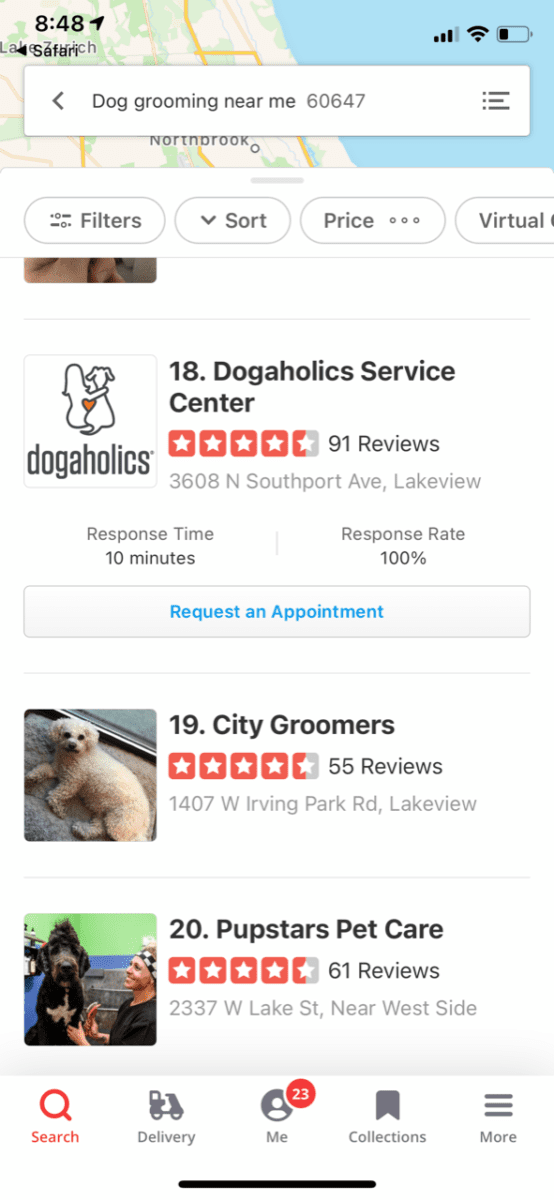 Facebook Local Searches
Doing a search on Facebook for a service area business yields a large amount of results that are all over the place.  You can search groups, videos, local business listings and more with a swipe on your phone.
Facebook Local Posts
A lot of these posts are user submitted.  Facebook will search the companies you follow and friends you have to give you search results that are most relevant.
Facebook Places with Map
Facebook All Results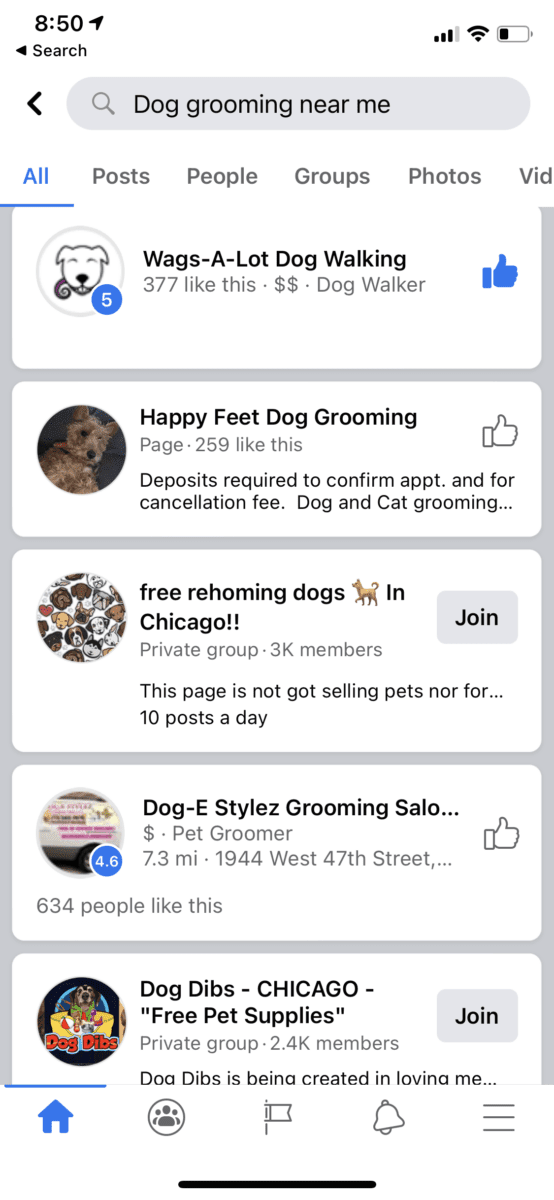 Facebook Local Posts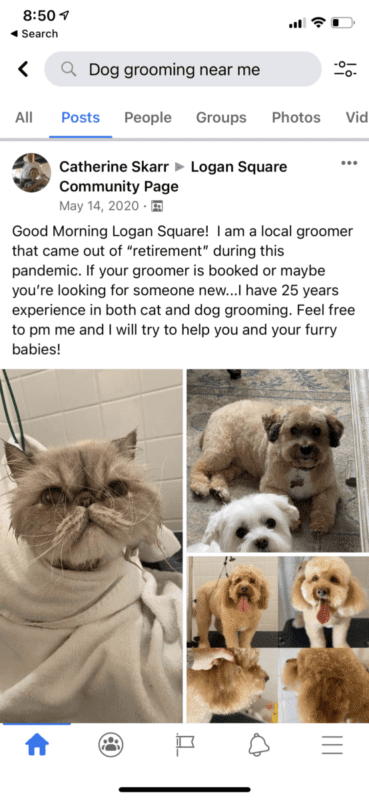 Facebook People
Depend on your exact search, a Facebook People search will identify people that have the same name as the search query.  In this example there are suggestions, but no people that match this query exactly.
Facebook Groups
Facebook Groups are super relevant for my local search if I want to ask locals or an engaged audience about a local search.  A lot of the groups in this case focus on adoptions and pet supplies.  For some verticals, actively monitoring these groups can reap huge financial rewards.
Facebook Photos
Who doesn't like good photos?  In this case we see a number of good looking dogs.  Some of them are also well groomed.  Photos can exhibit the products you sell, examples of your work or represent the workers and employees of your business.
Facebook Videos
Videos are the future and they are the reason that platforms like TikTok have grown so quickly.  If you have a video production team, great video can be used across Facebook, YouTube and other video sharing properties.
Facebook People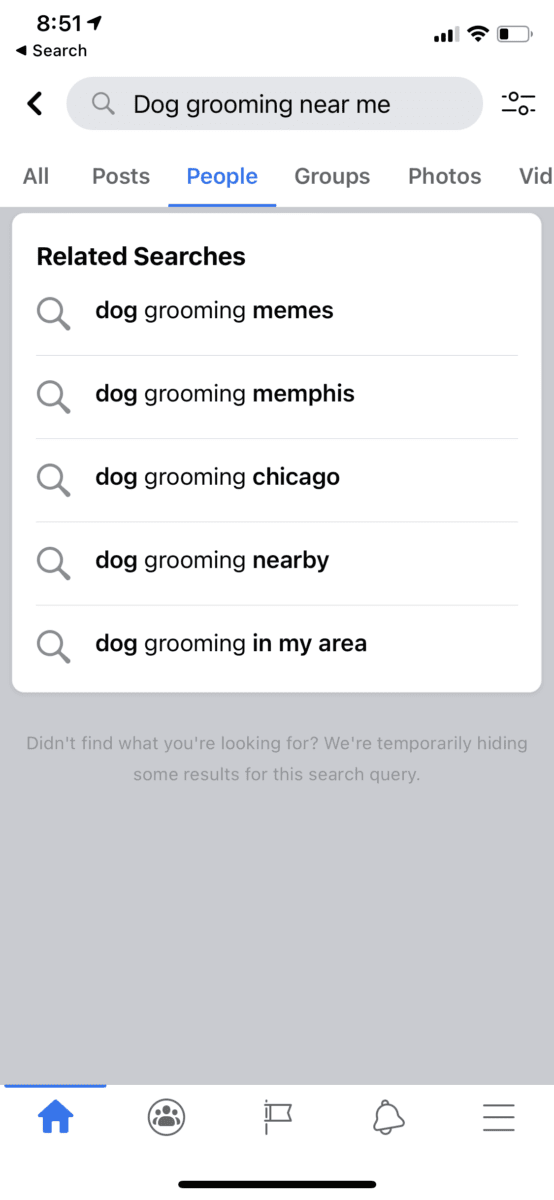 Facebook Groups
Facebook Photos
Facebook Videos
Facebook Pages
These are suggestions based on pages you follow with your Facebook account.  Some of these may not be super relevant.  For example Wags-A-Lot Dog Walking is a business owned by my friend that I have known for decades.  As a consumer she may have good advice on where to go to get the best dog grooming in the city, but many not do this herself.
Facebook Places
The Facebook places match rather closely to what we are looking for.  her are a number of local service based businesses that do exactly what I am looking for.  There is a wide variety different than other search engine results.
Facebook Events
Solar Eclipse Jam? Dogs at the beach? Sounds like fun, but its not exactly what I am looking for this time.
Facebook marketplace lets you purchase practically anything. If I did want to go the do it yourself route this time, I could definitely find some solutions nearby.
Facebook Pages
Facebook Places
Facebook Events
Facebook Marketplace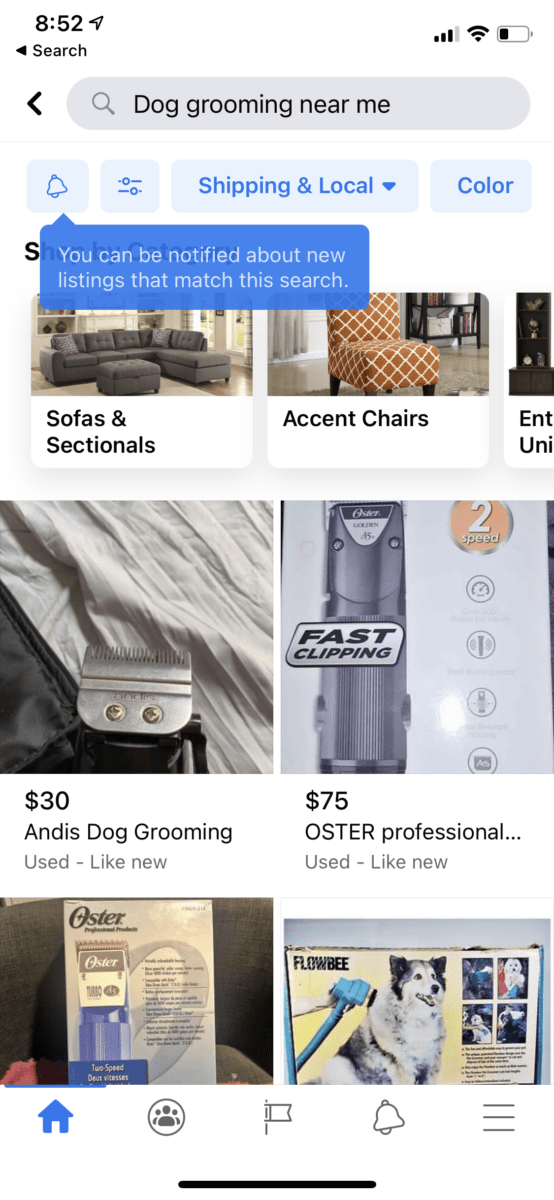 As a local business you need to be found in as many places as possible to gain more business. We recommend optimizing for all four of the main places that consumers search for your kind of business.
Bud ended going to Salon Dog, which was highly rated, and did exactly what we needed done.
Pay attention to the niche specific directories that your business may be a part of as well. Hotels and Restaurants for example need to be concerned with additional listing sites to gain ore chances at business.
SEO Design Chicago helps businesses of all sizes maximize their local presence. Contact us to learn how we can make your business shine among your competitors.