You put a lot of work into your physical storefront, right? Well, an Instagram bio is basically the same thing, except for your Instagram profile. Everyone who visits your profile will get their first impression of your brand via your bio. That's why it's important to have an attention-getting Instagram bio. There are about one billion active accounts on Instagram, so you need to stand out. In this article, we'll give you some tips for how to write an Instagram bio and share some of our favorite examples of the best Instagram bios on the internet to give you some inspiration. We'll help you come up with some Instagram bio ideas to help you!
How to Write an Instagram Bio 
It might seem silly to put so much effort into something so short. After all, an Instagram bio has a maximum of 150 characters. But if you are trying to get more Instagram followers, you need to have an engaging, attention-grabbing bio. Here are five questions to answer in your Instagram bio for your potential followers:
Who You Are
Who are you? The first thing you do when you meet a new person is introduce yourself. Your Instagram bio isn't any different. First, start with your brand name and who you are.
What You Do
In case someone unfamiliar with your brand encounters your page, explain what your business is all about. Don't force someone to look through your feed trying to figure it out. (Chances are, they won't take the time to do that.)
Your Brand Personality 
Consider your brand's personality and voice and use that tone in your Insta bio.
Your Target Audience 
Keep your target audience in mind when you are writing your Instagram bio and cater to their interests, needs, and desires. Don't worry too much about alienating others and focus on attracting the users you need.
What You Want From Your Target Audience
Include a call to action in your Instagram bio. Do you want users to simply follow you? Visit your website? Whatever action you want your audience to take, encourage them to do so with a well-written CTA.
What Your Instagram Bio Should Include
When you create your Instagram account, your bio will include the following:
Contact Information
Don't forget to include your contact information in your Instagram business profile, including an email address.
Landing Page
You only get to include one link in your Instagram bio, so make it a good one. Consider a landing page simply for potential followers to click on. When they click the link, they will be taken to a designated page created specifically for them.
Profile Photo
Don't forget to upload an avatar! No Insta bio is complete without one.
Good Examples of Instagram Bios
These are some of the best examples of straightforward, well-written Instagram bios. Rather than including a generic Instagram bio quote, consider these ideas instead to stand out from the crowd. (Keep in mind that these bios were current as of this writing and may have changed since.)
Instagram
Unsurprisingly, Instagram itself has a great bio. The description "Bringing you closer to the people and things you love" positions the brand not simply as a photo-sharing app, but as a tool for staying connected to the people and brands you are invested in. It is short, sweet, and shows that the brand has a mission beyond making money.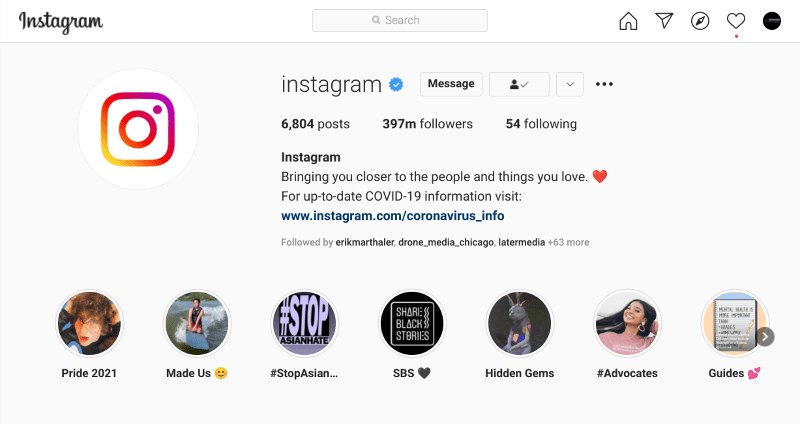 Shopify 
Shopify took a similar approach to Instagram. The shopping app uses its bio to support small and independent businesses, rather than sell itself.
Ben & Jerry's 
Ben & Jerry's keeps it simple with their Instagram caption: "Peace, Love, & Ice Cream." Short, literally sweet, and to the point.
Funny Instagram Bio Examples 
Don't underestimate humor when writing your Instagram bio! Depending on your brand, it can work well. These types of bios work best for large companies where many potential followers already know what your brand is all about. Here are some examples of hilarious Instagram bios.
Friskies 
The cat food brand's Instagram bio says "Buying your cat's love just got cheaper." They then implore you to visit their website in order to save money on cat food, which is a great call to action.
MoonPie
MoonPie's Instagram bio? Simply "outta this world." Who doesn't love a good pun? Consumers love when brands don't take themselves too seriously. While this approach might not work for, say, a doctor's office, it does work for certain brands.
Twitter 
Twitter is keeping it short, to the point, and staying on brand with its Instagram bio: "Screenshots of Tweets." And indeed, that is what you will find on Twitter's Instagram feed.
Dynamic Instagram Bio Examples 
Instead of choosing one perfect Instagram bio and leaving it up forever, you can also change your Instagram bio on a regular basis in order to stay on trend or promote a new product. Here are a few examples.
Taco Bell
Taco Bell uses their Instagram bio in this instance to promote their Snapchat lens, which in turns is promoting their Mountain Dew Baja Blast. You can use your Instagram bio to promote your latest product or service, too.
E! News
E! News appeals to its audience with the latest trending conversations on social media. Their current bio is "Deleting our dating app profiles because we want to meet someone the old-fashioned way: Instagram DMs." They took a trending social media statement and made it their own, and used it in their bio, which appeals to their target audience.
Cool Instagram Bios 
Check out these cool Instagram bios.
Ford Motor Company
Sometimes, you want to brag a little in your Instagram bio. And that's exactly what Ford is doing in theirs. "We built the assembly line. The most beloved truck on the road. The iconic American sports car. And the SUV people think of when they think of an SUV." In this bio, Ford is establishing itself as a trusted authority.
Pop-Tarts 
Another route to go in your Instagram bio is to use a custom hashtag, like Pop-Tarts. The company's current bio reads "Listen to that voice in your head asking #WhatWouldPopTartsDo" and a link to the Kellogg Company's blog post on combating racism. A little more substance than you might expect from a toasted pastry brand! Consider using a branded hashtag in your own bio.
The Intercept
Rather than using up all 150 characters of your Instagram bio, you can also try doing a short, yet effective catchphrase or slogan that will stick in your readers' minds. It should also encapsulate the mission, purpose, or drive behind your brand. The Intercept does this exactly with their bio, "Fearless, adversarial journalism."
Creative Instagram Bios
You can't go wrong by getting creative with your Instagram bio!
The Montague Bookmill
One way to inspire interest in your brand on Instagram is to use your bio to create a curiosity gap. A curiosity gap is the realization that there is more information available, and it makes your reader hungry to find it. The Montague Bookmill does exactly that in their Instagram bio, which is "Books you don't need in a place you can't find." Most likely, now you're curious where The Montague Bookmill is, right?! This immediately creates web traffic.
Angel Soft 
Angel Soft's bio is much deeper than you might expect from a toilet paper brand. "People are both soft and strong, which is why our products are too. Be Soft. Be Strong." The bio tells you what you can expect from Angel Soft's products while also connecting to a broader sentimental message.
Pura Vida
In addition to the text of your bio, you will want to consider the design, too. Pura Vida, a bracelet and accessory company that helps fund artisans across the globe, designed a beautiful Instagram bio. It's easy to read and scan and incorporates emojis to make it more visually appealing. If you add line breaks to your bio, it also helps break up the text and make it more readable.
Inspirational Instagram Bios
Everyone loves an inspirational Instagram bio.
Starbucks 
Starbucks – yes, the global coffee conglomerate – actually has a pretty inspiring Instagram bio. "To inspire and nurture the human spirit – one person, one cup and one neighborhood at a time." Starbucks is taking the idea of coffee inspiring us and connecting us and whittling it down to a short Instagram bio. Nicely done.
Aerie 
Aerie was one of the first major brands to stop retouching photos, and the brand proudly proclaims this in its Instagram bio. "Power. Positivity. No retouching. #AerieREAL." In doing so, Aerie notes the thing about its brand that sets it apart from other clothing brands. What sets your own brand apart? Consider highlighting the interesting or different thing about your business that makes it unique and memorable.
Lush Cosmetics
Lush Cosmetics makes it clear in their Instagram bio that their mission is about much more than makeup. "We're creating a cosmetics revolution to save the planet." We're inspired!
Instagram Management at SEO Design Chicago
Hopefully, these Instagram bio examples helped inspire your ideas for your own bio! SEO Design Chicago provides social media management services to help companies and brands accrue more followers, engagement, brand awareness, and ultimately – business. Contact us today and we can work together to create the perfect Instagram bio for your business!
FAQs: 
How long is an Instagram bio?
What is a dynamic Instagram bio?
What should I include in my Instagram bio?
How do I write a good Instagram bio?
What are some good Instagram bio examples?