How often do you visit your favorite chain coffee shop? Is it Starbucks or Dunkin' Donuts? Did you know that Starbucks was first established in 1971 as a small, stand-alone coffee shop? How did it get to be the coffee giant it is today? Well, search engine optimization (SEO) was not around in the '70s, but Starbucks certainly knew how to utilize marketing and advertising strategies. However, it takes some time and effort to reach the status Starbucks has. Don't sweat it though, your local cafe business can be just as successful as any chain coffee shop!
Luckily for us, the internet now exists which opens up a whole other array of tools to help market your local cafe business. Specifically, we are talking about local SEO. Local SEO is just like regular SEO, but instead of a national or worldwide scale, it's on a local scale. This is nice because local SEO is much easier to understand and utilize, as well as there is less competition. A lot of local cafes and restaurants depend on local SEO for getting foot traffic into their establishment, so it's important to understand how to use local SEO for your business.
In this article, we'll discuss why you need local SEO, how to utilize it to market your local cafe, and how to optimize your cafe's website for local search marketing.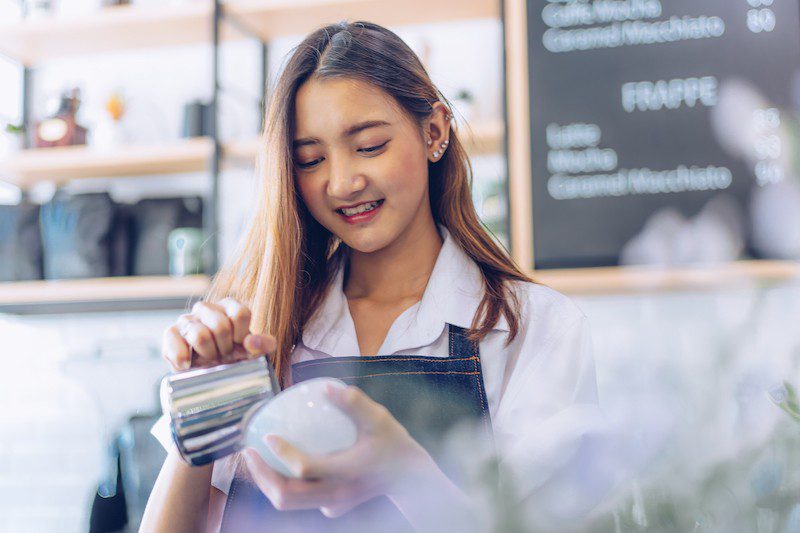 Why Do You Need Local SEO?
With your phone in hand, every time you want to go grab some quick coffee, maybe in an area you're not familiar with, you do a Google search for "local cafes near me." An extensive list pops up and you make your selection from the options presented to you.
In a few words, that's why you need local SEO to market a cafe. It will show up when people search for a local cafe in a specific geographic location. But we'll dig in a little deeper and explain.
With Instagram reach going down and Facebook Ads being so expensive, local SEO is the way to go to market your local cafe. That way, the work is on the customer to find you, you just have to make it easy for them. Local SEO can help your local cafe improve its online presence, whether it's your social media or your website, to increase your Google search ranking. The results that come up when someone searches "best coffee near me" or "local cafe near me" are listed because of SEO and because of the rankings they receive. It will help you stand out from other local cafes on the search result page.
How to Utilize Local SEO to Market Your Local Cafe
First things first: in order to promote your cafe, you have to decide what your cafe's brand, story, mission, and values are. This is what is going to initially attract customers to your cafe. This is especially important because you are marketing your cafe online. People don't walk down the street and look for a coffee shop anymore. Instead, they use the internet. So, how you portray your cafe online is an integral part of local SEO. Here, we will be utilizing Google My Business to help get started with local SEO.
There are a million coffee shops out there that are general or uninspiring, so make sure you consider one of these hooks to include in your marketing plan for your local cafe:
Brand Story
The brand story makes an impression on people. It is what will stick with them about your cafe. Your brand story is telling customers, "Here is our story and why it matters to you."
How You Operate Differently
Does your cafe roast their coffee in a unique way, have an unusual menu, or something else? You will want to capitalize on these attributes because it will make your local cafe stand out from others nearby.
Your Values
What are the core values you implement into how you work? What do you fight for or believe in? By incorporating these hooks into your marketing plan to promote your local cafe, you're on the right track.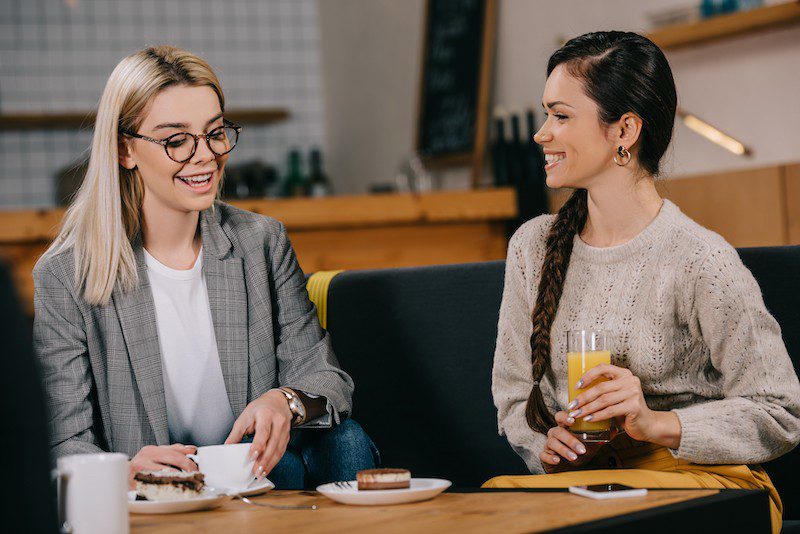 Google My Business
Google My Business is the main profile Google uses to send people search results for local businesses. It allows you to show up in text searches as well as map searches. The way it works is Google sorts business profiles based on how well they fit the user's search query. If your business has no information, or it is inaccurate, you will lose potential customers. Luckily, Google My Business is super easy to work with and a great way to get started with implementing local SEO in promoting your local cafe. Here are some ways you can optimize your Google My Business profile:
Complete Basic Information
This is the easiest thing you can do for your business. Make sure every aspect is filled out, including your local cafe name, address, website link, business category, phone number, and hours of operation. Each of these is a way for a customer to find your cafe and get connected with you, so it's imperative they are filled out.
Media and Reviews
Another Google My Business best practice is adding photos, videos, and reviews to your business page. A good photo or video of your cafe or a specific menu item is a great way to catch a potential customer's attention and draw them in. If they can see what you are offering, they are more likely to visit. You know what they say, "a picture is worth a thousand words." Just ensure the media is of good quality. You don't want any blurry photos or irrelevant videos uploaded.
You wouldn't think reviews would draw people in, but especially with out-of-towners looking for spots to go to, they are more important than you know. Customers trust reviews from people who are searching for the same results. Plus, if your cafe has reviews on Google, it will show up higher on the search result page, especially if the review contains keywords.
The best way to get reviews is to just ask. First, ask your regulars and other loyal customers. If you thought you got along well with a particular customer after your interaction, you can ask them to leave a review as well. Most of the time, they'll do it without anything in return. 
Questions and Answers 
Google My Business includes a Frequently Asked Questions (FAQ) section where customers can ask questions and you, as the business owner, or anyone else, can answer them. Make sure all questions are answered with accurate information. We'd suggest turning on alerts for when someone asks a new question so you can be the first to answer it. Also, it is a good idea to ask the most frequently asked questions right away so no one sits there scratching their head or someone answers it incorrectly. It's a super easy addition to your Google My Business profile but very effective.
Local Search Marketing
Google My Business is great, but it is only one aspect of utilizing local SEO to help promote your cafe. While SEO Design Chicago works in many cities from Los Angeles to Boston, your local cafe does not want to market outside your local search bubble! Other things help contribute to managing your local SEO, including advertising, content creation, and web developers. 
Advertising for Local Cafes
There are an endless number of ways you can advertise your cafe, but here are some of the best that will also contribute to your local search marketing efforts:
Pay-Per-Click Advertising 
Pay-per-click (PPC) ads are a very cost-effective and efficient way to advertise your local cafe. PPC is a marketing strategy in which the advertiser only pays for an ad when someone clicks on it. Instead of organically attracting traffic to your website, you are buying traffic.
Facebook Advertising
Facebook is another great way to contribute to your local search marketing efforts. This social media platform allows you to target your audience locally. This is ideal for a coffee shop, so you don't waste time and money on targeting people who are not in the area. Plus, everything is all in one dashboard, so there is no need to run around looking for all the bits and pieces.
Instagram Advertising
Most recently, Instagram has become an amazing place to display photos and videos of what your cafe has to offer. Instagram ads are the perfect way to do that.
Content Creation
Creating original content to help market your local cafe is a lot more effective than you might think. Your website should feature more than just your menu, whether that is an "About Us" page, a blog, or an "Events" tab. Good content will help you interact with your customers and create a loyal connection. Implement different kinds of content like photos, videos, contests, giveaways, and more on your social media pages and your cafe's website to give your local search marketing efforts a boost. SEO Design Chicago specializes in web content creation and can help you create the content of your dreams, no matter if it's on social media or your website.
Web Developers
To make sure your customers have the best experience possible, it's important that your website runs smoothly and looks attractive. SEO Design Chicago's professional web developers and web designers can do all the dirty work for you while you construct your vision board. We can create a brand new website for your local cafe, or we can redesign your existing one!
So as you can see, there is a lot to consider when you want to implement local SEO into your local cafe marketing plan. Don't feel overwhelmed – SEO Design Chicago is here to help you. 
FAQ:
Why is local SEO important?

How do you optimize your Google My Business profile?

Why is local SEO a good option for cafes?

How can I advertise my cafe?

Why is content creation important?