If you need to use images for your marketing materials or websites but have no idea where to start, then you have come to the right place. Everyone knows how important standing out and having tasteful, relatable visuals can be when it comes to trying to represent your business' ethos in small adverts or through a few web pages. Before getting to where to look for those images, take a few moments to be sure you understand what stock photography is. Knowing the best stock photography websites will benefit your business tremendously.
What Are Stock Photography Websites?
The stock photography industry began to provide access to finished professional photography work for businesses needing images in any of their materials. This included, but is not limited to, advertisements, magazines, or informational packets. Instead of contracting a photographer to take hundreds of diverse pictures, a small business could easily pay to license pre-existing images for commercial use. 
Since the development of the internet, stock photography has largely transitioned online. Internet stock photography websites provide hubs so that a massive entity or an individual running their own small business can access a searchable database of images to find exactly what they need. Many historical stock photography organizations adapted to these changes quite well. In fact, some of today's best stock photography websites belong to traditional forces that share an origin with the industry. Original archives such as the Bettman Archive transitioned into large-scale web-based companies over time. These companies, therefore, have roots dating as far back as the 1920s. 
Why Should a Small Business Use Stock Photography Websites?
Great web design and advertising for any business drive search results and customer responses. From user interface to using the right imagery for your business, well-built contemporary marketing is crucial to improving commercial success! However, getting images for marketing use is not necessarily a simple task. Professional photographers can run your budget up to hundreds per hour or per image used. The good news is that these images are already available without the time, cost, and hassle of needing to commission a photographer for each particular requirement you have. While not completely free, using the best stock photography websites for your small business will still save you time and money. Meanwhile, it will also provide complete and ready-for-use photographs that you can license for your own needs.
Legality is another issue that makes using stock photography websites for building your small businesses' web presence the smart choice. Many photographs you come across simply by searching online could be copyrighted. Therefore, using them could either cost you in royalties or civil suits. Avoid violating copyright laws by using some of the best stock  photography websites out there!
5 of the Best Stock Photography Websites Small Business Owners Should Know About
There are a lot of stock photography websites out there, but these are five of the ones that you should know about as a small business owner.
Shutterstock
Shutterstock is one of the most notable and extensive resources for stock photography. However, it also has many other features such as video licensing, music licensing, 2D and 3D models. Shutterstock offers a variety of plans to access what you need without having to worry about getting a plan that is too big or too small for you. Shutterstock offers download packs, which allow you to purchase a certain amount of downloads for the year, without worrying about a subscription. Another option is a subscription. Not only do subscriptions offer a multitude of credits with differing rates per month, you can also save money by signing up with a contract that guarantees the length of time you will be committed. Shutterstock even offers a team option that will give multiple users a certain amount of download credits. 
Aside from having a high degree of customizability for plans and pricing, Shutterstock is also respected for its whopping 400 million plus photos, vectors, illustrations, and editorial images. With their quantity and quality, they are certainly one of the best stock photography sites for your small business. Before you rush to subscribe though, it is worth getting familiar with the competition.
Getty Images
Officially founded in 1995, the historical edge goes to Getty Images. Plus, on their pricing page, they make it very easy to request a demo. This means you can quickly get in touch with a representative to understand why you might want to use Getty Images for your stock photography needs. The only pricing information available on their website is for download packs, which essentially lets you purchase a certain number of uses at a time. This is instead of renewing payments month over month for more downloads via subscription. This transactional access makes it easy to try them out without commitment, so keep that in mind!
Getty Images showcases the work of spectacular photographers who work with them. Simply looking through their website provides a testament to the argument that Getty Images is one of the best stock photography websites you could use. The sheer quality on their site shows that they take pride in the images they curate for their collections. Another perk of Getty Images is that all of their images are 100% royalty free. They also include generous usage rights, which makes using them without worry even easier.
Adobe Stock
Adobe Stock is the stock photography, vector, and video offering side of the well-known image and graphics-oriented software company Adobe Inc. The platform makes getting acquainted with their options very easy as they offer 30-day free trials for most of their annual plans. Adobe offers both annual subscriptions and month-to-month options. The month-to-month options provide a varying number of "standard assets" which you can download.
With almost 300 million high-quality images, you can be certain that Adobe Stock is another fine option for anyone looking for the best stock photography websites.
Aside from being searchable, Adobe Stock also publishes a list of popular keywords such as upcoming holidays or events. These keywords might be immediately related to the content you are looking to curate. Just below this, Adobe Stock lists multiple common categories that will allow you to browse with your eyes instead of your boolean skills.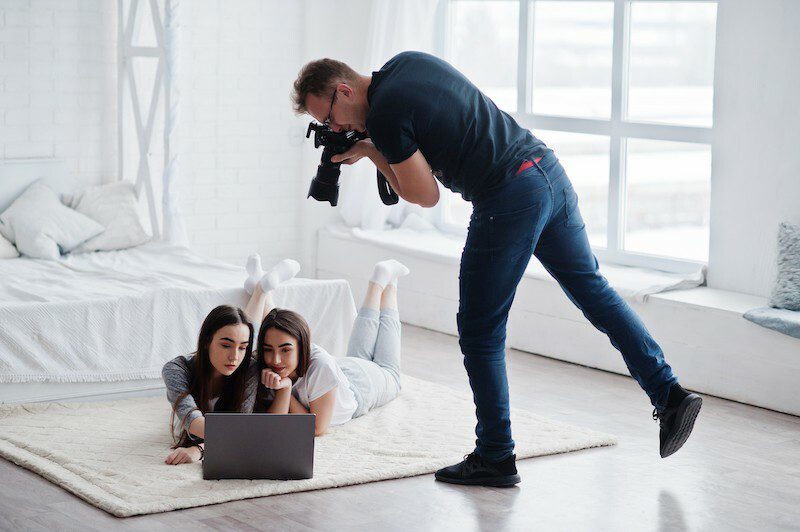 Dreamstime
Another of the best stock photography websites is Dreamstime. It offers over 200 million images and boasts 48 million users. Dreamstime has a one-week free trial and plenty of options for both credit packages and subscriptions. This will allow for a high degree of customization to your specific needs.
Aside from its impressive user count, Dreamstime also works with over one million photographers. Dreamstime's standard licensing agreement is also royalty-free, which means you will be able to purchase an image and use it in perpetuity.
Stocksy
Although the youngest company on this list, Stocksy has a couple of important values that it uses to set itself apart. Primarily, Stocksy positions its business as the most website that is most fair to photographers. Stocksy proclaims that 50% of regular purchases and 75% from extended licenses go to their photographers as part of their fair pay commitment. Many images on their website also have creators tagged directly, making it easy for you to give them credit and recognition for their work. 
Pricing on Stocksy is based on the size of the image that you are looking for. Stocksy also includes time limits for usage that change the pricing. Their images are royalty-free, but you might have to make decisions about how long you want to use them. Stocksy also requires you to get in touch with them about an enterprise account, so there is not any readily available pricing information where subscriptions or multiple users are concerned.
What to Do for Your Small Business
There are clearly many viable options when it comes to the best stock photography websites to use for your small business. However, with many free trials available, you can quickly check them out for yourself. Don't be afraid to try several to see which one suits your needs best, both in terms of the content and pricing options.
For more help with building your small business's web presence and making sure your hard work can be found, consider getting a free SEO analysis from SEO Design Chicago. We also provide many other helpful digital marketing services that you should check out.
FAQ:
Why should I use stock photography websites?

What are the best stock photography websites?

What are stock photography websites?

How many users does Dreamstime have?

How is Stocksy fair to photographers?