It's the beginning of a new decade and it's time to develop an updated SEO Marketing Strategy for the year.  The majority of marketers and small businesses are focused on appearing higher organically, but many never follow through on the process. Featured Snippets and enhanced SERP features should be at the top of your priority list for the content that you produce.
SEO Marketing Strategy Basics
2020 is the year to look at your SEO Marketing Strategy as a long-term project rather than a one-time show.  Optimization and maintenance are ongoing processes to build your brand on the web.
Many marketing companies don't practice what they preach.  Some of the immediate concerns that an SEO Marketing Agency should be concerned with are:
Page Titles lack an SEO focus keyword
Page titles are copied from 
Pages with URL length issues
Schema Markup is nonexistent for recipes, products, shows, or events 
Nothing ever changes on the website!  The Wayback Machine offers a backlog with screenshots on any URLs that were ever indexed
Without making changes to your SEO marketing strategy or constantly updating your processes, your marketing agency or your business will continue to drop in rankings. With every Google update some SEO practices that would get you ahead are no longer viable to use. With your website being less visible on search engine result pages this will lead to less clicks, less leads, less page views, less conversions, and less sales.
As the online ecosystem continues to evolve, we will continue to see additional SERP elements showing up and becoming a larger part of the picture. Some of the SERP elements that we see while doing the search today include the following:
Google SERP Elements
As SEO evolves, for a business to stay competitive in search rankings, it is critical to get SERP elements integrated with webpage content. Featured Snippets and enhanced SERP features will help your business get found because it takes over the page putting your content front and center.
Sponsored Results in Ads
Google Ads formerly known as AdWords displays ads everywhere now!  Ads can appear at top of page, bottom of page, and even within maps
Organic Results
The results that come in from Google searches influenced by Page Rank, Keyword Rank, Relevance and many more things
Featured Snippets
Featured snippets are special boxes that contain summaries at the top of the page.  These are more likely to increase CTR.  They will still appear below Google Ads in most cases.
Knowledge Graph Panel
Knowledge graph panels are information boxes that appear on Google when you search for people, places, organizations, or things that are in the Knowledge Graph. These provided a quick highlight of information gathered by Google.
People Also Ask
Related queries to the original search phrase in bundles of related questions.
featured snippets or answer boxes
Sitelinks
Sitelinks provide multiple links to subpages of websites below the initial SERP results
News Box
Breaking News and time sensitive news stories from around the world are visible from a News Box
Local Packs
These can be created by Google if you have a Google My Business Page, Address of your company is verified, and your business information is optimized for local search.
Local Teaser Pack
Three pack of local businesses results.  Usually hotels and Restaurants.
Carousel Listings
Structured data makes carousel listings possible.  These are some of the most popular carousel listings you will see on Google:
Carousel Listings for Recipes
Carousel Listings for Movies
Carousel listings for Books
Carousel Listings with enhanced Details
Reviews with Star Ratings
Review sites like Yelp and Google are not the only ones around.  These can come from a variety of sources and can even be for recipes, movies, or books.
Twitter Content (Tweet)
Tweets can strengthen a brands presence on Google SERP's.
Shopping Results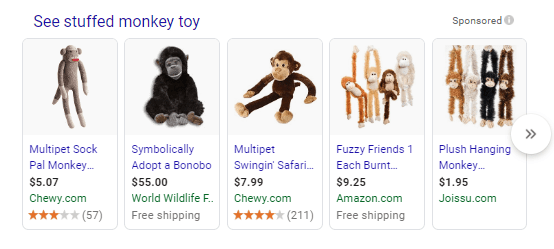 Product Listings and Paid shopping Results help to sell products (and get clicks)
Image Packs
Image packs will show a wide variety of photos for popular subject matter.
Videos
Embedded videos for YouTube, VEVO, SPIN or other media sites can appear when certain keywords are connected.
In depth Articles
A Google SERP may return a block on in-depth articles that look almost identical to regular search results. In depth articles will typically contain enhanced schema markup as well.
If your site does not contain many SERP features yet, there are ways to work on getting included on these high CTR positions.
SEO Marketing Updates for 2020
It is easier for larger companies to rank for more keywords because they have higher domain authority, more pages, and more links pointing to them already.  They are already credible in the eyes of the search engines.  Many businesses do not follow a good SEO strategy to exploit their specialty or sweet spot.
Keyword Research for 2020
Set Realistic Expectations and Target your Niche
Different keywords will have different keyword difficulties associated with them.  Ahrefs does an excellent job of identifying the difficulty of ranking for specific keywords.  This software is a great option for an in-house SEO team or agency that is working on specific keyword strategy.
You need to have a good balance of keyword difficulty and Traffic.  They keyword you are attempting to rank for should also have value for your business, or there is no point.  If a keyword difficulty is 95, you will probably never be able to outrank top sites that have hundreds of thousands of backlinks.  A Keyword Difficulty of 10-20 would be much more obtainable.
If you use a tool like SEMRush, it's great to look at a domain to domain comparison.  You can see what words competitors are using and how your ranking compares.  If there are certain keywords that you don't rank for, this will help you put together an SEO strategy.
Keyword Rankings Over Time
How does your website rank for keywords over time?  A variety of tools can show you how your website ranks organically over time for specific keywords.
SEMRush
By looking at these tools you can discover how Google Updates, Competition and New Products or services impact your rankings.  Did Search Volumes increase or decrease?
Pick Keywords that you have a chance on ranking for.  If a specific keyword has 1500 searches a month, and you can't get in the top 20 positions, how will you get the top position on a keyword that has 5000 searches? Even keywords that average 40 to 100 searches a month may be worthwhile to target if they are closely related to a product or service you sell. It's all about getting the right customer to your webpage and making a sale!
Your SEO strategy to really involve targeting multiple keywords on multiple pages. If you can increase page rank on 20 pages for a keyword per page, will be much more likely to get beneficial traffic and reaching the right customers than targeting one keyword and one page. It's about volume, it's about experimentation, ants about seeing what works. The longer you work with an SEO strategy, you should be able to see results of what's working and what is not.
SEO Marketing Strategies
One SEO strategy that works particularly wel,l is to target keywords that are at the top of the second page. Keywords that rank between the ranges of eight and 20, may be easier to make a meaningful impact than targeting keywords for you rank number 95. If you get some of these keywords that are currently at the bottom of the first page, or the top of the second page up a few positions it can increase the traffic to your site.
With all the new SERP design changes that are coming out constantly, moving up a few positions won't have as great of an impact as in the past, but it is still an important part of an SEO marketing strategy.
Update your SEO Page Titles
It's amazing how many websites are out there that have incorrect page titles. The best way to explain it to a business is the comparison of Google reading a book. Imagine a book that deals with travel. The book is typically going to be organized by different countries or areas of the space you are looking at.  If there were no chapters or descriptions of the different continents or countries or cities, it would be very difficult for you as a reader to find what you are looking for exactly. The page titles are a signal to Google of what exactly is on the pages.  The header tags can play a big part in your click through rate as well.
Are your keywords in the SEO page title?
Is your company name plastered all over the website on every single page?
The answers to these questions may dictate how well and it your pages rank for certain keywords.
Ideal SEO page titles should be short and to the point. Keyword stuffing does not work anymore like it used to work a decade ago. The Google algorithm is always getting smarter and an SEO marketing agency or the business that they are working for must use ideal page titles and concentrate on both longtail and shorter keywords simultaneously to still make an impact.
Additional On-Page SEO Strategies
SEO strategy is a complicated thing. What worked five years ago may not work at all today. Page design, concise writing, integration of images and video are all part of the solution. Here are some of the other activities that can help you increase the effectiveness of your SEO strategy:
Make sure all images have alt text and are named properly. An image named JPG5695 gives no indication to search engines about what the image actually is. Make sure you rename images appropriately.
Make sure that all pages have proper header tags. H1 tags are especially important as they inform search engines to what is actually on the page. Make sure that only have one H1 tag per page. Many businesses that get companies to build websites for them will have pages tagged incorrectly. Screaming Frog is a great resource for agencies or in-house SEO teams that have additional budget for this type of tool.
Use the skyscraper method and create internal links throughout your website. Some pages of your website will have more value than other pages and links on these valuable pages can help to spread page authority throughout your website. Just like the travel book we mentioned earlier, you should be able to figure out where you want to get to next in a book, on a map, or on your website.
Create more content on pages that have low word count. 90% of pages that rank on the first page of Google have close to 2000 words in the article. How is your 287-word article going to ever outrank this type of article, even if it is tagged correctly?
Create new content and constantly revise it
Google loves new content, and so do readers. Nobody wants to read a new story from three years ago and they're looking for current information on breaking news. If you're looking for a SEO marketing strategy, what was hot in 2015 probably isn't as relevant today. When writing new content look at pages that rank higher for your specific keyword that were written in the past. New content that is better and newer has a high chance of outranking dated content. Make sure that you work your targeted keyword into the header tags, page title, images, videos, and other elements of the webpage. Work the keyword phrase into the SEO page title, content header, image, image alt text, etc.
Technical SEO marketing for 2020
Most of us know the value of good content, internal linking, external linking and how to set up pages properly to be indexed. Technical SEO tackles some different items that a lot of business owners and some agencies neglect.
These are some of the most important factors that we consider:
Page load speed
SSL secure socket layer encryption
Mobile optimized (are there really websites that are not mobile optimized yet?)
Voice search optimization for Google and Alexa
AI and machine learning (the kind that are allowed by Google)
optimization of traffic from organic and paid search campaigns by looking at data and identifying changes you can make to pages
If you are a huge company, you may not have to do as many things correctly to rank high in SEO. Making small changes to on-page SEO and technical SEO can help any size company appear higher in search for relevant queries. It's amazing that in 2020, there are still many businesses that don't recognize the important of SEO for their website.
Have additional questions about SEO for your business? Reach out and let us know!