Case studies are a powerful tool to increase sales and drive conversions. The importance of case studies should not be underestimated. They provide real-life examples of how your business or company helps your customers reach their goals. An in-depth case study highlights your successes and allows you to show, rather than tell, prospective customers how you can help them reach their goals. 
By having case studies on your website, you are showing current and potential customers what you can do for them, while also creating trust and credibility for your website. SEO Design Chicago will teach you what case studies are, the importance of case studies, what makes a good case study, and the benefits of using case studies on your website.
What Are Case Studies?
A case study is a way of demonstrating how your business has helped a person or client overcome a particular challenge. It clearly lays out how your products or services were used to solve a problem and the results. It's important to note that a case study is not a press release or a sales pitch, at least not directly. This is about showcasing your work and framing it in the context of helping others. In short, this isn't about you or your business, it's about the customer.
Importance of Case Studies
Case studies can often get overlooked when it comes to producing marketing material. After all, they are not exactly the most glamorous form of content to produce, and blog posts often seem more appealing. The truth is that case studies are, and continue to be, incredibly effective. They help attract new customers, cement trust, and increase conversions. 
When it comes to case studies, it's the storytelling nature of the format that boosts their effectiveness, and that is what case studies allow you to do. They allow you to tell a story about your brand and how you have helped others. The story you draft paints a picture, stimulates emotions, and gives your business greater selling power. Storytelling, by using your customers' voice in a data-backed piece, is an invaluable sales tool, which is why case studies continue to work so well.

What Makes a Good Case Study?
There are a number of things that a good case study should include. These are the core things you should consider when you are preparing to write a case study for your website.
Compelling Subject Matter
Not every piece of work is worthy of a case study. Choose your best projects and accomplishments, where the client has been happy with what has been achieved and you have clear results to show for it. It doesn't matter the size or scope of the work either. This could have been a one-off, a short campaign, or a full website redesign over the course of several months. 
The most important thing is the impact your business had on the client. It also needs a good angle. What was different or unique about the problem you solved? Avoid using details that don't support the purpose, but think about why it was so successful.
Specific to an Industry or Sector
Case studies work mainly because they tend to be very focused and specific to an industry or sector. Simply put, you should never see a case study that's too general and not targeted to the industry you're in. Being specific means you'll strike a chord with your target market. You want it to be relatable and you want them to recognize themselves in your story. If you work with a number of different industries, it's a good idea to create a case study for each, so you ensure you can reach all of your audiences. 
Demonstrates Problem-Solving
Case studies are solution-centric, so you need to show yours at work. An effective case study will clearly demonstrate how you took a problem and solved it using your expertise, products, or services.
Contains Solid Evidence
If you don't have results, you simply don't have a case study. Few things excite a buyer more than factual claims, stats, and clear data. Evidence is particularly key nowadays since the social proof is part of the technology renaissance we are witnessing. Customers have become savvier and more demanding of proof than ever before. 
Great case studies have context, relevance, and credibility. Years ago, customers relied heavily on hardcopy brochures, catalogs, and leaflets when making a buying decision. Thanks to social media, your potential customers have the freedom to access as much information as they choose. As a result, they are less trusting of marketing material. Potential customers would rather access authentic third-party industry reviews and data. They want to know what other people say about your brand or organization. 
Choose your data carefully. Ideally, it should be reflective of the problem your client faced. The more thought-provoking your data, the better.
Includes Quotes and Testimonials
There's nothing quite like hearing it from the horse's mouth. Including quotes or testimonials from your customers is not just a sign of trust, but an opportunity for them to tell the story in their own words. This is far more convincing to other prospective customers than anything else.
Good Presentation
Your case study needs to be presented in an engaging, easily digestible way. This includes good formatting and a clear structure, as well as the visual elements to it. You may want to enlist the help of a designer to really present it in the most user-friendly way. Depending on the time and budget, you could even create a short video to help illustrate the story. Of course, all the usual things for writing for the web still fly. You need headings and subheadings, points, and lists should be included. Make it as easy as possible for the scanners in skimmers out there to read and engage with the case study.

Case Studies on Your Website
If you have case studies on your website, you should have a web page exclusively for housing them. Whether you call this page "Case Studies, "Success Studies, or "Examples of Our Work," be sure that it's easy for visitors to find. Structure on this page is key. Initial challenges are clear for each case, as well as the goals, process, and results. Google is an example of a really well-structured case study page. The copy is engaging, as are the goals, approach, and results.
Put Case Studies on Your Home Page
Putting case studies on your home page gives website visitors the chance to read about what your business can do for them right away. There are a number of ways you can include case studies on your homepage.
Customer quotes/testimonials

A call-to-action (CTA) to view specific case studies.

A slide-in CTA that links to a case study

A CTA leading to your case studies page
Blog Posts
Once you publish a case study, the next logical step would be to write a blog post about it to expose your audience to it. The trick is to write about the case study in a way that identifies your audience's needs. It is important not to center the blog post around your company, product, or service. Instead, put the customer's challenges and how your company helped overcome them front and center.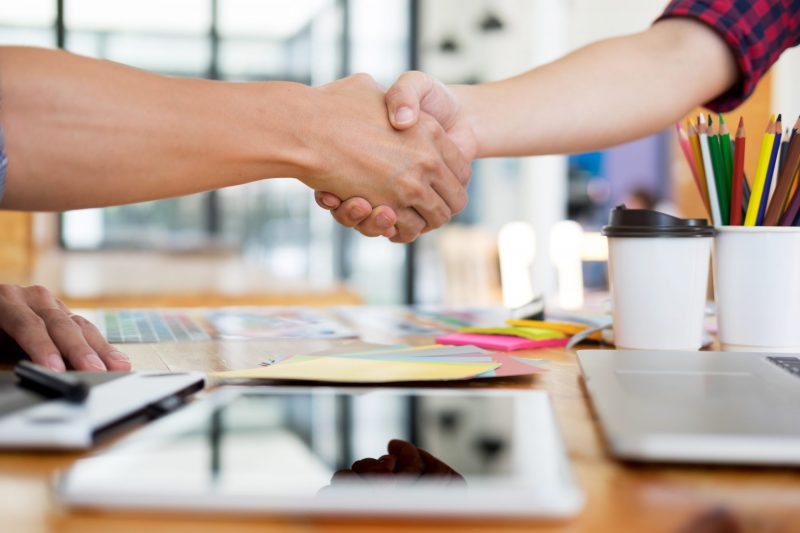 Benefits of Case Studies 
The world of marketing is very competitive. One way to get ahead is to use case studies on your website. These are very effective written accounts attesting to what your business can offer. Case studies demonstrate your knowledge and skills while also summarizing and quantifying the achieved results. Here are five advantages of using case studies on your website.
Quantify Results
The ability to quantify results is the most powerful aspect of case studies. They are effective because they show to what degree you're able to help customers yield the result. This demonstrates your company's credibility.
Express Previous Successes
Case studies allow you to highlight how your unique products and/or services have benefitted your customer.
Show Unique Processes
Individual descriptions for each case study give readers a glimpse of your process. These descriptions demonstrate your ability to offer advice and/or products to get results for your customers. Case studies also exhibit your skills and experience in your line of work, which helps to attract new customers wishing to do business with you.
Demonstrate Your Reputation 
Case studies help express how you work with your customers to find a solution that suits them. This displays transparency and how you conduct business with your customers. New customers will know they are going to get excellent services and/or products after reading your case studies.
Create Trust 
If customers are on the fence about approaching you to do business, then they are not sure you can do the job. A well-written case study can remove questions and doubts potential customers may be asking before they approach you. Your case study is one of the best ways to exhibit your professional skills and experience. Case studies are an easy, effective way to market your skills and experience on your website. It is to your advantage to explain to your new and existing customers what it is you can do for them to get real results for their business.
Case Studies from SEO Design Chicago
SEO Design Chicago has several case studies that offer visible results from our digital marketing agency. SEO Design Chicago provides examples of the different types of projects that we have worked on with clients all over the country. If you're still searching for a full-service digital marketing agency, contact us today
FAQ:
What is a case study?

Why should I put a case study on my website?

How do I write a compelling case study?

What are the marketing benefits of case studies?

Where should I put case studies on my website?