Let's talk about car washes! With most undemanding services, people are not going to travel very far to use them, including car washes. Chances are, there are at least a couple of gas stations nearby with an attached car wash, so you have some options. Or, maybe you're new to the neighborhood, and you do not know where the nearest car wash is. So, you pull out your phone and Google "car wash near me." Google then displays a ranking of the car washes nearby that they deem to be the best. This is a prime example of car wash marketing.
But how do they decide the order in which to rank the car washes? Three words: Search engine optimization. 
Car wash competition is tough, considering how many gas stations are in a single neighborhood. It's important to market and advertise your car wash so people keep coming back to yours. The best way to start out with this is to utilize search engine optimization or SEO. But, since car washes are local institutions, it is more practical to use local SEO. 
In this article, we will explain what local SEO is, why it is important for your car wash marketing efforts and Google rankings, and some of the best local SEO tactics.
What Is Local SEO?
First off, SEO is the marketing technique of improving the quality and quantity of your website content in order to gain more traffic to boost its search engine rankings. SEO focuses on using organic search to achieve this instead of paid search. That way, you can save some money and invest it into different marketing practices.
Local SEO is the exact same idea except with location-based targeting attached to it. That is where the "local" comes into play. Local SEO prioritizes targeting a local audience within a set of parameters instead of a statewide or nationwide audience. For example, someone may search "car wash near me" or "car wash within 2 miles." Those keywords tag it as a local search with physical and geographical boundaries so a car wash two cities over does not appear on the search result page. 
If you have just started your car wash business and need a boost in managing it, or you feel your car wash competition is getting more attention than they deserve, then you will want to incorporate local SEO into your marketing plan.
Why Is Local SEO Important for Car Wash Marketing?
You can bet that almost every business you walk past on the street has some sort of online presence and uses SEO. It's hard to become established if you don't use it – especially since there are most likely several car washes in the area for customers to choose from. 
So why exactly is local SEO so important for managing your car wash marketing plan?
Visibility
First and foremost, increasing your local SEO efforts will improve your search engine rankings. Every time someone Googles a product or a service, Google will pick out the best websites that are relevant to that search query and display them to the user. The order in which the websites are shown is called a search engine ranking. The better the ranking, the more people will see your website, and the more people will click on it. Google has something called the local pack, which is the first three most relevant listings to the search query. By applying local SEO, you have a better chance of being featured in the local pack. The local pack of three listings is the most ideal situation, or at least on the first page of results.
Credibility
With local SEO, your website will make it to the top of the search engine result page. The order of the car wash search engine rankings matter because the closer to the top your business is, the more trustworthy and credible people perceive it to be. Like we said before, being on the first page of results is a great start, but aim to be featured in the local pack of the top three listings.
Save Money
Local SEO focuses on organic search results, not paid search results. This means by implementing free local SEO techniques to improve your car wash rankings, you are saving money that you can prioritize elsewhere. Google and potential customers essentially do all the work for you, you just have to fill in the blanks.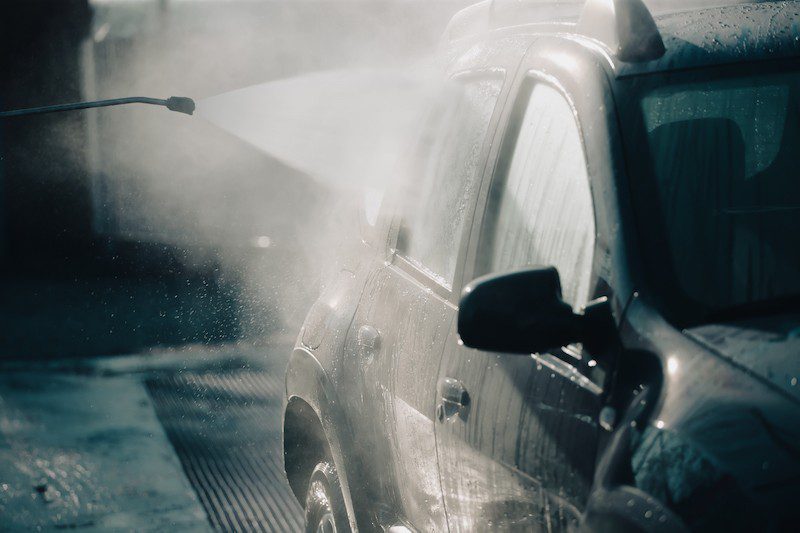 Local SEO for Car Washes Best Practices
Now that we have catapulted the idea of local SEO onto you, here are some great, easy local SEO practices you can use to manage your car wash's local SEO:
Google My Business
We stand by Google My Business. It is the number one thing that is going to send more traffic to your car wash.
Google My Business is a simple profile you can create on Google describing your business. It will give your car wash authority and credibility. You can include information such as:
Business name

Street address

Physical location on a map

Website link

Hour of operation

Business category (car wash in this case)

Contact information (email, phone number, etc.)

Photos

Reviews
Make sure everything you include on your Google My Business profile matches what is provided on your website. Google is the biggest search engine, but you can claim your business listing on Bing as well.
Local Citations
Including credible links to other sites within your car wash site is a great marketing tactic. It signals to Google that your website deserves to be ranked. Make sure your car wash business is listed in relevant local directories, like the chamber of commerce.
Website Optimization
Website optimization is often overlooked when it comes to marketing using local SEO for a car wash, but it can make or break a potential customer's experience. All it really means is ensuring that your website loads quickly. After all, no one is going to wait more than 20 seconds for it to load.
Also, ensure your website looks attractive! Pick a complementary color scheme and a nice logo. Make sure the layout makes sense and is user-friendly. If you have multiple car wash locations, include a separate page for each location. This type of optimization is called responsive web design and will greatly enhance an individual user's experience on your website.
Include keywords within your website as well. When Google sends out its web crawlers to search for websites that pertain to the search query, they are searching for keywords that indicate the website might be of use to them. That means including the name of the city you are based in and the location, as well as other keywords someone might use when searching for a local car wash. The more keywords the better! 
Reviews 
Google reviews do a lot more than you think they do! They might be a hassle to get, but once you do, it provides credibility and authority for your business.
People often regard other customer reviews heavily and take them into account when considering a business. They trust reviews from people who are just like them and search for the same results. Plus, reviews on your Google My Business profile also contribute to its search engine result ranking, especially if it contains keywords.
If you feel you had a good interaction with a customer, whether it be online or in person, ask them to leave a review. Most of the time, people will leave a review without anything in return. This is a great way to manage your car wash and figure out what you're doing right and where you might need to improve. You can also call upon current and long-time customers to leave you a review. They'll be glad to help support your business.
Questions and Answers
Google My Business includes a Frequently Asked Questions (FAQ) section where customers can ask questions about the product or service they are offering. Anyone can answer these questions, even if they are not the business owner. That is why it's important to answer any questions that come up right away, so no misinformation is spread. We'd suggest turning on alerts so that when a new question pops up, you can answer it first. 
You can also ask the most frequently asked questions yourself on the Google My Business profile and then answer them, so potential customers don't have to lift a finger to get more information. It is a very simple addition to your Google My Business profile but very effective for gaining more traffic to your car wash.
Putting It All Together for Car Wash Marketing
As you can see, there is a lot to remember when implementing a local SEO marketing strategy to increase traffic to your car wash. On top of managing a car wash, remembering to update and improve your local SEO efforts can be time-consuming and bothersome. That is why SEO Design Chicago is here to help you. We have many other digital marketing options to provide you to improve your car wash marketing efforts, and we do it all for you! We have offices located throughout the country, including Tampa, Austin, and Seattle, so no matter where YOU are, we are able to help you.
FAQ: 
What is local SEO?

How do I optimize my Google My Business profile for my car wash?

Why is local SEO important for car washes?

Why are online reviews important?

How do I use the FAQ section on Google My Business?