Digital marketing for lawyers is becoming ever more crucial to a successful and sustainable law practice. The days of advertising on billboards, newspapers, and television ads are becoming outdated. Advertisements on social media, internet videos, and appearing high in internet search results are replacing them. It is simple: if you want your firm to stay relevant in the digital world, you need to digitize your marketing efforts. This article will help you understand the different digital marketing options for lawyers and law practices.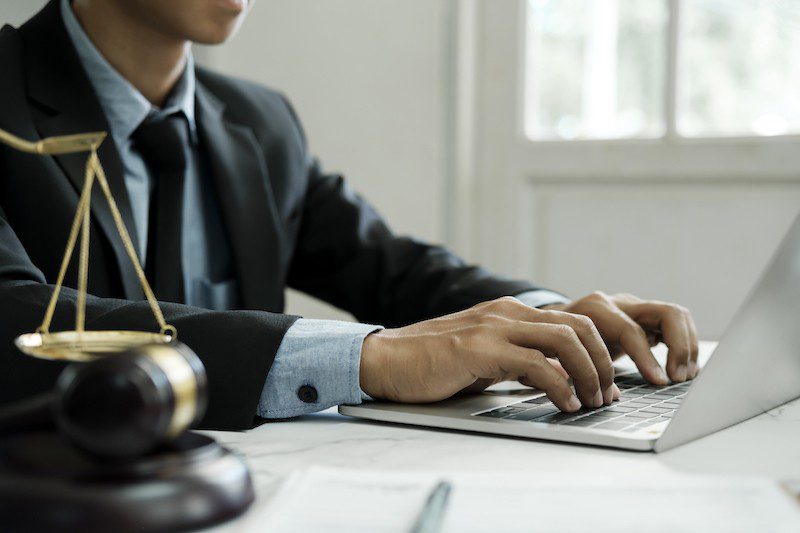 Online Marketing for Lawyers
If you are a solo lawyer who operates without the confines of a firm or staff, you can find yourself with a lot of freedom to market yourself how you would like. However, a smaller practice usually comes with a smaller budget. Knowing how to use the smaller amount of money you have allocated to marketing properly could be the difference between the survival or death of your solo practice. Here are some options you have in terms of online lawyer marketing:
Lawyer-Finding Sites
Every month, millions of people visit websites in search of local lawyers who can help them with their various legal issues. This kind of lead is of the highest quality: one who searches out and finds what they are looking for on their own. Of course, other advertising avenues are helpful, but nothing beats a seeker. These websites are specifically designed to lead these "seekers" straight to you, the individual lawyer. Websites like Lawyers.com, Avvo.com, and Nolo.com have databases containing hundreds of thousands of lawyers and their contact information. Essentially, this is the first point of contact with people and their lawyer. If you don't already have your information on lawyer-finding websites like these, it is crucial that you begin the process right away.
Social Media Marketing and Networking
Social media is a potential gold mine for a lawyer's digital marketing efforts. 82% of the United States population has a social media account, which is literally hundreds of millions of people. The potential reach you have on social media is near infinite, but the effectiveness of that reach largely depends on the soundness of your media strategy. 
Consider creating a page for your practice, or for you as an individual lawyer. The more platforms you use (such as Facebook, Twitter, and Instagram), the more you increase your visibility. Be wary, however, that none of these pages becomes neglected in favor of the others. If your budget allows, consider hiring a social media manager who can be responsible for keeping track of posting, marketing, and networking for you on your social media pages. If you find yourself short on time and your social media pages are suffering, it could be a worthwhile investment.
Law Firm Digital Marketing
Digital marketing for law firms might need a slightly different approach than digital marketing for individual lawyers. Lawyers have smaller budgets than large law firms do, but they tend to have more freedom with their marketing campaigns. Law firms, on the other hand, usually have larger budgets for marketing. Though freedom is often restricted due to input and opinions from other lawyers in the firm. In addition, firms have to compete with other larger firms with big budgets for the attention and business of their clients. While suggestions like taking advantage of lawyer-finding sites and social media marketing still stand when discussing law firm digital marketing, other factors also have to play a big role.
Search Engine Optimization
Search engine optimization, or SEO, is the process of crafting articles or pages in a way that search engines will place them at or near the top of search results when the associated topics are searched. This is extremely important for bringing traffic to your firm's website. In addition, with the nature of most firms specializing in certain areas of law, SEO is an absolute necessity for law firms. Without proper SEO, your website, social media pages, and ads will never be seen. Instead, the other firms that employ proper SEO techniques will get all the attention.
Google My Business
Most businesses have figured out how to put their business profile on Google, and you may be one of them. Having your firm on Google, complete with a picture, phone number, and address is crucial in digital marketing for lawyers and can help drive more customers to your location. But just creating the business profile and leaving it is not a good marketing strategy. You should also create a Google My Business account so that you can manage and maximize said Google business profile. There are several important things that a Google My Business (GMB) profile can do for your firm:
Allows customers to leave reviews

– The power of reviews can't be underestimated in today's digital age. Most people trust online reviews almost as much as personal recommendations. When someone sees that a business has a lot of good reviews, they are more likely to buy from that business. A GMB account also allows you to reply to reviews, which is especially important for negative reviews. A lawyer's digital marketing campaign relies heavily on the public perception of the lawyer's ability to deal with people.
Your firm can appear in Local Pack Listings

– If someone was to go on Google Maps and type in "Law Firms", several local listings would immediately appear. These listings that come up first in the search results are called the Local Pack Listings. If your firm has a Google My Business account, it would likely show up here.
Provides marketing insights for your business listing

– On the GMB account page, there is a tab labeled "Insights" that can act as a powerful tool to help you strengthen your marketing efforts. It shows the number of views for your page, how people find it, and how audiences interact with it. With information like this, you can know exactly which step to take next in your marketing campaign.
Website Marketing for Attorneys
There is a truth that is universal in business that also applies to lawyers: you must have a website. Customers do their research almost exclusively on the internet, and their research usually leads to a specific site. There are numerous reasons for your practice or firm to have a website. One of the most important reasons, however, is that they are a marketing tool. Website marketing for attorneys is a necessity, not a suggestion. Depending on your website-building approach, you may end up with different outcomes. There are two main approaches to consider:
Hire a Web Developer
If you aren't tech-savvy and don't really trust yourself with building a website, this could be a good option. Digital marketing for lawyers and law firms requires a high level of professionalism and uniformity. As such, an experienced and trained web developer is needed to attain such high levels of expectation. You can hire someone who perhaps trained as a web developer and add them to your staff. Or, rather, you could hire a web development team or business. This will save you time and ensure (so long as you hire a quality developer) a marketable site.
Do it Yourself
If you don't have the budget to hire a web developer, or are a person who would rather do things yourself, you might consider crafting your website on your own. There are a lot of benefits to developing your own website. As the lawyer and developer, you don't have to worry about the disconnect between the actual services and the site content that can come with hiring a developer. You know your business and the industry, while developers might not. There are several sites you can use to begin creating your website, including WordPress and LawLytics. Digital marketing for lawyers does require a thorough knowledge of SEO, which can suffer on a self-crafted site. If you pursue this route, consider brushing up on some SEO basics.
Choose the Best Digital Marketing Option for You
Overall, options abound in the field of digital marketing for lawyers and law firms. Lawyer-finding sites, social media platforms, Google My Business, and web development are only a few options available to you. The most important aspect is that you and your firm can be found on the internet. This requires careful crafting of social media sites, GMB accounts, and websites. It also requires a decent knowledge and implementation of sound SEO practices. If you need further digital marketing assistance, reach out to our marketing team at SEO Design Chicago for a free consultation.
FAQs:
How can I market myself as a sole practitioner?

Why do I need a website for my law practice?

How can a Google My Business account help my practice?

Why should my practice have a social media page?

What options do I have for developing my law firm's website?