Oftentimes, when consumers purchase an airplane ticket for their flight to highly traveled destinations like Hawaii, book their hotel with a severely inflated price, or even plan their next cruise to Alaska, they do not consider the effect airline marketing has had on their decision-making processes. Airline industry marketing strategies significantly impact other industries, such as tourism and hospitality, and, in turn, our economic choices. 
We let the airline industry determine how we schedule our time and how much we are willing to spend on travel. With access to speedy travel across the globe at the tips of our fingers, airline marketing affects the consumer experience and the industry's success. This article will provide a beginner's guide to marketing for airlines. It will also review the ins and outs of partnering with other industries and businesses, SEO tips for keyword results, and the best strategies to use when marketing for airlines. 
Introduction to Airline Industry Marketing Strategies for Beginners
While the term "airline marketing" seems generalized, it is actually quite broad. We develop airline marketing strategies by forming a business plan to reach potential travelers and continue attracting regular, recurring clientele. A thoughtfully planned strategy involves the four P's of marketing – product, price, place, and promotion. Businesses should consider these four marketing benchmarks as they are critical to continuing consumer interest in their airline. Additionally, the four P's make up the foundation of any airline brand. Essentially, how the company chooses to use these benchmarks determines its brand image. It also determines how travelers will potentially react to and partake in that specific airline's services.
The most objective way to view airplane marketing is regarding the airlines as simply B2B and B2C companies. These companies only participate in promoting products – such as tickets – and selling goods – the travelers purchasing these tickets. However, as the marketability of airline companies depends upon the marketability of other industries, it is more relevant for us to perceive the airlines as selling experiences and offering an enjoyable travel experience as a service.
With this in mind, three primary components form the airline travel market and inform strategists of how to best utilize the four P marketing plan. The three parts of the airline market include:
The airplane companies and the varying services between brands.

The distributors acting as third-party companies selling and reselling travel products to consumers and other distributors. Controlled by a

Global Distribution System (GDS)

, these companies act as a middleman between airlines, travel agents, and tourism and hospitality providers.

The customers are current or intended travelers who buy travel products. We divide customers into leisure and business or corporate travelers. Leisure travelers are budget oriented and seek low-cost services. Meanwhile, corporate travelers prefer comfortability and ease of transport, so they prioritize optimal services over budget.
Types of Airline Marketing Strategies
While marketing for airlines can seem daunting, this article will act as your airline marketing 101 guide. Here are some of the most influential airline marketing strategies:
Loyalty Programs
These function as the bread and butter for airlines. Airlines leverage customer loyalty by providing varying levels of rewards to current customers who continue to travel with the same company. Like their namesake, these programs encourage loyalty to that airline among its members who become repeat customers and will likely recommend the airline to others via word of mouth. This strategy builds a more trustworthy relationship with consumers rather than an impartial one made through standard ads.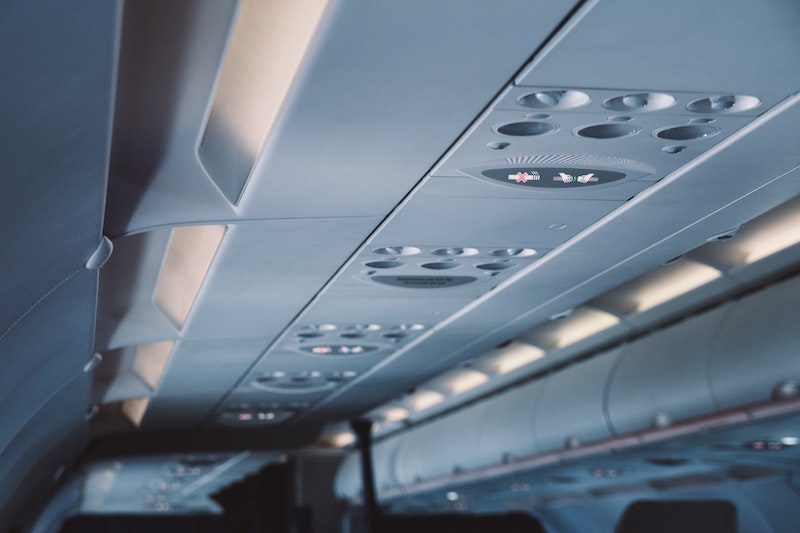 Brand Voice
Distinguishing brand voice enables airlines to firmly differentiate their products, services, and company identity from others. In a highly competitive market, customers need to be able to easily and swiftly identify their desired airline. When using an effective airline marketing plan, customers will delineate your brand voice and image from others. To appeal to the desired audience, you will position your airline within the market. You can do so through creative advertisements, social media platforms, and standard techniques. Recently, Southwest Airlines led quite the innovative marketing plan as their airline offered free ukelele lessons from a certified instructor for every passenger on flights to Hawaii. This airplane marketing strategy endorsed travel to Hawaii, boosted the state's tourism, increased ticket sale prices during the off-season, and cultivated a strong relationship between Southwest and its customer base.
Search Engine Optimization
SEO or search engine optimization remains one of the top strategies when marketing for airlines. There are over 59 million airline companies in the United States. 18 of these companies each generate over $1 billion in revenue. Given this fact, airline companies' marketing strategy effectiveness is at risk since many companies compete for coveted spots in Internet rankings. Concerning airline marketing, SEO Design Chicago recommends local SEO for aviation-specific marketing. Local SEO targets keywords associated with location-specific searches on the Internet. For example, if a customer was browsing flights to Hawaii from airports in Florida, top search results would ideally exhibit your airline's flight options.
Pricing Strategy
Pricing strategy relates to the purely economic aspect of the airline industry. This strategy refers to an airline's profitability margins. This means the monetary difference between the services your airline offers and another airline while maintaining the most competitive edge. By sticking to smaller margins, you can price your services more competitively. 
Influencer Marketing
Influencer and social media campaigns are newer but highly influential marketing strategies within the airline industry. With the keyword here being "influential," airlines will frequently partner with travel influencers to promote their own services to the target audience. Influencer marketing prompts networking connections as travel influencers consist of a closely knit community. This type of advertising also provides consumers with in-depth, personal participation in the airline's provided experience. The hope is that these consumers will desire to participate in their own traveling experiences as well. 
Mobile Apps
Similarly, consumers heavily use social media and travel mobile apps during all stages of interaction with the airline industry. Nearly two-thirds of U.S. travelers use these apps while traveling. Airlines should take advantage of the limitless advertising opportunities on these apps. Our top three recommended apps include LoungeBuddy, AirHelp, and HostelWorld. Collectively, these apps identify accessible lounges in airports, reschedule and provide compensation for missed or delayed flights, and provide secure hostel booking sites for the adventurous yet safe traveler. Depending upon the airline's target audience, advertising your company on these travel apps could streamline your audience's travel experience and elevate your brand's image in the eyes of the traveler. 
Industry Partnerships
Industry partnerships are an ingrained aspect of airline industry marketing. Ideal industries that airlines automatically partner with include tourism and hospitality. Tourism and hospitality businesses use comparable marketing strategies to airline marketing. As such, why not also participate and join the trifecta of marketing? Like airlines, these industries also rely on local SEO, using keywords such as "places to stay near me, nearby resorts, etc." Your keywords already are or can be modified to align themselves with these other industries and boost your SEO results. To attain the highest local SEO results, we also recommend partnering with a local marketing firm familiar with aviation services and providers in your area. 
User Experience
User experience (UX) and search engines are top priorities for airplane marketing. UX refers to how customers interact with products, services, and the industry or business systems. For airlines, this experience may involve smooth booking experiences via apps or websites in addition to the use of metasearch engines which find the best flight based on your searches and redirect you to that airline's webpage. Streamlining the user experience online will encourage customer satisfaction. It will also likely boost traffic to your services through thoughtful SEO and keyword use.
Entering the Airline Marketing Industry
The airline marketing industry is a highly dynamic one and often faces many challenges. When crafting marketing for airlines, factors to consider should include the perishability of flight tickets, marketing for different segments of the airline, and the market's current stability. To maximize profits, airlines must consider how to adjust advertisements for tickets based on economic fluctuations. As the stability of the various airlines is equally dependent on the performance of the tourism and hospitality industries, airlines need to tailor their marketing according to political, economic, social, and technological developments which may affect business. 
To ensure the most positive experience possible for potential travelers, understanding the necessity of providing flexible services, along with effective advertising and updating clients with these rapidly changing services in a timely manner, becomes vital to producing a successful airline marketing strategy. Although airline marketing may seem like an exacting process, it is achievable, especially if you partner with experts in the industry. 
FAQ:
How does airline marketing work?

Why is brand voice important to airline marketing?

How can I start a loyalty program for my airline?

Why are mobile apps important in airline marketing?

What are examples of local SEO keywords?