Every single day, more content is added to the internet. It can be hard to keep up with everything that's happening on your favorite website or about your favorite topic. One solution is an RSS feed. In this article, we'll discuss what an RSS feed is, the benefits of an RSS feed, and whether or not RSS feeds are still relevant today. We'll also tell you the steps for how to subscribe to an RSS feed or add an RSS feed to your own website.
RSS Feed
RSS, or Really Simple Syndication, is a web feed that lets users and applications access updates to a website in a standardized, readable format. When you subscribe to an RSS feed, you receive new content automatically in your feed within your web browser. An RSS feed helps you stay up to date on the information you care about in chronological order.
Feed Reader
An RSS feed reader is an interface that converts RSS text files into a readable stream of the latest updates from around the web.
You might already be using a feed reader, and not even know it. That's because personalized homepages, like My Yahoo or My MSN, have RSS feeds built in. That's how you see your syndicated content like news, weather, sports, and stock quotes.
Benefits of an RSS Feed
For the User: No Personal Information
When you subscribe to an RSS feed, you don't have to provide your email or any other personal information. And if you decide you want to unsubscribe, you can do so, quickly and easily. An RSS feed is fairly hassle-free.
For the Publisher: Get Eyes on Your Content
With the wealth of content on the internet today, it can be difficult to make sure your audience sees every piece of content you publish. An RSS feed ensures that your audience can see each time you update your site.
Do RSS Feeds Still Matter?
Yes, RSS feeds still matter, though they are not used as frequently as they once were. Many people use social networks like Twitter, LinkedIn, and Facebook for monitoring news updates from their favorite websites in real time. Social media sites, however, have not yet completely replaced RSS readers.
Podcast RSS Feed
One common use for an RSS feed in 2021 is for podcasts. A podcast-only RSS feed sends your audio content across the web and pushes your content to your listeners, so they see it in Apple Podcasts and Google Play. It's a simple way for podcast hosts to share their latest episodes with internet users.
RSS Feed Example
Here is an example of an RSS feed. CNN has a variety of options for you to get their news delivered to your desktop. For instance, if you are particularly interested in politics, you can subscribe to that option.
How to Subscribe to an RSS Feed
Let's talk about how to find the URL for another site's RSS feed.
First, look for the subscription or feed options on the website you would like to subscribe to. Many websites use FeedBurner to run their subscriptions for their RSS feeds. Look for the standard RSS icon, and click. There should be an option to subscribe.
If that doesn't work, here's another option. Look for the page you want to find an RSS feed for. (This trick works for Chrome, Firefox, and most other browsers.) Then right-click and choose "View Page." Next, you will see a screen full of code. Press CTRL + F (on Windows) or Command + F (on Mac) to open the Find tool. Then, search for "RSS." You should see the RSS feed URL. Here's how to find an RSS feed for our website: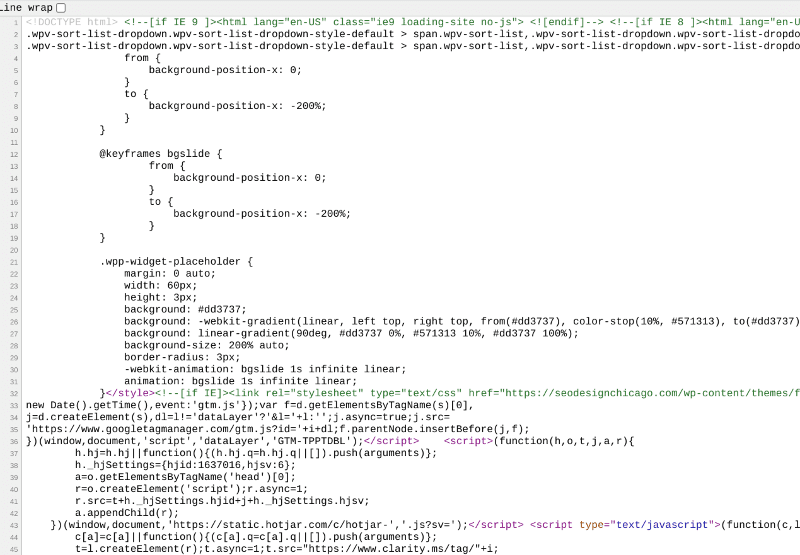 How to Create an RSS Feed for Your Website
If you are using a WordPress site, simply add /feed/ to the end of your website's domain name.
Another way to add an RSS feed to your website is to use XML code. This does involve knowing some code. In this first node, declare the channel and title of the feed, links back to the website, a description of the feed, and its language. You can also include an image, like a logo, within the code. This part of the code will remain static. To make sure the updates from your site are added to your feed, you will need to create a new node. Within that node, you will add a new item to the top of the list every time you update. This includes the title of the items, the publish date, a link to the item's web page, and a CDATA description.
If you need help adding an RSS feed or creating an RSS link for your website, contact SEO Design Chicago today!
FAQs:
What does RSS stand for?
How do I find the URL for an RSS feed on another website?
How do I add an RSS feed to my website?
Are RSS feeds still relevant in 2021?
What is a feed reader?