Your company's website is vital to how customers perceive and interact with your business. The creation of your company's website deserves the same amount of attention you would give an office or retail space. Whether you decide to create your own website or hire a website developer, there are six phases of website development that should be followed. This website development process helps move things in the right direction. In this article, we'll discuss each of the phases of website development.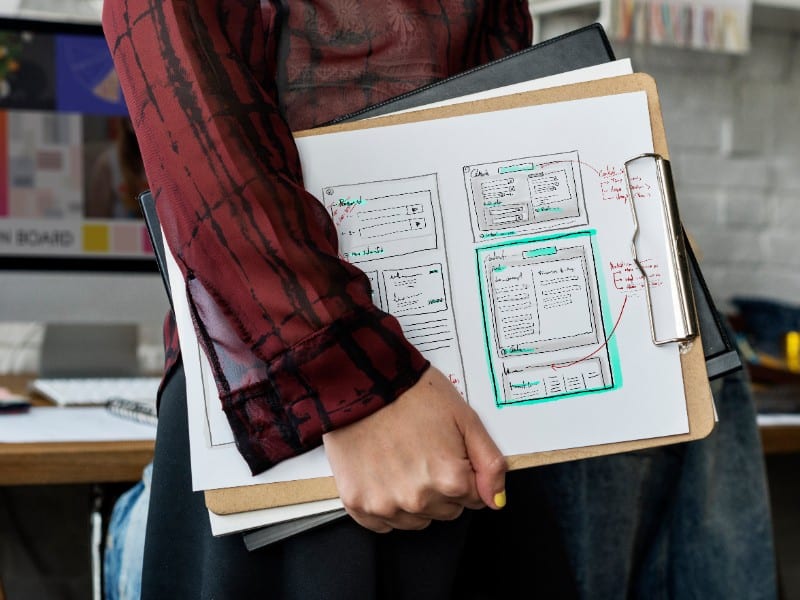 Phases of Website Development
Next, let's discuss each of the phases of website development.
Phase One: Information Gathering
This is arguably the most important phase of website development. It might also be one of the most time consuming phases. Some might refer to this as the Discovery phase. It is important that you understand what your purpose is behind creating a website. You should also know the goals you hope to achieve with your website, which target audience you are trying to reach, and the type of content that audience is looking for.  
The first step in this phase of website development is to understand the needs of your company. What are your business goals and how do you plan on using your website to achieve those goals? If you've hired a web designer, they will ask a lot of questions to help gain a full understanding of this. Other important things to consider are the purpose of the website. Is it to provide information? Promote a service? Sell a product? 
Next, what are the goals of the website? The goal of many websites is to make money or share information. 
Third, is there a specific group of people you believe will help you reach your goals? Picture your "ideal" website visitor. What is their age, interests, occupation, etc? 
Finally, what kind of information are people looking for when they go to your site? Are they looking for general information? A particular product or service? A way to order online? This involves analyzing your customer's or client's needs and requirements.
Phase Two: Planning
During this phase of website development, you are prioritizing the tasks that need to be completed for the website to be completed. During this phase, you will develop a sitemap. The sitemap is a list of all the main topic areas of the site. It is also essential to creating an easily accessible navigational system. The end user of your website should always be kept top of mind during this phase. A good user interface is key to achieving the goals you set out for your site. The menus, contents, and navigational system will also need to be determined. A website designer will help you determine what technologies need to be implemented into your site. This may include a content management system (CMS) like WordPress, contact forms, etc.
Phase Three: Designing
This phase of website development is the most creative phase. This is when a designer can put your company's personal touches on it. Communication during this phase is vital, particularly if you have hired an outside consultant to take care of the website development process. Your site should match your business's needs and taste, which your web designer needs to hear from you. It is important to work closely with your designer and exchange ideas until you get to the final design. The designer must know what you and your target audience expect from the website.
Again, your target audience is vital to the design of your website. A site targeting teenagers will look dramatically different from one targeting baby boomers. This phase is when incorporating the company logo or colors will help to strengthen your brand's identity on the website. A web designer will likely create one or a couple prototype designs for your site for you to choose between. 
Phase Four: Development
This phase is also known as the implementing phase of website development. This is when the site itself gets created. Your web designer will take each individual graphic element from the prototypes and use them to create the actual usable site. This generally begins with developing the home page before moving onto creating a "shell" for the interior pages. After the shell has been created, the designer can distribute your content throughout the site in its appropriate areas. The elements and technologies (CMS, contact forms) identified during phase two will be made functional during this time. Your designer should ensure your website is available for your viewing at every point during this process. This allows you to suggest any corrections you might like to have done. 
Phase Five: Testing and Delivery
Another very important part of the website development life cycle is testing. There are a number of tests that can be run on your website to ensure it is working properly. Two of the most common types of testing are content testing and functional testing. 
Content testing is also known as usability testing. It is essentially the practice of testing whether written content on your site is appropriate and suitable for your audience. It also is the practice of testing whether or not your audience is able to understand and comprehend the content. This type of testing ensures that your information is written accurately, is readable, and enjoyable for your target audience.
Functional testing involves making sure that your software works for the user as it was designed. During this testing you are checking that every function on the site works the way it is supposed to before you release the site to the public. You will also test it on different devices to ensure it is viewable on any device.
Once the website has been tested, the files are uploaded to the server. Then, it is tested again to ensure every file was uploaded properly and it is ready to work. Your designer should make sure that all of the code for your website validates. Valid code means your site meets current web development standards. Other final details like plugin installation and search engine optimization (SEO) may be double checked during this phase as well. Code validation is also important in SEO. There are many WordPress plugins that allow you to improve your SEO. At the end of this phase of website development, your site can be viewed the public.
Phase Six: Maintenance
Just because your website is accessible to the public does not mean that the website development process is over. The final stage of the website development life cycle is maintenance. Maintenance includes updating the content and the design of the website. Most web designers are happy to continue working together to continue providing the best website for your business. Some businesses may wish to take care of the maintenance phase by themselves. It is up to you to determine how comfortable you feel with updating your website. Some examples of additional maintenance include site backups, WordPress upgrades, and installation of additional plugins.
Why You Should Invest in Website Design and Development
As with any business investment, you may be wondering if it is worth the expense to hire someone to design and develop your website. Here are four reasons your website design is worth the investment.
The First Impression
For many consumers, your website will be the first impression they have of your business. When visiting your site, they will judge your business in seconds. If your website looks unappealing or outdated, your audience will automatically associate your business with that as well. Potential leads or sales might be turned off by your website. That first impression is vital because it will determine whether they will stay on your site and explore more or leave and go to a competitor.
SEO Strategy
Many elements of website design and development influence how you publish content on your website. This has a direct influence on how search engine spiders crawl and index your site. If your on-page SEO tactics are not up to par, you have put your overall SEO strategy at a serious disadvantage. Website design can be extremely complicated if you are not familiar with it, emphasizing the need for an expert to help you. The best way to make sure your web design is effective is to hire a professional web designer.
Building Trust
Simply, people don't trust poorly designed websites. An outdated site appears shady and untrustworthy.
Keep Up With Competitors
If you still need to be convinced why you should invest in your website development, here's the bottom line: your competitors are doing it. To remain competitive, you must design a quality website. You want to design a website that not only competes with your competition, but stands out from the competition. A well-designed website will perform better in the rankings than an old and outdated website. If you rank lower, you will lose out on customers to your competitors. 
Are You Ready to Design (or Re-Design) Your Website?
SEO Design Chicago has web development consultants and UI designers ready to work with you to create high quality websites. SEO Design Chicago follows the website development life cycle to offer the best user experience for your customers and to rank well in search engines. We have experience with WordPress websites, Shopify websites, e-commerce websites, Drupl websites, Joomla websites, and Magento websites. We can assist with everything from front end development to JavaScript and jQuery. Contact us today for more information about how we can assist in the design of your company's website.