This article will tell you everything you ever needed to know about footer website design. We'll discuss what a website footer is, why they are important, what to put in your website footer, and some great tips and examples of footer website design.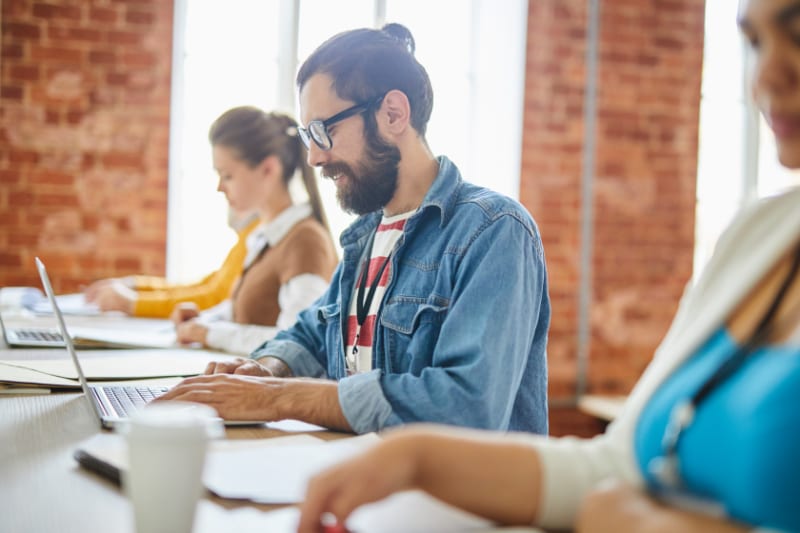 What is a Footer on your Website? 
The website footer is the area located at the bottom of every web page on a website. It is below the main body content. Did you know that the term "footer" actually came from the print world? It's true! The term is used to describe an element that is seen at the bottom of all pages of a document. The purpose of a website footer is to help visitors by adding navigation options and other information at the bottom of each page. You will need to decide what is most important to include in your own website's footer. For help designing a great website footer, you might need to hire a website design agency like SEO Design Chicago!
Are Website Footers Important?
Though you might think your website footer isn't all that important since it's at the bottom of your page, that actually couldn't be farther from the truth. Footers are a crucial part of a website. First of all, they signal to your visitor that they've reached the bottom of the page. Second, they provide your visitor with important information. And third, they provide a path to keeping the visitor on your website. It encourages your visitor to click to another page in which they might be interested and gives them a last chance to take action on your site.
If you don't have experience in web design, you may want to hire a website design agency to help design complicated aspects of your website, like the footer.
What Should Go in my Website Footer?
There are limitless options for what can go in your website's footer. If you are wondering how to get started with the best footer design, we have several ideas and options for what you can include. We will discuss all the best options for text in the footer:
Copyright
There is one element that every best footer should have, and that is the copyright. You should include the current year and the copyright symbol. That's because it protects against website plagiarism. It is a best footer design practice to include any necessary copyright notices.
Sitemap
Another excellent option for what to include in your footer is a link to the HTML version of your sitemap. This is another element you will see frequently included in footer website design. Though this link is rarely clicked on by site visitors, a sitemap helps search engines find things on your website. A footer that includes a sitemap or extra navigation options is referred to as a fat footer.
Privacy Policy
Your privacy policy is another common element in most footers. The privacy policy typically links to a page that explains what information the website collects, how that information is stored and how it might be used. If you don't have a privacy policy yet, you can use a free privacy policy generator website to create one.
Terms of Use
Though the terms of use can sometimes be confused with the privacy policy, the two are actually different. The terms of use explain what a visitor is agreeing to by visiting the website. Some highly regulated industries include the full text of their terms of service in the footer, but this isn't necessary for most sites.
Contact Information
One of the most important elements of most footers is the contact link. It's standard to put your contact info in the bottom right or center of the footer. The best option is to include a link to a page with a contact form, rather than a link directly to an email. Make sure to include any necessary contact details in your footer.
Location Information
Another common piece of information in footers is an address and a link to a map or directions to your location. This not only helps visitors to your website find your business, but it also helps tell Google and other search engines where you are.
Phone Number
Make sure to include your phone number in your footer. Especially if you are a small business with a local area code, this helps show Google that. If you want customers to be able to call you easily, make your phone number a clickable button so if someone is looking at your website on their phone, they can tap to call you in one easy step.
Navigation
Typically, if someone scrolls all the way down to the bottom of your page, it means they didn't find the information or link they were looking for. That's where navigation comes in. Perhaps add a search button so visitors can easily look for what they want on your site, or a user-friendly map to your site.
Links to Social Media Pages
Though some web designers prefer to add links to their social media pages in their website headers, our experts actually prefer them in the footer. That's because oftentimes, if someone leaves your website for your Facebook page, for example, they might not return to your website. So instead, include links to your social media pages like Facebook, Twitter, LinkedIn, and Instagram in your footer. You can even use social media icons. The best footers include social media links.
Email Subscription
A footer is a great place to include something that you want your website visitors to do, like subscribe to your email newsletter. Including an email signup box for visitors to type their email address in your footer is a great footer design best practice.
Login
If some of your site visitors are employees, partners, affiliates, or resellers who have a login, you can include the login link in your footer. This helps it be easy for them to find on your website.
Media 
Another common link to add in your footer is a link to a media contact or press room. For most websites, only a small amount of website visitors are media. Most media members know to look in the footer of websites for this link. Of course, if your website's main attraction is the media, you might want to include this in the header instead.
Photos
If you want an extremely professional and fancy footer, add a photo. Images draw the eye and add interest to the page. A few examples of footer images are photos of the exterior or interior of your business, or your founder or CEO.
Mini Photo Gallery
And if you want to really go the extra mile, add a mini photo gallery to your footer. You can make the images clickable to a larger size for viewers.
Logo
Another kind of image to include in your website footer is your logo. It's never a bad idea to reinforce your branding on your website.
Mission Statement
If your business has a mission statement, you can include a link to that page of your website. Or, you can even include a few sentences from your mission statement or bio in your footer to summarize to your website visitors what your business is all about.
Keywords
Your footer is another place you can utilize keywords to help improve your website's search engine optimization. For example, if you do include a few sentences of your mission statement, make sure it includes keywords that someone searching online might use to find your website. However, don't stuff your footer with too many keywords. Just include one or two of the most important ones.
Awards and Certifications
Has your business won any awards? Your footer is the perfect palace to include a logo for any awards or lists your business might have won or been included on. These kinds of logos add credibility to your website on every page. It also acts as a kind of social proof for websites visitors. Some other examples of logos you could include are: security certificates for e-commerce sites, BBB certificates, AdWords certifications for marketing agencies, GSA certificates for companies that work with the government, and more.
Association Memberships 
Similarly, does your business belong to any associations? If so, you can add the logo for any associations you belong to in your footer, too. Some examples might be local chambers of commerce or industry associations.
Testimonials
A testimonial is another example of something you can include in your footer design. Just make sure to keep them short and sweet! If you don't want to include the exact same testimonial at the bottom of the page, you can instead put a short testimonial at the bottom of every page above the footer instead. This allows you to use different testimonials that are relevant to the content on each page.
Latest Blog Post or Article
If your website has a blog or regularly posts articles, you can include your latest article or content in your footer. For example, you can include a "recent blog posts" column, or your most popular content.
Upcoming Events
If your business holds lots of events, you can promote your upcoming events in your footer. However, if not, it's best to leave this one out so you don't have an empty space in your footer.
Video
The most popular and compelling form of content right now is a video. If you really want to go all-out in your website footer design, include a video.
Audio 
Another option is to add some audio to your footer. For example, if your company has a catchy radio or TV jingle, you can include an audio player that plays the song.
Final Call to Action
The final element that every best footer design should include is a call to action. Whatever action your desire your website visitors to complete, include a well-written call to action in your footer.
More Best Footer Design Ideas
Here are a couple more quick tips for designing your footer:
Utilize a Color Scheme
It is a good idea to use a different color scheme for your footer than you did for the rest of your website to set it apart. For example, you can reverse the colors and use light text on a dark background in your footer.
Use a Sticky Footer
Do you ever go on a website and the navigation "sticks" to the top of the web page, regardless of if you scroll down? You can do the same with your footer and "stick" it to the bottom of the page. If your footer contains a lot of important information you want your visitors to see, this is a great option.
Don't Use a Footer At All
Some websites that have tons of content skip designing a footer altogether. Instead, as the visitor scrolls, more content just loads and loads and loads. One website that uses this design is ESPN. This is only an option for a few websites that have endless content, however.
Get Help with Your Footer Web Design
If you still need help designing a footer for your own website, call us at SEO Design Chicago today! Our expert web designers can help you build the perfect footer of a website.