ICYMI: If you are behind on some of the latest social media terms or find yourself confused while doomscrolling, don't worry. Not to flex on you, but we can fill you in on all the latest social media terms and what they mean. This is your go-to social media dictionary with definitions for all the online slang, terms, and acronyms you need to know. Bookmark it in your browser for reference, or send it to your mom next time she asks you what "NSFW" means.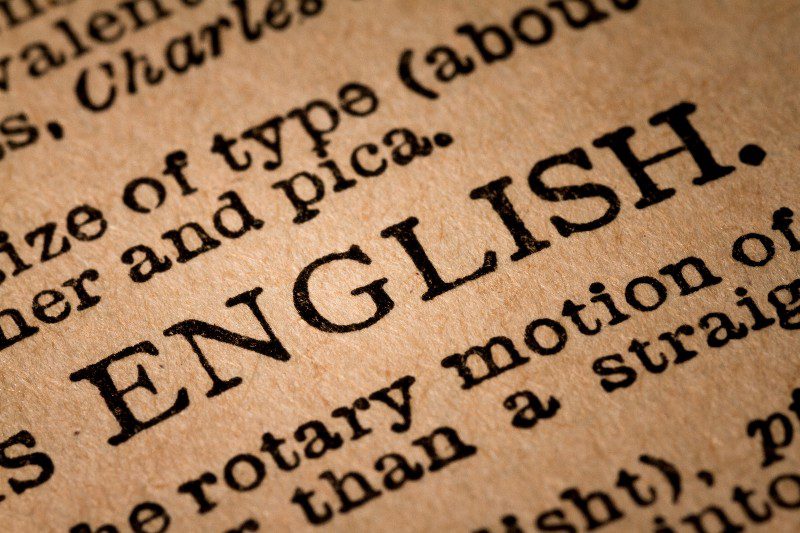 Social Media Dictionary
It can be difficult to keep up with all the words and phrases that become popular on social media, but this comprehensive glossary of social media terms will help you. This is an exhaustive list of all the social media terms you need to know. Many of these terms are used as hashtags on Instagram and other social media platforms.
AMA
AMA stands for "ask me anything." Though AMA started out on Reddit as a popular thread, it has moved to other platforms to refer to crowdsourced Q&A sessions.
ASMR
You have probably seen an ASMR video, whether you realized it or not. "ASMR" stands for Autonomous Sensory Meridian Response." These types of videos are popular on YouTube and typically have soft, relaxing sounds and visuals to help viewers sleep, meditate, or even study.
Challenges 
Remember the #icebucketchallenge? The Ice Bucket Challenge raised $115 million, not to mention awareness, for the national office of the ALS Association back in 2014. Since then, challenges have become more prolific on social media platforms.
FBF
FBF stands for Flashback Friday and gives you the opportunity to post a nostalgic post with the hashtag #FBF or #FlashbackFriday.
FF
"FF" Stands for "Follow Friday" and is a trend that started on Twitter. It allows users to make recommendations to their own followers of other accounts worth following that they might like. 
GRWM
GRWM stands for "Get Ready With Me" and typically follows an influencer as they get ready for their day or another event. Sometimes these videos are live, so the person can chat with their followers and answer questions while they get ready.
Hauls
A haul is a video where a creator shows their followers a bunch of items they recently bought or received. For example, an influencer might do a "Target haul." 
ICYMI
ICYMI stands for "in case you missed it."
MCM
MCM stands for "Man Crush Monday" and is hashtagged often at #MCM or #ManCrushMonday.
NSFW
NSFW stands for "not safe for work." It is used to tag content that contains nudity or profanity as unsafe to open in the office.
OOTD
OOTD is an acronym that means "outfit of the day." It is typically used by fashion influencers to show their followers what they are wearing that day.
POTD
POTD stands for photo of the day or picture of the day, and is a great hashtag to show off your best images.
QOTD
QOTD stands for "quote of the day" and is typically used for sharing inspirational, historical, or funny quotes.
RT
RT is short for "retweet," which is a way of sharing someone else's tweet with your own followers.
TBT
TBT stands for "throwback Thursday" and is a way of sharing past content. It is typically hashtagged #TBT or #ThrowbackThursday. 
UGC 
UGC stands for user-generated content. This is content created by users of a social media platform that is in turn used by brands for promotional purposes.
WCW
WCW stands for Woman Crush Wednesday and is a popular hashtag.
Internet Slang and Acronyms
AF
AF stands for "as f*ck" and is used to describe something in excess. For example, someone might say "it's hot AF outside." 
AFAIK
AFAIK stands for "as far as I know."
Bae
BAE is a term of endearment and is used to describe a loved one and stands for "before anyone else."
Basic
Basic is an adjective used to describe people or things that are mainstream, popular, or trending. 
BFF
BFF stands for best friends forever.
BRB
BRB stands for be right back.
Bussin
Bussin is an adjective used to describe delicious food. 
Caught in 4k 
"Caught in 4k" is a phrase that means to catch someone red-handed. 
Cray
Cray is a popular term that is short for crazy.
DAE
DAE stands for "does anyone else" and is typically used to share something embarrassing.
DFTBA
DFTBA stands for "don't forget to be awesome."
Doomscrolling
Doomscrolling is the obsessive habit of scanning social media and websites for bad news.
Drip 
Drip is an adjective you can use to describe someone who dresses well or who has swagger.
ELI5
ELI5 stands for explain like I'm five. This is a popular term to use when you want someone to explain something simply.
Extra
Extra means dramatic and over the top. 
Facepalm
You say facepalm when someone does or says something stupid.
Fam
Fam is short for family.
Fire
If something is "fire," it is really good.
Fit
Fit has two meanings! In the U.S., fit is typically short for "outfit." However, the British use fit as an adjective that means attractive.
Flex
To "flex" is to flaunt or show off.
FOMO
FOMO is an acronym that stands for fear of missing out.
FTFY 
FTFY is another acronym that stands for "fixed that for you." Someone might use it to point out an error you made on a post or sarcastically.
FTW
FTW stands for "for the win." You can use it either excitedly or sarcastically.
GOAT 
GOAT stands for "greatest of all time."
HBD 
HBD stands for "happy birthday."
HMU 
HMU is short for "hit me up."
HTH 
HTH stands for either "happy to help" or "here to help."
I can't even 
"I can't even" is a popular phrase used to describe the feeling when you cannot put your thoughts or feelings into words due to being either extremely happy or frustrated.
I'm dead 
I'm dead means that you are laughing so hard about something that you are dead.
IDK
IDK stands for "I don't know."
IKR 
IKR stands for "I know, right?"
ILY
ILY stands for "I love you."
IMO/IMHO 
IMO stands for "in my opinion" and IMHO stands for "in my humble opinion." These phrases are often used to distinguish an opinion from a fact.
IRL 
IRL stands for "in real life."
It Me
"It me" is typically used as a comment when someone can relate to something, like a meme or a quote.
IYKYK 
IYKYK stands for "if you know, you know."
JIC 
JIC stands for "just in case."
JK
JK stands for "just kidding" and is used to convey a light-hearted tone.
JOMO
JOMO is "joy of missing out," and is the opposite of FOMO (fear of missing out.)
LEL
LEL is a satirical alternative to LOL.
Lit 
Lit is used to describe something really cool or good.
LMAO
LMAO stands for "laughing my a** off." 
LMK
LMK stands for "let me know."
Lowkey
Lowkey is to be slightly or secretly into something. It is the opposite of "highkey," which is when you are extremely into something.
NIL 
NIL is commonly used in buy and sell groups on platforms like Facebook and Nextdoor. It stands for "next in line" and means you are next if the first person pulls out of the purchase.
NMU 
NMU stands for "not much, you?"
NVM 
NVM stands for "nevermind."
Mid
Mid means something is average or low-quality.
On Fleek 
On fleek is used to describe something that is on point.
Salty
Salty is used to describe when someone is upset or bitter, typically about something minor.
Savage 
Savage means harsh, but it is also frequently used as a compliment.
Sending Me
Sending me is used to describe something hilarious.
Shook
Shook is used to describe being greatly affected by something.
Slay
If you "slay" something, you do it extremely well.
SMH
SMH stands for "shaking my head" and is usually used to communicate disbelief or frustration.
Stan
A "stan" is an overzealous or obsessed fan of a celebrity, band, actor, or other famous entity.
Tea 
Tea refers to gossip, and "spilling the tea" is the act of sharing said gossip.
TFW
TFW stands for "that feeling when…" and is used to share a relatable experience. 
TGIF 
TGIF stands for "Thank God it's Friday."
TIL 
TIL stands for "today I learned…"
TL;DR 
This stands for "too long; didn't read" and is often used to give a short description of a longer post or article. Or, someone uses it to reply to something you've written.
TBH 
TBH stands for "to be honest."
TMI
TMI stands for "too much information."
WFH 
WFH stands for "work from home."
YOLO
YOLO stands for "you only live once."
YSK 
YSK stands for "you should know."
Zoombombing
Zoombombing is when an internet troll hacks into a Zoom meeting. 
Digital Marketing Jargon
API 
API stands for Application Programming Interface, which is a mechanism that connects one backend system to another and allows for communication across multiple platforms and channels.
B2B 
B2B stands for business to business.
B2C
B2C stands for business to consumer.
Content
Content refers to any digital material, like text, images, videos, etc. 
CMS
A CMS is a content management system where you create and manage content, like WordPress or Drupal.
Conversion 
A conversion is a completed action you want your website visitors to take.
Conversion Optimization 
Conversion optimization is the process of optimizing your website in order to increase the amount of users who convert, or perform a desired action on your website.
CR
CR stands for conversion rate, which is the number of conversions divided by the total number of visitors to your website.
Crawler
A crawler is a program that systematically browses content on the internet. It helps search engines know what web pages are about.
CTA
CTA stands for call to action, which is an actionable instruction.
CTR
CTR stands for click-through rate, which refers to the number of people who click on a link.
CX
CX means customer experience.
DM
DM stands for direct message. 
FB
FB is short for Facebook.
HTML
HTML stands for hypertext markup language, which is the coding language used to build websites.
GA
GA is short for Google Analytics, a free service provided by Google that tracks and reports website traffic and other important data.
IG 
IG is short for Instagram.
IM
IM stands for instant message. 
Impressions
An impression is the number of times a user sees an advertisement.
KPI 
KPI stands for key performance indicators, which are metrics used in marketing to determine success.
LI
LI is short for LinkedIn, the largest professional networking platform.
ROI
ROI stands for return on investment.
SaaS
SaaS stands for software as a service. One example of SaaS in marketing is Hootsuite, a social media platform.
SEM
SEM stands for search engine marketing, which is the practice of buying traffic with paid search listings on Google and other search engines.
SEO
SEO stands for search engine optimization, which is the process of improving a website's search ranking through organic means.
SERP
SERP stands for search engine results page.
SOV
SOV stands for share of voice, which is the percentage of mentions within a discussion or industry of one particular brand.
SoLoMo
SoLoMo stands for social, local, mobile. It refers to the convergence of social media, location-based search, and mobile devices.
Traffic Acquisition
Traffic acquisition is the practice of attracting visitors. 
TW
TW is short for Twitter.
Unique Visitor 
A unique visitor is a single visitor to a website during a specific period of time.
UI
UI stands for user interface.
UX
UX stands for user experience and is what encompasses a user's experience with a product, service, or website. UI and UX are not the same thing: a good UX relies on a good UI.
SEO Design Chicago's Social Media Dictionary
Now, you know all the social media terms and phrases you need in 2022. Which did we forget? If you need assistance with social media marketing, contact SEO Design Chicago to learn more about our social media management and social media content creation services today!
FAQ:
What is UX?
What is FTFW?
Which social media terms do I need to know in 2022?
What does GRWM mean?
What does NIL mean on Facebook?