Do you own a photography business? If so, you know how complicated it is to gain more clients only by word-of-mouth recommendations. Revving up your marketing efforts by adding the powerful strategy of photography SEO will increase your clientele by leaps and bounds. And one significant digital marketing effort, called local SEO, will get you in front of all of your ideal clients. In this article, we'll discuss what local SEO for photographers is and how you can use it to benefit your business.
Importance of Local SEO for Photographers
Local SEO for photographers is vital, especially if you own a brick-and-mortar business. Local SEO plays a crucial role when you need to attract clients to your place of business, say in Houston. When you optimize your website and marketing collateral in all channels for local SEO, search engines rank you at the top when locals make relevant searches such as for "the best photographer near me."
Search engines are intelligent enough to analyze where someone is searching from and therefore know what every searcher's "near me" means, which in the example above is Houston. Therefore, your marketing efforts should include geotags and talk about your local community. This way, local SEO for photographers will help your website rank first when clients in Houston search for a "photographer near me."
How to Improve Local SEO for Photographers
Now that you know how important local SEO is for photographers, you need to understand how to optimize your photography business for local SEO. You can take four actions to optimize your photography SEO and local SEO.
Claim Your Google My Business Profile 
Claiming a Google My Business profile should come first in your effort to improve your photography SEO. Doing so is free, simple, and well worth the effort. When you have a Google My Business profile optimized for photography and local SEO, your business will pop up at the top of the search results when people close by search for a photographer. When you are effectively optimized, your business might even pop up in the map pack, even above the results with blue links.
The 3 top results that appear along with their physical location pinpointed on Google Maps on the side comprise the map pack. This priority listing is why the map pack is the coveted position that all businesses aim for. Photography SEO and local SEO, when done right, can get your business up there.
Your Google My Business Profile allows you to enter your contact information such as your phone number, address, and website. Anyone on the search result page can see all your contact details without clicking on a link to go to another page. Considering how short online searchers' attention spans and patience are, it is always a good idea to make it as easy as possible for them to reach you, like this.
You can also provide additional details like impressive photos of the interior and exterior of your business premises and reviews your business has received. Such additional information would help convince customers to visit your business. Moreover, a well-rounded business profile with customer reviews will also encourage Google to rank you higher on the results page.
Optimize Your Website for Local SEO
Make sure that you have your own website and that it is optimized with keywords for local and photography SEO. Using our example from before, if you are located in Houston, you need to mention Houston on multiple pages of your website. The images on your website should also have alt tags with "Houston" included in them.
In addition, your website itself must be easy to navigate. The pathways to different pages of your website must be visible, legible, and connected. The interlinking of pages makes it easier for both website visitors and search engines to crawl your website. When a website is easy to navigate, and the pages are well-linked to each other, it improves its SEO score.
Get Listed in Local Directories 
People looking for a photographer in Houston will not only search in search engines. Find out what other local directories they tend to search for a photographer in Houston. Such local directories could be a gold mine in finding your clients. When satisfied customers leave you a 5-star rating on the local directories as well, your Photography SEO score improves again.
Due to these ratings, You also build more authority in the eyes of your future customers. But ensure that the UNAP details you give in those directories are in the same order as that on your website and GMBP. This consistency is essential for search engines to rank your website high. 
Build Customer Relationships via Reviews
Reviews can be a powerful bridge of communication between you and your customers. If you ask your customers nicely to leave you a review, most of them are happy to do it. When you make polite and patient replies online, even to bad reviews, you turn any nasty comment in your favor. In response to those reviews, tell them how you plan to rectify a mistake. Your online activity, especially your customer reviews and how you respond to them, can make or break your public image among potential prospects. 
Innovative Photographer Marketing Ideas 
Now that you know how to optimize your photography business for local SEO, you need a few innovative photography marketing ideas to stand apart from your competitors.
First, you can participate in photography competitions in your area or online and publish your awards on your website and social media handles. While posting on social media, always add geotags for where you are located, so you can reach even more people. Also, give discounts and offers to your customers for posting the pictures you took of them on their social media handles and tagging your business.
You can also guest blog on the blogs of people you partner with or those to whom you provided your services. The people you partner with might be wedding planners, schools who employ you for yearbook photo shoots, or event planners.
Finally, you can collaborate with influencers to showcase your work and reach more audiences. Another unique thing you can do is to generate a QR code and display it on all your marketing materials. This makes it extremely easy for leads to find you and your business.
Ways to Optimize Your Photographer SEO Score
All of the innovative marketing ideas we mentioned above should be substantiated with other marketing techniques to become truly successful. Some brilliant marketing techniques to optimize your photographer SEO score are listed below.
Create a Blog
High-quality content that solves a problem or gives an insight into your expertise will make your blog a lead magnet. You might think that being a photographer doesn't make you a writer. However, you don't need to be an expert writer to create a great blog.
You can write blogs on which photography equipment is your favorite and why. You can also write about what a day at work for you is like. Another idea is to write about how you helped a client with photographs that brought their vision to life. Your blog is another place to showcase that you are an exceptional professional photographer. Doing so will lead to more traffic to your site, which also improves your SEO.
Optimize Your Social Media Handles
Most of us are on social media for a large part of our day. So are your customers. And social media is the perfect place to showcase your photography talent, as a picture is worth a million words.
Display your best photos on your social media handles with calls to action to get in touch with you to obtain your services. Also, share your blog links, business updates, and the collaborations you did on your social media handles. These efforts will bring in more traffic and thereby improve your SEO.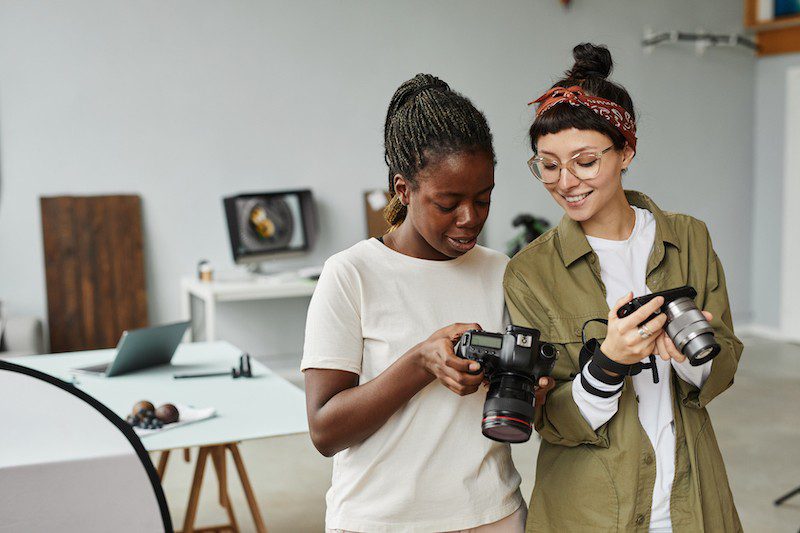 Establish Relationships With Emails
Emails are a powerful way to land on your customers' phones and speak directly to them. Emails can be sent to your previous customers to encourage them to do business with you again. You can also send emails to your existing customers and potential future customers.
You can send referral bonuses to previous customers so that they would help you bring in new leads. Emails can also be a way to send business updates and seasonal greetings to previous and existing customers to stay in contact.
Building an email list will come in handy for this. You can add a pop-up subscription box on your website's landing page or social media posts to get people to subscribe to your email list. 
Leave Marketing to the Experts
Optimizing for local SEO and photography SEO might sound overwhelming. There are several aspects to digital marketing, and every aspect needs to be handled in depth. If you want to concentrate on your art of photography and leave the local SEO and photography SEO in the hands of experts, SEO Design Chicago is at your service. We look forward to helping your business become even more successful.
FAQ:
Why is local SEO important for photographers?

How do I optimize my website?

Why are reviews important?

How can I optimize my SEO score?

How can I use social media to market my photography services?