What is Ahrefs?
Ahrefs is an SEO marketing tool used for keyword research, backlink analysis, investigating domain authority, and more. This tool can be an aid for many – be that SEO marketing companies looking to increase engagement for their clients or small businesses who manage their own marketing. No matter the user, Ahrefs can be utilized to maximize the potential of any website. So, let's take a look at some of Ahref's most popular features. 
Ahrefs Backlink Analysis
Among its top usages, Ahrefs backlink analysis shines as a way to investigate the quantity and quality of the backlinks to your site. Let's use the Site Explorer to look at SEO Design Chicago for instance. 
Upon searching the Site Explorer, you will get a dashboard with all the information you need to evaluate that page or site's backlink profile. As part of Ahrefs' backlink analysis, they provide an Ahrefs Rank. This Ahrefs Rank (AR) displays the strength of a website's backlink profile compared to the others in the Ahrefs database.
Some of the key features of Ahrefs backlink analysis are the UR and DR. The UR, or URL Rating, displays the strength of a page's link profile. Meanwhile, The DR, known as Domain Rating or Domain Authority, displays the strength of an entire website's backlink profile in comparison to others in the database. Additionally, you can evaluate the number of backlinks per site, the number of referring domains, organic keywords, organic traffic, and traffic value. 
Need to dive deeper into the backlinks? No problem. Use the sidebar to navigate to a myriad of other reports: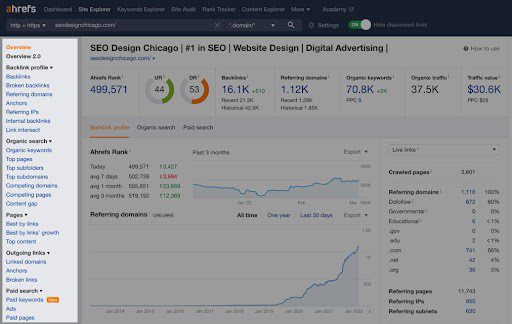 Backlinks
The Ahrefs Backlinks feature allows you to view the backlinks to the site you are exploring. Why is this important for your domain health? You can see which pages of your own site are being linked to the most or how much domain traffic your links are getting. Something here is working. Be it the content or the style of your most linked pages, this is replicable and therefore you can receive the same success elsewhere within your domain. For example, our article on How Much TikTok Creators Make was backlinked in an article on AS.com that has domain traffic of 81.8M readers. How can we use this information? By making additional content about influencer financials or TikTok creators. 
Additionally, the Ahrefs Backlinks report you can view the excerpt of anchor text that links to the site. Anchor text is crucial in determining the context of a backlink. This is important when evaluating your own page in terms of the type of traffic you are receiving. For example, if you are an SEO company, you will receive more valuable traffic when a backlink is provided from a domain devoted to blog creation than you will from a domain devoted to IT solutions. 
Broken Backlinks
The Ahrefs Broken Backlinks report will display any backlinks that route to an "error 404" page of a target website. For your own page, this can be useful to inform you what backlinks are not working properly. 
Referring Domains
The Ahrefs Referring Domains report lists all the domains that link that link to the site you are exploring. One useful element of this report is that the domains link directly to their own Site Explorer dashboards. By clicking any link, you can evaluate the credibility and traffic of the site directly on Ahrefs. 
Anchors
Like the Backlinks report, the Ahrefs Anchors report shows the anchor text attached to each backlink. While it does not give as much written context as the Backlinks report, this feature can depict trends in anchor text usage, such as the quantity of backlinks by unique domains, the changing quantity of usage trending upward or downward, and more. 
Referring IPs
The Ahrefs Referring IPs report lists the number of referring IP addresses pointing to the domain. 
Internal Backlinks
Rather than evaluating external backlinks, or backlinks from pages outside of the site's domain, Ahrefs Internal Backlinks report will list the backlinks from pages within the site's domain. For example, if I link to SEO Design Chicago's article on Traditional Media vs. New Media that is an internal backlink that would be shown on this page. Meanwhile, a link to my favorite poet's homepage would not. 
Link Intercept
The Ahrefs Link Intercept report is the perfect place to compare your backlink profile with your competitors. In doing so, you can see who is linking to their sites, but not to yours. It may be time to build a relationship with the sites that are shifting focus away from your work. 
Ahrefs Keyword Explorer
One of the most popular usages of Ahrefs is its keyword research tools. By using the keyword explorer, you can investigate the ideal verbiage to add to articles, blog posts, and even product descriptions. The Ahrefs keyword explorer tool can search for the ideal language to wield across platforms, including Google, YouTube, Amazon, Bing, and Yahoo. 
Your first step is to think about the words and phrases that you feel apply best for your purposes. Perhaps you're writing an article about Ahrefs — language like "Ahrefs," "keyword explorer," or "SEO marketing" may be a good starting point. 
The AHrefs Keyword Explorer report will automatically display the Overview dashboard, which illustrates the potential of your keyword entries. My favorite metrics from this dashboard are each term's Keyword Difficulty (KD), the level of difficulty to rank as the first page on Google for a given keyword, and Volume, an approximation of the average monthly number of searches for a given keyword. 
By navigating through the sidebar of the Ahrefs Keyword Explorer, you can add to your keyword research:
Ahrefs Matching Terms
While your overview displays only the keywords you initially searched, the Ahrefs Matching Terms report will expand upon your entries with other keywords that are typically searched in addition to your original terms. But why not just use the language you feel is relevant? Well, as smart as you are, what you want to search for may not be what other people are looking for. Perhaps a similar term has a higher search volume. Also, the term you are hoping to use may have a high KD, making it more difficult to become a top page using this keyword. 
Ahrefs Related Terms
The Matching Terms report will pull terms that match the seed keywords you initially input, whereas Ahrefs Related Terms report will pull all related items. Since the output may not contain your seed keywords, this report can be abundantly helpful in finding terms that may not be as obvious. 
Ahrefs Search Suggestions
Ahrefs Search Suggestions report will populate all likely autocomplete suggestions for your target keywords. This is an excellent way to evaluate what people are searching for and what questions the search engine is pushing them towards. You can use this information to determine the answers you may be able to provide on your site. 
How Else Can I Use Ahrefs for Keyword Research?
Rather than employing the Ahrefs keyword explorer to find language for your objectives, you can also evaluate what keywords are helping to make another webpage successful. By copying the HTML of any site and inputting it in the Ahrefs site explorer you can find detailed keyword analysis of the full site or the individual webpage when you click on the "Organic Keywords" metric. 
Ahrefs Content Explorer
Another great Ahrefs feature is its Content Explorer. This tool can evaluate what pages have performed well based on a variety of factors. You can sort through the data by relevance, dates, domain ratings, traffic, number of shares, and more. By doing so, you can find competitor sites and use the Ahrefs tools mentioned to understand what makes them successful. 
Ahrefs Content Gap
Another way to evaluate your position among competitors is to utilize the Ahrefs Content Gap report. This tool allows you to compare keywords with your competitors. Search your webpage on the Site Explorer and navigate to the Content Gap report using the sidebar. 
Here, you'll be able to input your competitors' websites and find keywords they rank for that your website does not. How does this help? When creating new content for your site, you will have ideas of keywords and topics to approach to fill in these content gaps. 
Ahrefs Pricing
SEO Marketing
Ahrefs is a crucial tool for search engine optimization, making it a must-have for anyone looking for marketing solutions. In utilizing this tool, you can maximize the potential of your website and engage with consumers in a more meaningful way. However, while tools like Ahrefs can aid your process, marketing is no easy feat. For additional information and help with your marketing process, please contact SEO Design Chicago. 
Important Terms to Know
Depending on your comfort level with SEO terms, you may or may not be familiar with all of the important terms in this article. For clarification, refer to our awesome SEO glossary terms.
Ahrefs Rank (AR): The strength of a website's backlink profile compared to the others in the Ahrefs database.
URL Rating (UR): The strength of a page's link profile. 
Domain Rating (DR) aka Domain Authority: The strength of an entire website's backlink profile in comparison to others in the database.
Anchors: Commonly-used anchor text
Dofollow Links: Links that you are willing to vouch for in terms of accuracy and credibility when linking to them on your site.
Nofollow Links: Links that you are not willing to vouch for in terms of accuracy and credibility, despite linking to them on your site. 
Referring Domains: The number of unique websites that have backlinks to a page or site. 
Keyword Difficulty (KD): The level of difficulty to rank as the first page on Google for a given keyword. 
Parent Topic: The umbrella topic that a keyword falls under. 
Traffic Potential: The traffic quantity you would receive if your AR was 1. 
For additional information about industry-specific language, visit the Ahrefs terminology explorer.