Social media is not just for B2C businesses. These days, social media is important for both B2C and B2B businesses. It is key to build an excellent B2B social media strategy in order to build trust with your target audience and generate leads. Social media platforms help B2B businesses and marketers find customers and flex their industry muscle. After all, 83% of marketers use B2B social media marketing. This step-by-step guide will give you plenty of tips to help you create an effective social media strategy that aligns with yours or your clients' key objectives and goals.
Why You Need B2B Social Media Marketing 
If you are unsure if B2B social media marketing is necessary for your business, consider these reasons for implementing a B2B social media strategy.
Your Competitors are Doing It
It's most likely that your competitors are already utilizing a B2B social media strategy. If your competition is already on social media platforms, they are connecting with a key customer segment that you might be missing. The social segment is a key consumer group that is vocal, persuasive, and influences other purchasers.
Your Clients Look for You on Social Media
Customers have high expectations for both B2C and B2B brands on social media. Your clients probably head to social media to share feedback, reviews, and ask questions. If you are not responsive, this will not put your company in a favorable light. Be sure to use some B2B social media tools to help you stay on top of your strategy.
You Could Miss Leads and Other Sales Opportunities 
Social media is a prime lead generation tool. Some B2B businesses overlook the opportunities social media provides. In fact, 75% of B2B buyers use social media to make purchasing decisions, according to an IDC study. Many deals get done after a conversation strikes up on LinkedIn.
Social Insights Can Help Your Business
Social media gives you an important look at what your target audience is talking about. It also allows you a voice and a chance to participate in key conversations. You can view social media as an opportunity not just as a chance to post your content, but learn what your customers care about by listening to what they are saying. Make sure to actually read your customers' comments and reviews, and use their input to inform your business decisions.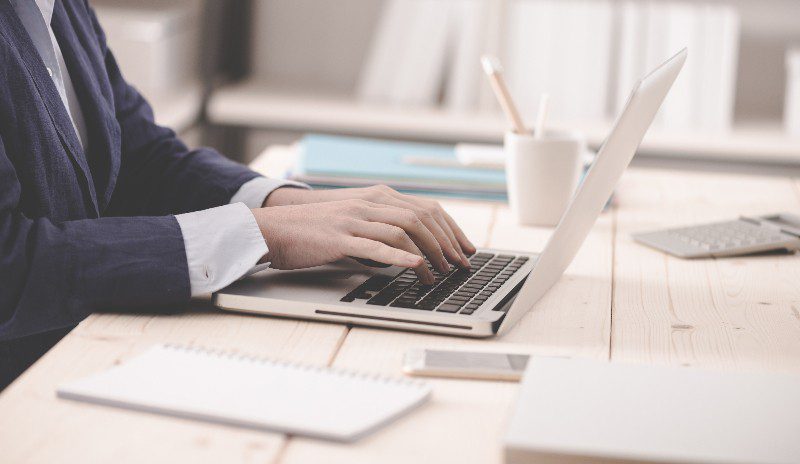 How to Create a B2B Social Media Strategy 
A B2B social media strategy is important, no matter the size or scale of your business. Here are some steps you can take in order to create a B2B social media marketing plan.
Align Goals with Business Objectives
The first step of any social media plan is to determine what the goals are that you want to achieve, and how those goals align with your company's overall business objectives. If you need assistance, consider using the SMART goal outline to help.
Identify Opportunities
The next step of developing a great B2B social media plan is to find opportunities. The best way to go about this is by performing an audit of your competitor(s). Find their strengths, weaknesses, opportunities, and threats.
Develop Buyer Personas 
A key piece to any kind of marketing is knowing your target audience. The same is true for B2B marketing. Make sure to create audience and buyer personas.
Choose the Right Platforms
There are so many different social media platforms available these days, from LinkedIn, to Facebook, and even TikTok. Rather than trying to create content for each and every network, instead find out which social media platforms your audience is using the most. This can vary depending on the demographics of your audience. However, almost all B2B marketers use LinkedIn for content marketing.
Create an Editorial Calendar
The next step is to create an editorial calendar to plan out your social media content in advance. This helps you stay organized and create an organized, well-thought-out B2B social media strategy.
Implement UTM Sources
You can add UTM sources to your social media posts in order to track the traffic that you receive as a result of your B2B social media plan. UTM sources are attached to URLs in order to track conversions, which brings us to the final step of your B2B social media plan.
Measure Your Efforts
Finally, you will want to measure the effectiveness of your B2B social media strategy. Make sure to choose with metrics and data you will monitor, like response time, impressions, engagement, conversions, and sales. Establish your key performance indicators, or KPIs, and set benchmarks and mark your achievements.
Best Practices for B2B Social Media 
Next, let's discuss some best practices for a B2B social media plan.
Talk to Your Audience
This one sounds obvious, but it needs to be said. Rather than speaking to a more general audience, make sure you are speaking directly to your target audience. You can use the jargon, lingo, and acronyms that are used commonly in your industry. This shows your audience and potential clients that you know what you are talking about and are familiar with your industry.
Create Separate Channels 
If your B2B social media strategy is successful, you might need to add more social media accounts. For example, some companies have separate accounts dedicated specifically to customer service issues. This keeps those complaints off main and allows the primary account to focus on other initiatives. These additional channels depend on the size of your business and what industry you are in. You might create a new channel for a new product, vertical, or market. Google, Microsoft, and Adobe are all examples of B2B companies with various social media accounts.
Personalize Your Offers
Even though B2B means "business to business," personalization can still help up your social media game. For example, you can target extremely specific groups with social media ads. You can tailor messages to people in various locations, occupations, and life stages. You can also use buyer personas to write and personalize cold LinkedIn messages for potential leads. However, keep in mind that personalization is more than just including someone's first name in the message. Your content should be relevant to your audience and speak to them.
Provide Valuable B2B Content 
We are all overwhelmed with content 24/7 from both B2B and B2C companies. So what do you do to stand out? Ensure that your content is valuable for your audience. In order to create valuable content, you need to find out your target customers' paint points, business needs, and their clients' needs. Then, demonstrate how your product or service can help their company succeed or make their company work better with blog posts or social media content.
Retarget with B2B Social Media Ads
We all know that B2B social media marketing has limitations. That's where social media ads come in. These ads are particularly helpful when it comes to following up or retargeting. Both Facebook and LinkedIn allow you to create custom audiences in order to target those who already know about your business. You can personalize an ad message or present a value proposition to someone who has already engaged with your website.
Excellent Examples of B2B Social Media
If you need some inspiration, here are some examples of B2B companies with excellent social media strategies.
Google 
Unsurprisingly, the most popular search engine in the world has excellent B2B social media. They share trend analysis and expert tips that help businesses succeed. They also have a variety of accounts on different platforms in order to speak to different kinds of audiences.
Adobe
Another great example of B2B social media is Adobe. The company runs different social media channels for different verticals. It uses social media to show potential customers what its tools can do and offer valuable insights for customers.
Slack
Slack's B2B social media is unique because of its approachable and personable brand voice. The account makes use of a lot of emojis. It's a good reminder that B2B social media can still be fun and relatable, and not so professional and formal.
https://twitter.com/SlackHQ/status/1404475133004324872
B2B Social Media Tools
If you are ready to get started with your own B2B social media plan, you will need to use some tools. Here are a few options for B2B social media tools.
Google Analytics
Google Analytics helps you get an idea of how well your B2B social media plan is working (or not.) It allows you to track where your visitors come from, and what they do when they visit your website. You can learn from these insights and use them to adjust your strategy.
UTM Parameters
Use code to your benefit and track the traffic you get from links by adding UTM parameters. These snippets, along with analytics programs, will help give you deeper insight into your traffic.
A Scheduling App
There are plenty of social media scheduling software options to choose from, like Hootsuite, OneUp, Sprout Social, and more. You can use these programs to schedule posts on your Twitter account and other platforms.
B2B Social Media Marketing at SEO Design Chicago 
In order to be successful at B2B marketing, you need an excellent social media strategy. Contact SEO Design Chicago today to learn how our social media marketing teams can help you craft a B2B social media strategy!
FAQs: 
What does B2B stand for?
What are some B2B social media tools?
How do I create a B2B social media plan?
What are some tips for B2B social media marketing?
What are some examples of good B2B social media marketing?