Technology lead generation is something many brands struggle with. It's such a competitive environment that one must implement the best strategies to flourish. Even then, there's often more work to keep things running smoothly. The tech industry's growth is unique, so companies operating in it must have tailored techniques to get those products in front of the customers. Continue reading to find the best marketing strategy for technology companies.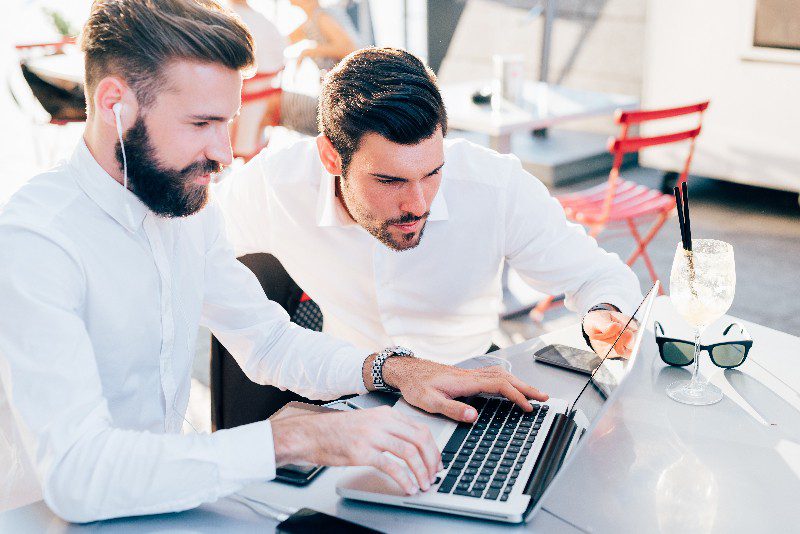 How Lead Generation for Technology Companies Works
Tech companies aren't like traditional companies, so they must continuously improve their services and products, selling them with better and new features. There are often risks associated with future potential, and most brands must launch new lines that have never existed before.
Therefore, tech companies require solid lead generation techniques and stronger marketing communication to get exposure for the services, products, and brand.
A lead is a person who shows interest in a service or product, but it doesn't always mean they're ready to buy. Generating targeted leads works well when one educates people about the benefits so that they eventually want to convert to being a customer.
How does one know if lead generation for technology companies works? It's when that brand name is the first thing that comes to mind when a prospect has a problem the product solves.
Having a marketing strategy for technology companies starts with these tips:
Set Objectives
Before drafting a lead generation strategy for the brand, it's important to think about the results to achieve and objectives to hit. Setting goals helps one measure progress, aligning them with the organization. Digital natives often use the OKRs methodology to ensure everyone moves in the same direction. It engages every team and is simple to implement.
Generally, one sets the goals, tracks progress, and re-evaluates everything quarterly as needed. However, it's possible to adapt the framework to any company's needs. For example, Spotify realized that OKRs slowed it down. The tech company set priorities at corporate levels, letting teams determine how to achieve them.
Define the Target Audience and Adapt It
Technology lead generation requires one to define the ideal buyer persona. This simple technique gives companies concrete and clear insight into the prospect's challenges, interests, and buying habits. 
Tech companies also appeal to the clients enough to share contact information via sign-up forms to learn more about an offer. If the brand provides many products, it might have different buyer personas, but they should all fit.
The greatest challenge technology companies have with lead generation is adapting to constantly changing customers. Therefore, it's best to capture the client's voice frequently through use cases and testimonials.
Use Intent Data to Bring Value
Roughly 87 percent of customers start product searches online and don't want to speak to a salesperson to get advice. Instead, they wish to gather information from multiple sources to learn about each one before making a purchase.
Intent data helps B2B technology companies generate better leads. Grab the prospect's attention immediately as the buyer's journey starts before they even hear about the competition.
It's highly tempting. Overall, intent data is one type of sales intelligence that focuses on buying signals. It creates a chance to pitch the service or product to a person at the best time to guide the decision process.
With intent-driven marketing, it's easier to target a focused buyer group. Create personalized technology lead generation campaigns instead of a generic audience.
Use Videos to Explain Complex Ideas
The primary way of lead generation for technology companies is to create educational and valuable SEO-based content. Most companies use their websites to craft blogs and reach prospects.
However, experimentation is a pillar of technology lead generation. Google has taken to showing short-form videos in the search results for specific queries. This is a great opportunity for software and IT brands to increase their brand visibility.
Short videos convey challenging information quickly and succinctly. That's another reason tech companies should use them. Plus, most consumers enjoy audio-visual explainers. They understand the product's strengths, address their questions or problems, and decide to download or buy something.
Balance Ungated and Gated Content
An excellent marketing strategy for technology companies is to create gated content. It's almost like a transaction; the writer asks the lead to "pay for" materials, such as recorded seminars and white papers, by giving contact information.
This sales strategy only works when visitors know what they get behind the gate. Often, consumers look for influencer-backed, researched, or visual content that tells a story. They don't mind providing an email address to get:
E-books

White papers

Industry newsletters
In the marketing world, there's a large debate about the benefits and drawbacks of gated and ungated content. Gated content generates many leads for software brands, but ungated content builds brand awareness and trust.
It's best to focus on about 20 percent of gated content, with the other 80 percent ungated.
Ask for Reviews
Another effective lead generation strategy for tech companies is to reach out to loyal and happy customers asking for reviews. Consumers tend to trust others more than brands. Therefore, updated and authentic reviews from other real users can help build an online reputation.
Some reviews come naturally and organically, but it's possible to contact on-boarded and existing customers through email campaigns. Offer a discount or something to nudge them into writing an excellent testimonial.
Prospects find the company, compare it to similar brands, and help startups get the business they need. Consider performing a Google search on the competition to see what review sites to use.
Offer Freemium Products and Free Trials
SaaS and technology companies could offer free access to a product for a limited time or access basic features of a premium product. Both of these strategies allow prospective customers to test the potential of the service or product to make an informed decision.
It's an ideal marketing strategy for technology companies trying to sell intangible products, such as analytics, games, apps, and software. The prospects can experience what it does instead of someone explaining the unique value proposition with words or videos.
Often, there's less aggressive selling involved, so sales teams have less pressure. This is great for smaller brands. Prospects see real value and offer contact information and possibly credit card details.
Host Virtual Product Demonstrations and Webinars
Webinars are an excellent content strategy for tech companies because they convert and accelerate leads in the late and middle stages of the buyer's funnel. Tech companies can incorporate them when free trials aren't possible. Demos offer digestible insights, and the actionable content is invaluable to the user.
The main challenge of webinars as the lead-generation tool is attendance. It's important to have people sign up, and that means advertising costs. If the user must pay to attend, they require an incentive to make them want to do it. Otherwise, they could wait and watch it later online.
The Content Marketing Funnel
The easiest way to generate leads for technology companies is to create a positive experience. Offer sound solutions to the customer's problem to boost conversion rates.
Inbound lead generation must focus on crafting content for different sales funnel stages, including consideration, awareness, and decisions.
The first stage has a customer discover their problem. They're looking for white papers and expert guides. Then, they define the cause by researching solutions. Finally, they narrow down their options and consider the benefits and drawbacks of each to make a decision.
Tech companies can use this technique to become the market leader in the field. The goal is to produce content that's relevant, entertaining, educational, and transparent. It's crucial to know where the person is during the buyer's journey to personalize the sales strategy to match expectations.
Build Landing Pages
A landing page is a basic marketing strategy for technology companies to generate leads. They give users a focused experience, and entrepreneurs have more control over the campaigns.
Generally, landing pages are where visitors go after they click an ad from an email, YouTube, Google, etc. Therefore, it's the bridge between the company's offer and the target audience.
Optimize your landing pages to have a single focus and a call to action. Landing pages must have an attractive design, engage the reader, and prompt them to do something, such as sign up for the webinar or download the white paper.
Monitor Performance
Regardless of the marketing strategies used, it's crucial to track performance to determine what works best and where to make improvements. Then, stick to the ones that generate more leads for the company. Types of metrics to track include:
Paid ads

Content metrics

Campaign metrics

TOFU and BOFU metrics
The one measured should correspond to the objectives set at the start. Tech companies often use universal lead generation KPIs like these:
Cost per lead:

How much it costs to generate a new lead

Conversion rates:

Amount of traffic to the page converting to new leads

Click-through rates:

The number of people who click on the link from an email or landing page to learn about an offer

Traffic-to-lead rate:

How many visitors to the website convert to new leads

Organic traffic:

How many visitors come to the website from a search query
Lead Generation for Technology Companies at SEO Design Chicago
Lead generation for technology companies requires unique strategies to stay competitive and maintain growth in an ever-changing industry. Setting appropriate goals and monitoring them are the first steps. SEO Design Chicago helps tech companies focus on lead generation with our software marketing services. Contact us today!
FAQ:
How to get leads for technology companies?
How does lead generation for tech companies work?
Ways to generate leads for a tech company?
How do I create a marketing strategy for a tech company?
What is a good lead generation strategy for tech companies?