Every business needs a marketing plan of some kind. The traditional methods of marketing, like flyers, TV commercials, press releases, and trade shows are on the way out. The digital methods are here to stay, but there are so many different digital marketing tactics available for your business that it can be overwhelming. There is promoting your small business on Google, social media, online directories, and in your community. In this article, we'll break down 21 different ways you can promote your business online this year: either for free, or for a minimum budget.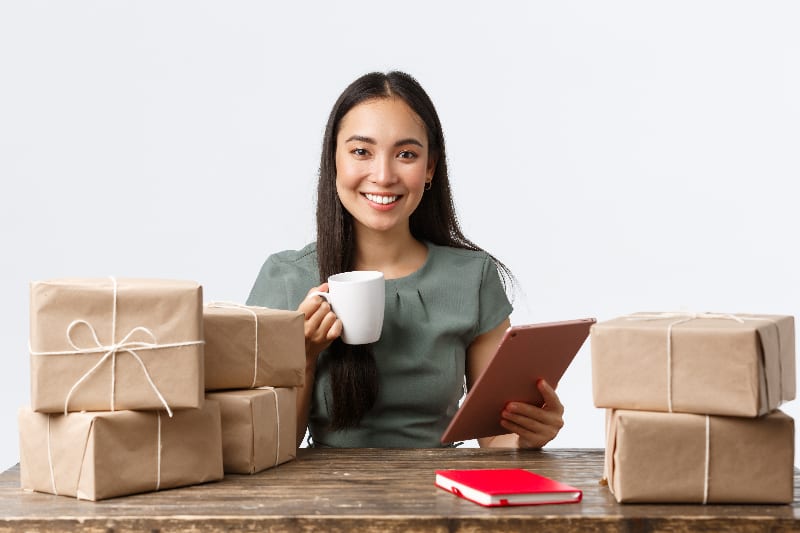 How to Promote Your Business on Google 
Every business can benefit from ranking higher on Google. It is one of the best way to get your products and services in front of consumers looking for them. The good news is that there are plenty of free advertising sites available to get started with. Here are some tips for promoting your business on Google.
Optimize Your Google My Business Page  
The first step to ranking on Google that we advise for all of our clients is to create, update, verify, and optimize your Google My Business page. A GMB page helps your business show up in Google Maps results, the local section of Google Search results, and on the right-side Knowledge Panel in Search results. This is the first step you should take to promote your business, if you haven't already. First, verify your ownership of the listing. Then, optimize the listing to show up higher in Google searches. SEO Design Chicago can help you optimize your GMB page.
Update Your Website 
Sure, you might have a website, but when was the last time it underwent a redesign? Think of your website as a full-time employee that is doing marketing for you (because that's basically what it is.) A great website does all of the following things:
Tells the story of your business
Has full listings of your products and services
Provides contact information on every page
Reflects your brand' personality
Your website is the home for all of your other marketing strategies. For instance, if you run ads, your landing pages will lead to your website. When you post on social media, the links will bring visitors back to your website. All these marketing channels flow into your site. That's why your website needs to be in the best possible shape. If you need help rebuilding your website, contact the web design experts at SEO Design Chicago.
Implement SEO Strategies
SEO, or search engine optimization, is the strategies that help your web pages rank well on Google's algorithm and show up at the top of relevant searches. Unfortunately, SEO is a blanket term that encompassies a variety of strategies, it's not just one tip we can provide for you in a blog post. Here are some common SEO tactics:
Adding relevant keywords to your web pages
Posting high-quality, valuable content on a regular basis
Maintaining a user-friendly website
Though SEO can take some time to implement correctly, it is well worth it for all the organic traffic it earns for your website. It might be worth investing in professional SEO services for your website.
Start a Company Blog 
If you really want to drive traffic to your website, you need to start a blog. An excellent business blog is comprised of valuable, educational content for your target audience. It is written in your brand voice and the posts are all on the same topics that your potential customers are searching for on Google. You can do keyword research to find out which terms they are looking up, and plan your content around those keywords. Here are some examples of good blog posts:
How-tos, demos, and instructional posts
Lists! (Think BuzzFeed)
Q&As
Thought leadership posts
Customer testimonials and case studies
Seasonal/holiday posts
Your blog can also include posts on awards, major hires, and other updates about your company, but ideally the main focus should be on providing helpful information for your readers. A company blog situates your business as a leading voice in your industry and makes customers trust you and your products. You can get inspiration from some of the leading company blogs on the internet.
Share Your Blog Content 
Now that you've created your blog content, it's time to share it! Don't just hit publish on your posts and leave it at that. Promote your content on social media, in your email marketing, and even on your website. (Try creating a "Latest Blog Post" widget!) If you do a good job, others might even link to your blog too and get you even more clicks. This means others are helping you promote your business!
Run a Google Ads Campaign
Though SEO is an effective strategy, it does take some time to see results. If you would like a more immediate way of promoting your business on Google, try a Google Ads campaign. Google Ads appear at the top of search engine results pages, or SERPs, above even the organic listings. Google is by far the most popular search engine, so this is an effective advertising strategy, though it will require a small budget. SEO Design Chicago can create and run a Google Ads campaign for your business.
How to Promote Your Business with Online Directories
Consumers also use online directories regularly to find and vet the businesses they are considering using. These directories are typically high-traffic websites with high domain authority, so when someone searches for your business online, your profile on an online directory might appear first. It doesn't take a ton of time to create and optimize your profiles on online directories, but it can have a major payoff. This is an underutilized tactic by many businesses. Don't make the same mistake!
Create Listings on Major Directories
The first step is to make sure your business has a profile on all the major online directories. Smaller directories pull from the larger ones. If you create profiles on the larger directories, you will probably start showing up on the smaller ones, too. Here is a list of the ones to start with. (By the way, they're all free! However, many offer advanced features and paid versions.)
Google
Yelp
Facebook
Better Business Bureau
Glassdoor
Foursquare
White Pages and Yellow Pages
Bing
Any relevant directories to your industry, like Angie's List, TripAdvisor, etc.
Optimize Your Listings
Creating a listing is one task. Optimizing it is another. You want to fill out every possible field in your profile, add as many appealing photos as possible, and obtain reviews. This helps you improve your appeal online for customers and also to rank above your competitors in searches. The key is to make sure the info in all of your profiles is consistent with the information on your website. For example, maybe your business has more than one email address. Choose one to list as the main email contact on all sites. If Google finds inconsistencies, it will rank your pages lower. Last, make sure you keep an eye on your pages and update with any changes.
Get Online Customer Reviews 
Reviews are hugely important for small local businesses. Word of mouth used to be the best way of promoting your business. Today, that tradition has migrated to the internet. You want to obtain as many positive reviews on Google and other websites as possible. While reviews on your website are great, reviews on other websites are even better. These reviews help increase your brand awareness and also can influence local search results. Ask your regular clients to post a review!
Monitor and Respond to Reviews 
It's key to be interactive on your profiles. This means monitoring and responding to reviews, both positive and negative. There are good ways to respond to bad reviews. The way you respond to reviews shows potential clients how you run your business. Also, don't simply forget to claim your listings on any directories. People can still leave reviews, even if you don't own the page. The best way to control your brand's reputation is to monitor it constantly. The way you respond to reviews shows potential clients how you run your business.
How to Promote Your Business on Social Media
Social media marketing is another strategy you can employ to promote your business. Nearly four billion people use social media. That's a lot of potential customers to reach! The best part is that most social media platforms are free. You just have to know how to use them to market your business.
Make Facebook a Priority
Facebook is important, and we don't mean just for updating your aunts and uncles on what you're doing today. No, we mean for business. Facebook helps you stay in contact with your current clients, and also helps you reach new ones. The way you use Facebook will depend on your industry, but here are some ideas:
Create a Facebook business profile with your contact information and a call to action, at the minimum.
Use Facebook Events to promote any upcoming events.
Run Facebook Live Sessions with demos, tutorials, and behind-the-scenes sneak peeks. (While local events are on pause, try some virtual events!)
Use LinkedIn Regularly 
LinkedIn is more than just where to look for your new job. It's a valuable marketing tool. You can use it to join in on industry discussions, build your brand voice, make connections, and form partnerships. Your potential customers might check out your LinkedIn profile before doing business with you, so it's important to update on a regular basis. You also indirectly promote your business on LinkedIn by participating in discussions and providing links to your website. A pro tip: make sure you're not only sharing your own content and talking about your own company.
Upload Videos to YouTube
Video marketing is the way to go. And the great news is, you can post your videos on YouTube for free! Try creating some how-to, tutorial, or demonstration videos of how to use your products. Or, create a video of someone receiving one of your services and walk your potential clients through the process. Once you upload your videos to YouTube, you can include links on your website, in your email marketing, in your social media posts, etc. (Plus, adding videos to your blog posts can improve your search ranking!)
Advertise on YouTube 
You can also run ads on YouTube. This is an underutilized advertising platform that will be huge next year! Get ahead of the curve and advertise your business on YouTube. For example, you can make video ads that play before videos relevant to your company, or write text ads that will show up in the search results.
Engage and Sell on Instagram 
If you aren't selling your products and services on Instagram, you should be. But you can start by promoting yourself on Instagram by engaging with your audience. There are plenty of options on Instagram, including Reels, Stories, your feed, Lives, and more. Try:
Run contests and giveaways with free or discounted products and services
Offer advice and tutorials to position yourself as a resource
Share on Twitter
Twitter is another free social platform you can use to connect with your audience and promote your business. It is ideal for reaching young adults, and you can promote your products and services and post photos and videos. Twitter is best for real-time updates or news, like "We're having a big sale today!"
Post on Pinterest 
Pinterest is mainly about sharing photos. However, what many people don't realize is that Pinterest lets you link back to your website. This helps you drive more traffic to your site. Particularly if you are an e-commerce business trying to reach women, Pinterest is the site for you. Wedding cake designer? Fashion retailer? Get pinning!
Try Tiktok! 
TikTok is the latest hot trend in the social media world. It makes it simple to create short, snappy videos with special effects. Our tip is to promote your TikTok account across your other platforms so that your audience will try it. For example, post your latest TikTok how-to video on Twitter or Facebook.
Join Online Forums and Communities 
Find whatever online forums and communities are relevant to your business, industry, or geographic location (think NextDoor) and join them. Then, get involved in the conversation. Offer users advice and suggestions when they have problems or ask questions. Try to reference your business when it works naturally. This helps you build relationships in your industry and with potential clients.
Partner with an Influencer
One of the best ways to promote your business is to partner with a social media influencer. Influencers are online celebrities who appeal to your target audience and who will promote your product or service on their social media accounts. This can get your company in front of a huge audience! If you are a local business, find an influencer in your area. For example, if you own a fitness studio, offer an influencer a month's worth of free classes in exchange for a review and social media mention.
Invest in Social Media Management Services
Running social media accounts is a full-time job for many businesses. It might be worth investing in a social media manager to help you promote your business online!
Promote Your Business Online with SEO Design Chicago 
Social media advertising is more effective than billboards. For online marketing and social media management services, contact SEO Design Chicago today. We can help you find the right way to promote your business, find more leads, and convert more customers this year!
FAQs: 
How can I grow my small business online?
How do I promote my business on Google?
What is influencer marketing?
How do I promote my business on social media?
How do I use online directories to promote my business?