Electricians are constantly challenged to take care of business when it comes to electrical equipment, but how do they support their business outside of their craft? How do they ensure that they are seen by customers around them? You could be the best electrician in the world, but without a good marketing strategy, your business won't thrive. In this article, you'll learn why SEO, specifically local SEO, is important for electricians. Furthermore, we'll talk about how to integrate these strategies into your business. Electrician SEO is a necessity for building your brand and making your business known. 
What Is SEO?
SEO, or search engine optimization, is a marketing strategy designed specifically to bring your online presence to the top of a search engine results page. To do this, businesses often select an SEO company to work with them on bringing their site to the top. There are many marketing agencies specializing in electrician SEO that can help you if you don't know where to start. When a potential customer searches for "top electricians near me," you will have a better chance of getting to the top with top-notch strategies. 
Why SEO Matters for Electricians
SEO matters for electricians because it makes it easier for electricians to be found online. While it is good to have your business spread by word of mouth, this should not be the only form of marketing you are relying on. Having a website with good SEO makes it easier for an audience to reach you that may not have heard of you through others. 
When searching online, 75% of users don't go to the second page of their search engine results. This is why it is so important to utilize SEO for your business. Having an online presence is the first step, and utilizing SEO is next. After you have these two objectives set in stone, you can decide which type of SEO to focus on.                 
Local SEO
Local SEO has all of the basics of traditional SEO, but with a location-based strategy. About 30% of all mobile search users are looking for a business in their location while searching, and Google often optimizes sites that incorporate local SEO into their strategy. Without local SEO, your business is missing out on several potential customers in the area. 
An example of using local SEO would be having multiple keywords within your site that suggest a location. Instead of simply using the keywords "top electricians," you would say "top electricians near me." The "near me" part of this phrasing is what makes this local SEO. With these keywords, your site will be recognized more within the area. Many small businesses use local SEO strategies because highly ranked localized keywords will give you more leads and sales. Google keyword ranking is very important for SEO. 
Next, we'll get into specifics on how local SEO pertains to electricians. 
SEO for Electricians
Electricians face increasing challenges in finding new customers. This is why it is so important to utilize a marketing strategy to get your name out there. Once customers are able to reach you, you will be able to use the hands-on skills you have been training for. 
SEO for electricians used to be waiting for a phone call, hoping someone saw your ad in the Yellow Pages. Now, online usage has increased immensely. It is faster, easier, and provides more useful information and credibility. Make your business credible by optimizing for electrician SEO. 
Local SEO for Electricians
Electrician SEO should be of a local base because without it, you may miss out on potential customers that are situated in your very own neighborhood. Furthermore, anyone near you who is in need of an electrician will probably look for one online before doing anything else. They'll want to find an electrician near them, as electricians involve hands-on, in-person work. They won't be searching for an electrician that is four hours away. 
Local SEO Package
If you utilize an SEO agency, you'll typically get a local SEO package. These types of packages typically come with:
Analyzing local competitors

Analyzing your area

Reviewing search terms

Reviewing local listings

Monitoring monthly volumes
With the help of these packages, you'll get to know your area more and what strategies you should optimize to appeal to your audience more. You'll understand what works for you and what doesn't. Electrician SEO is about more than having quality content on your site. It's about strategy, knowledge, and rising above your local competitors.  
Optimizing for Local SEO
When further optimizing your content, you'll want to focus on technical strategies. The most important qualities your site can have when optimizing local electrician SEO are relevance, authority, and proximity. In order to achieve these qualities, you must optimize all of SEO's best practices. 
Some marketing strategies to keep in mind include: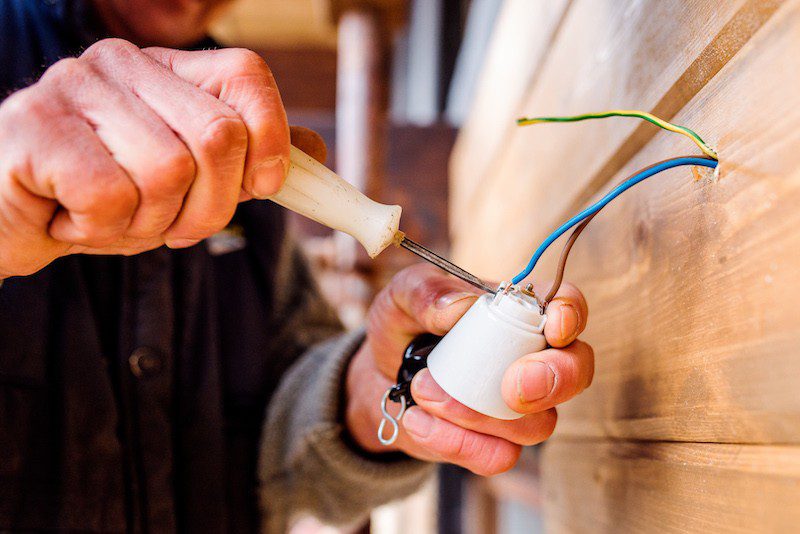 Using Social Media
Having pages on social media platforms like Facebook and Twitter is extremely important for your business. Since many electricians don't think to utilize these options for their business, you will get a head start on reaching customers. The more you can put yourself out there, the better. 
Using LinkedIn
LinkedIn is the best platform you could use for your business. It allows you to reach out to other small businesses, reach more people, and optimize ads. Having a LinkedIn profile will bring you to the top. 
Having a Mobile-Friendly Site
Electrician SEO is about knowing what is most convenient for customers. When someone is in need of an electrician, they will likely look it up on a mobile device. With the never-ending technology advancements, mobile device usage has skyrocketed. On average, consumers spend over five hours a day on their mobile devices. Make sure to keep in mind while creating your online presence that nearly 70% of all web traffic is done on a mobile device. 
Using Google Ads
Google Ads is a platform you can use to reach your desired audience by appearing in front of people who are most likely going to be interested. Google Ads is a form of PPC (pay-per-click) advertising, which is essentially paying for your business to reach a wider audience. While paying might not seem ideal, you will likely be paid more than what you pay for. In the end, this makes it a worthwhile decision when it comes to SEO for electricians. 
Google Local Service Ads allow you to connect with people through a location-based search process. What happens is your ads will show up for potential customers in your area, and the only time you will have to pay is when a customer calls or messages you through the ad itself. This guarantees a better audience and a worthwhile pay rate, as a customer is more likely to follow through if they decide to reach out to you first. Having these types of ads is essential for electrician SEO because it will allow you to be seen before your competitors.
Check Google Keyword Ranking
Having useful keywords is another important part of electrician SEO. Keywords are words or phrases that are used multiple times throughout your content that are based on what a customer might search for. For example, if a customer searches "top electricians near me," you'll want to incorporate that phrase many times in your writing. When writing, make sure to add it into your sentences in a way that makes sense, so that you have impressive content along with a good SEO strategy. 
It is important for electricians to check Google keyword rankings as they continue to grow their business visibility. This will allow you to know what is going on with your site and be up to date on your rankings. It will also let you know how to improve what is and isn't working for your business marketing strategy.
SEO Design Chicago and Electrician Marketing in Boston
SEO Design Chicago is a marketing agency that specializes in SEO in multiple areas, including electrician SEO. Electrician marketing is something we take very seriously, as we have had experience in creating custom content for electricians' websites. SEO Design Chicago is prepared to incorporate multiple strategies for your electrician business in order to boost your brand and bring your company to the top. 
We offer specialized services in multiple places including Boston, where we are the best digital marketing agency. Digital marketing in Boston has a lot to offer, including email marketing, SEO, PPC, and social media marketing. All of these strategies offered by SEO Design Chicago are recommended for your electrician business. We have what it takes to make your electrician company thrive. 
FAQ:
Why is local SEO important for electricians?

What are good marketing strategies for electricians?

How can electricians optimize for local SEO?

What do local SEO packages include?

What are the benefits of Google Ads?