Experts estimate that by 2024, e-commerce sales will reach $6.5 trillion per year. If you have a business that makes most of its revenue through brick-and-mortar locations, you definitely want an e-commerce website building and management tool.
Plus, if you already started an e-commerce website using one tool, that doesn't mean you can't switch to another as your needs change. 
According to Statista, the most popular e-commerce website platforms are:
WooCommerce (which powers WordPress stores)

Squarespace

Shopify 

Wix
Here, we'll break down the pros and cons of each so you can choose the best e-commerce website platform for your needs.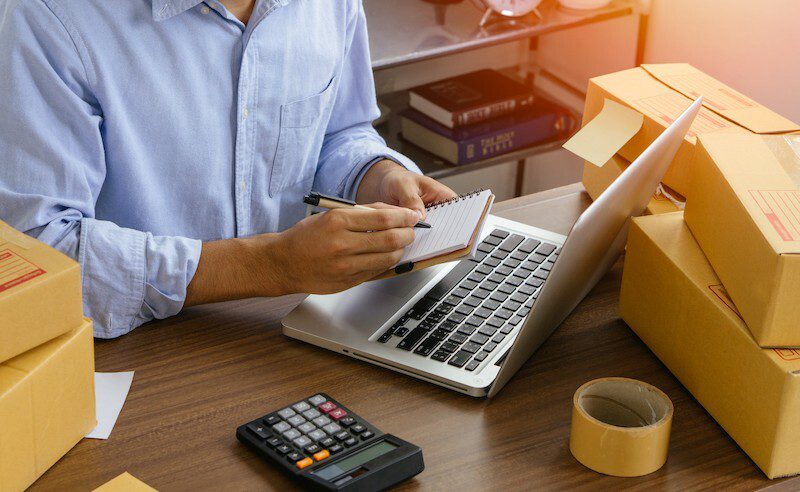 WooCommerce: An E-Commerce Website Platform That's Free and Powerful
WordPress powers over 800 million websites, which is 43% of all websites. That tells you something. Clearly, many people and businesses believe WordPress has better website building and management tools than their competitors.
Many people prefer WordPress websites because you can add different tools and features to your website. These tools and features are called plugins. Some of these plugins are free, but others cost money. For example, if you want your WordPress website to include an online store, all you have to do is add the WooCommerce plugin. You could technically have a WordPress website that sells items through WooCommerce for free.
But if you want a well-designed site with a customized domain name (a must for most businesses), you'll need to pay. A customized domain usually costs $15 per year. Plus, hosting a WordPress website, i.e. providing your site with a digital home where it lives, costs around $120 per year. 
If you want an online store as part of your WordPress site, WooCommerce allows you to do some things for free. Or you can pay al a carte for the plugins you need. For example, WooCommerce offers free website themes, but if you want a specialized, higher-quality design, that will cost up to an extra $100 per year.
WooCommerce also includes both free and paid tools to help you manage your business, like managing inventory and shipping and processing credit card payments. As an example of this, WooCommerce has a tool that can allow you to print labels for free. However, you'll need to pay a bit to accept credit card payments. 
Squarespace and Wix: E-Commerce Website Platforms with Stunning Designs
Squarespace and Wix have become incredibly popular over the last few years. Like WordPress, you can get an online store that sells products or services up and running quickly using Wix or Squarespace.
Most people who use Wix and Squarespace opt for their services because they are easier to learn how to use and manage than WordPress. Plus, they offer stunning, pre-designed templates that are easy to customize with drag-and-drop editors. For many beginners, this makes Wix and Squarespace seem like the best options.
However, they aren't as flexible and customizable in the long run and you'll likely end up paying more than you would with WooCommerce. For example, Squarespace doesn't let you tinker much with the spacing on their pre-designed templates.
They only offer a 14-day free trial before you need to start paying a monthly fee, which can range from $16-$49 per month. Some people say Squarespace websites load slowly, and when websites are slow, frustrated customers turn to other websites that load fast. 
Wix allows you to customize your site more than Squarespace, but their plans cost even more, up to $159 per month (when paid annually, which is always the cheapest route).
For both Wix and Squarespace, troubles will arise when you want to redesign your websites, something most businesses do because how people use websites and what they tend to prefer in designs is constantly evolving. 
Wix and Squarespace do not automatically transfer all of your content to a new template. So if you want to redesign, you'll have to do a ton of copying, pasting, and re-uploading of images and videos. 
Shopify: An E-Commerce Website Platform with Unbeatable Business Management Tools
Shopify beats out the competition because you can control nearly every aspect of your business from one place.
The URL that controls your website design is the same URL that controls the tools you use to manage your business. One URL. One login.
The management tools on Shopify's platform help:
Manage inventory

Handle billing

Control social media posting

Create email marketing campaigns

Provide customer service

Process payments
Basic monthly Shopify fees start at $39, but you can customize your Shopify site, and get more apps by paying a little bit extra. For instance, Shopify's advanced package costs $105 per month. The next tier costs $399 per month. Or you can upgrade to the most advanced version of Shopify, which is called Shopify Plus. 
While users end up loving the all-in-one dashboard system, they don't always love Shopify's learning curve. Shopify is a little harder to use and understand than WordPress.
E-Commerce Website Help from SEO Design Chicago
If you need help figuring out what e-commerce platform is best for you, need assistance getting started, or help with ongoing management, SEO Design Chicago has experienced web developers and designers that are ready to help you. Check out all of our services to find out how we can help your business.