A designer with a good eye for aesthetics and the ability to inspire people to come together to create visual magic has the potential to be a great creative director (CD). Typically this lucrative position requires a bachelor's degree in design or marketing and 5-10 years of design and management experience working for a brand or agency. The job doesn't just demand artistic vision and design skills, but also the management skills to help your team bring concepts and ideas to fruition. 
What Does it Take to Be a Great Creative Director? 
CDs must understand how to use communication to align and motivate their teams. They should possess customer service skills to meet client demands and expectations better. Not to mention problem-solving abilities and project-management skills, too. What truly separates good creative directors apart from great ones is less about design and more about inspiring creativity, process-based management, working under pressure, and interpersonal skills. This article will review what a CD job description includes and the top qualities and skills that go into making a successful CD.
What Does a Creative Director Do?
The CD is in charge of all creative projects and any work assigned to the creative department. While creative directors certainly need strong design skills, this role primarily focuses on leadership. It is crucial to possess so much more than design skills and a good eye, when your job description requires a strong managerial foundation. 
According to Gallup research, around 50% of employees quit their jobs because of their boss and go even further by calling great managers "rare." To be a great CD, means to be a great manager. Your employees need to feel you are approachable and trustworthy. As a CD, your responsibilities are to keep the creative department motivated to generate the big ideas, ensure all work is produced and completed on time, and that the finished project achieves the client's overall goal and is of high quality. 
Although it varies depending on what company you work for, a CD job description typically includes:
Responsible for inspiring and managing the design team's creative process (concept to completion)

Manage and lead the creative department to produce high-quality design work for the brand marketing department or agency client

Understand client or brand objectives and translate them into design strategies

Adhere and enforce all brand standards provided by company, agency, or client

Communicate with clients and collaborate on client proposals

Ensure assets, timelines and budgets are all met based on initial proposals

Approve and review work done by the creative team, help the team solve problems, and provide feedback to cultivate and develop individual team members skills

In charge of hiring, on-boarding, and training any staff working within the creative department

Manage and grow the design team company culture
What Makes a Good Creative Director?
Good Creative Directors Manage and Inspire Their Team(s)
While being a good leader means bringing your team together to achieve goals and complete projects on time. A good CD creates an environment for their team to think outside the box and produce their best work. Sure, a CD's job includes monitoring the progress of design projects, communicating with clients, meeting deadlines, and ensuring your team co-collaborates well.
However, all this has to be done in a way that doesn't stifle creativity. A CD also shares advice and regularly provides constructive feedback to their team. While a leader knows when to jump in when needed, they also know how important it is not to micromanage. It's important for a CD to provide their team space enough room to work and solve problems independently. A CD's role walks a fine line of helping clients reach their business goals while inspiring the creative department to push the creative boundaries of what's possible.
Good Creative Directors are Critical Thinkers and Problem-Solvers
As a CD, you're directing creativity; however, it's just as essential to lead your team to find solutions to client problems and workplace challenges. Good CDs are continually trying to inspire new ways of thinking to help the design team develop innovative solutions for clients. It's also important to do initial scope work to discover and plan for problems your client or team may not see or understand yet. By being proactive and preparing for challenges along the way, you can save your team and clients time and money down the road.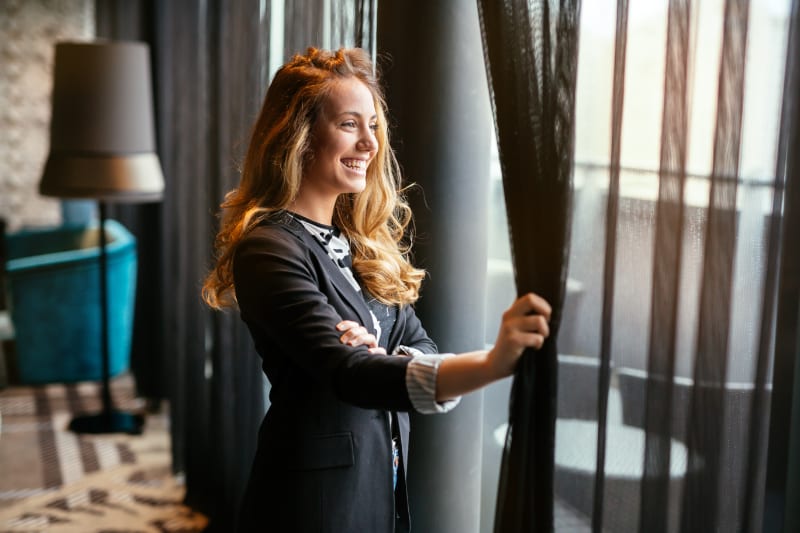 Good Creative Directors Collaborate with and Challenge Their Clients
Since being a CD is a client-facing role, it's important to understand how to both collaborate with your clients to help bring their vision to life. At the same time, knowing when to interject when the client is asking for something that could hurt their brand or the overall project is crucial. Understanding when and how to positively challenge your clients can significantly impact your relationship and overall quality of work. When you sit down with the client and listen and ask many questions, you can get to the bottom of what they are trying to achieve and make expert recommendations on the best way to move forward. Push your clients to help you do better work and position it as so. 
Good Creative Directors Have Their Finger on the Pulse
To better serve clients, CD's should understand, study, and keep up with the market(s) they are serving. Knowing the general state of affairs and current trends via data can help form client visions for the better and propel the project toward to success. A great CD doesn't just come up with creative ideas that they prefer, but they put themselves in the shoes of their client's customers and target demographics. By monitoring the latest industry trends and consumer behavior, you can deliver more value to your client and their customers. After all, when you create the right content that appeals to the right demographics, that is when the real magic happens.
Good Creative Directors Bridge the Gap of Creativity and Business
A successful CD possesses the skills to balance whatever is aesthetically pleasing and most likely to perform best for its business goals. While design is essential, it's equally about the overall strategy you and your team develop. It's important to drive results that keep clients happy. As a CD, you have to find ways to develop unique and engaging design concepts. While also making sure there is a sound marketing strategy that boosts your client's bottom line.
Good Creative Directors are Team Players
A successful CD doesn't just communicate with the design department. Sure on the daily, they will be working with graphic designers, photographers, videographers, and other creatives. However, they have to attend regular meetings with clients and other agency partners to ensure the overall creative project is seen by as many eyes as possible.
This means that the CD has to be a good leader for their design employees and an overall team player. What's the point of launching a beautiful and creative campaign if nobody sees it? A great CD makes sure those working in all the departments involved in the project (SEO, digital advertising, social media marketing, etc.) are developing strategies that align with the client's goals and demographics. Day-to-day, a CD will most likely spend most of their time with the creative department and the client. Regular meetings with everyone involved in launching the campaign and the execution after the design work is complete is what drives results for the client. 
Good CDs Have Strong Interpersonal Skills
Not only does a CD need to understand how to motivate, inspire, and bring together their design team to produce the best work. They also have to meet with clients regularly. This means to be a good CD you have to understand how to work with different personalities, egos, communication styles, etc. CD's know how to listen and communicate effectively. They also understand how to keep everyone happy while finding a good balance between profits and creativity. A few other examples of interpersonal skills include: cultivating an environment for teamwork, taking responsibility for work and deadlines, and negotiating when clients and design teams clash.
Good Creative Directors are Great Project Managers
We've mentioned this before in this article, but we can't drive this point home enough. A CD has to understand the entire creation process. CD's manage and execute the whole project from start to finish. You have to ensure that the project is on time and your team is producing quality work. All while continually checking in to make sure that the work is on-brand for the client. It also needs to be aligned with their business goals. Every single step in the project execution and design process has to be monitored closely and executed flawlessly. A CD has to be ready to jump in whenever there is a roadblock or fire to put out. Every t needs to be crossed and every i needs to be dotted. Only then can the finished project be delivered (on time!) to the client.
Good Creative Directors Know How Important Digital Marketing Is
Good CDs know their client's design is the first impression and business greeting to potential customers in the online world. It used to be a handshake and a smile that greeted new potential customers. But in 2020, your brand aesthetics and identity is essentially the new handshake today. With an increase of digital consumption, customers are learning about businesses online more than ever before. This is why having a great design and expert digital marketing team collaborating together is the most important asset to being a good CD. If you are considering a career as a creative director, it might be a good idea to major in digital marketing. 
As the CD your role has many dimensions as we mentioned throughout this article. You lead the direction of creative projects. You also help inspire your team to help clients bring their creative and strategic visions to life. While being a CD can be a fun role, it's also quite challenging. There are many non-creative aspects of the job that are time consuming and necessary to lead your team to success. After gaining multi-faceted design and leadership experience for a few years (typically 7-10 years), becoming a CD may just be a dream come true.