Creating consistent, high-quality content is a crucial component of your small business's marketing strategy. Effective content marketing shows the world that you're great at what you do. Content is at the core of every digital marketing strategy. 
Given that content is key to your business's success, it can be overwhelming to determine the types of content you should create as well as managing the content process effectively. SEO Design Chicago is here to help you understand the importance of content marketing, the types of content to include in your digital marketing strategy, and tips for managing content for your business.
What Is Content Marketing?
According to the Content Marketing Institute, content marketing is "a strategic marketing approach focused on creating and distributing valuable, relevant, and consistent content to attract and retain a clearly defined audience—and, ultimately, to drive profitable customer action."
In the early days of traditional marketing, marketers would pitch their products and services and demand everyone buy now! 
Digital marketing changed the way marketers approach their audience. Instead of pitching products and services, marketers provide relevant and useful content. With this content, prospects and customers can make informed decisions and reduce their pain points.
Why Is Content Marketing Important for Businesses?
Content is king. In the past, content marketing was a way to set yourself apart from the competition. Today, however, it is necessary for any brand or business. Content marketing is at the heart of successful digital marketing campaigns.
Here are 10 reasons why content marketing is important for your business's digital marketing strategy.
Through content marketing, you can improve your brand reputation and build trust with your audience.

Quality content influences conversions.

Improve search engine optimization with optimized content.

Great content brings in new leads inexpensively.

Showcase your subject matter expertise with high-quality content.

Publish great content to help build relationships with your customers.

Your leads and customers want to read great content, so give them what they want.

Stand out from the competition with a solid content marketing strategy.

Content marketing plays a role during each stage of the marketing funnel.

Content supports every other part of your digital marketing strategy.
There are many benefits to content marketing for businesses of all sizes. Content marketing boosts your visibility and helps you build relationships with your leads and customers. Develop a content marketing strategy that resonates with your target audience. Valuable content will boost conversions and improve customer retention. 
SEO Design Chicago will help you develop your content marketing strategy. We offer various content creation services including blog writing, email marketing, social media content creation, and sponsored content.
Types of Content for Your Digital Marketing Strategy
Content marketing is imperative for businesses that are trying to gain exposure online. When most people think of content marketing, blogging comes to mind. However, other forms of content are growing quickly. By utilizing different forms of content, you can reach a wider audience.
Here are 5 types of content that you should include in your digital marketing strategy.
Videos
Research shows that most viewers retain information better when they watch an informative video rather than reading text. Additionally, customers are more likely to purchase a product or service after viewing video advertisements.
Videos are an easy way for people to consume information. Create short videos that include compelling information. With them, you can increase leads, sales, and website traffic.
Blogs
Businesses that use blogs with high-quality links tend to perform better in search ranking. Blogs are an inexpensive way to boost your online presence. Remember that your blogs should be informative and insightful. These blogs will increase your business's credibility. You will establish yourself as a thought leader and build trust with your audience.
Podcasts
Podcasts are a great way to communicate your brand's personality and reach niche markets. Keep in mind that creating podcasts requires the right equipment as well as time to invest in the planning and creation process.
Infographics
Infographics are a combination of pictures, text, and graphics that bring together information to convey your message. They are popular because they make your blog posts easier to read. They also reflect important issues, spruce up your message, and make the information more accessible.
Case Studies
Case studies are effective for turning leads into customers. What better way to promote your business than by hearing from satisfied existing customers? Case studies can help your potential customers understand how your business can solve their problems. Case studies can also help potential customers understand the experience they should expect from your business.
What Is the Content Creation Process?
Content creation for your business involves using a six-step process to create great content.
Perform SEO Research
SEO research, also known as keyword research, tells you the search volume of a specific keyword phrase and whether or not it's worth creating a piece of content around. 
Bear in mind that your target keywords should be attainable. This means the search volume and keyword difficulty should correspond with your website's domain authority. If you're just starting, consistently trying to rank for highly competitive keywords most likely won't work out too well for you.
Longtail keywords are a good option to target because, although they may have a low search volume, they also have minimal keyword difficulty. Ranking for longtail keywords allows you to get your content in front of a larger audience.
Here are a few ways to perform keyword research.
Use keyword research tools like

SEMRush Keyword Research

,

Moz Keyword Explorer

, or

Ahrefs Keywords Explorer

.

Type your keywords into Google and take notice of the queries that automatically fill the search bar. These are questions that people often ask, so you can be aware of the keywords they use.

Check out the People Also Ask section of the search engine results page. Again, this section can give you a clue as to how users phrase their queries.
Brainstorm Topic Ideas
Now that you know which keywords you want to target, you can brainstorm some topic ideas. A great way to organize your content is through topic clusters. According to Terakeet, topic clusters are "groups of related content that collectively cover a broad subject area. Content clusters provide contextual support for all pages within a group. They also lay the foundation for a strong internal linking structure." Topic clusters help your audience to dive deeper into the topic.
If you're still struggling with content ideas, you can look for inspiration in books you've read, studies from your industry, your competitor's websites, or related searches on the search engine results page.
Write Your Content
Whether you are creating a blog post, video, or graphic, the writing process is similar for each. Here are some guidelines for creating great content.
Gear your content towards your buyer personas to create content that resonates with them.

Create unique content that has a one-of-a-kind style or cites new research.

Focus on one main idea and reinforce it with the content.

Write in a voice that relates to your audience. Speak the way they speak.

Be concise and clear so that your audience can relate to you and find your content valuable.
Remember, the goal of creating great content is to inform and engage your audience in a relatable way.
Edit Your Writing
There are a few things that should look out for as you refine your content, like active voice, clear language, short sentences, and plenty of white space.
Using an editing tool like Grammarly can help cut down on your editing time. Additionally, the Yoast SEO plugin for WordPress is a great way to improve your SEO and readability score.
Upload Your Content
Once your content is ready, you need to post it somewhere for people to see. A content management system (CMS) is software that hosts digital content and allows you to display it on your website. A CMS is helpful because it connects all of your content and stores it in one place.
Publish Your Content
You can publish your content immediately after uploading, or you can maximize its impact by waiting for an optimal time. Regular posting schedules are helpful in the beginning. Also, keep in mind that you should publish content that is time-sensitive or relates to current trends appropriately.
Best Practices for Managing Content
Ongoing content creation can be a laborious process. At times, the vast quantity of content can feel overwhelming and unmanageable. Here at SEO Design Chicago, we've learned best practices for managing content to help you continuously create high-quality content.
Here are 5 tips for managing the content process.
Communicate Throughout the Entire Content Process.
Managing content requires collaboration, leadership, and communication. Keep these ideas in mind as you begin the content creation process.
Set clear expectations, outcomes, and objectives.

Define and assign project roles and responsibilities.

Set deadlines and create a schedule.

Communicate regularly between deadlines.

Define templates, brand guidelines, and styles guides and share them with the whole team.
While flexibility is important, defining the framework of planning, production, and publication helps everyone manage their time and resources appropriately.
Prioritize Your Content Appropriately.
A website isn't a book; publication isn't the finish line. Web content requires upkeep and continual improvements. First, you should identify content that you already have. Then, you should consider the content that you need and want. Remember that websites can always be improved later as information changes. 
Keep Your Content Process Organized.
Content creation has many moving parts. Use whatever system works best for you, but make sure you communicate, share, and organize files. Make the content accessible to the whole team.
Here are a few tips for organizing the content process:
Keep your images, files, and guidelines all in one place.

Name your files clearly and use standard naming conventions.

Use folders or a hierarchical system to organize your files.

Identify a process for sharing files and formats.

Create a method for tracking changes and version histories during the content lifecycle.
Keeping your files organized goes a long way in the process of creating high-quality content.
Coordinate Approvals, Feedback, and Workloads.
When you've got several teams working on the same project, you must coordinate collaboration. Be sure to set timelines for feedback and approvals. Share the workload and divide projects evenly. Set clear expectations for your team and follow through with the process.
Focus On Outcomes and Take the Process Step by Step.
Remember that content on your website is a brand message that everyone can see. Creating quality content can be an intimidating process at first. If you follow the steps in the content process, the outcomes will be well worth the effort.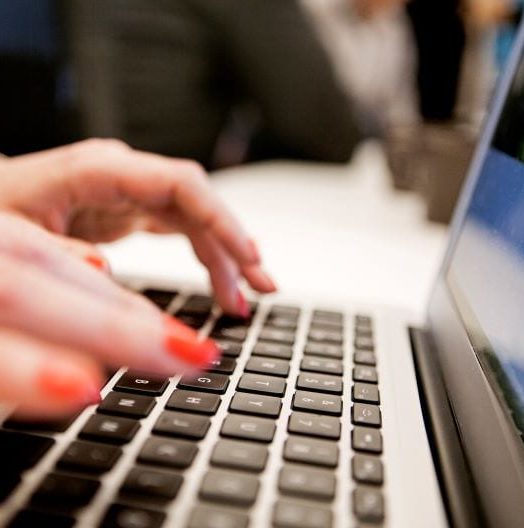 Manage Content With SEO Design Chicago
The content on your website is incredibly important. Avoid project delays and a mismanaged content process. SEO Design Chicago can help you streamline your content management process. We offer several content creation services to make your life easier. Contact us today for professional blog writing services, email marketing services, creating social media content, and creating sponsored content.
FAQ:
How has digital marketing changed content marketing?

What types of content should I include in my digital marketing strategy?

What is the process for creating content?

What is a CMS?

How can I keep my content organized?