When you are working in the assisted living field, it is extremely important to cater to your audience's needs. After all, you are dealing with the comfort and care of a senior's life. Expectations for senior living facilities have risen over the years considering that assisted living is constantly evolving in order to meet the residents' and their families' expectations.  
But how is this evolving? Part of the growth is due to marketing methods. Marketing to seniors and their families has changed dramatically in the last decade. While printing marketing is still being used, it is not the most used method anymore. With the digital age upon us, you will fall behind if you don't keep up with the latest advertising trends. 
Occupancy is down everywhere in the country in terms of senior living communities. What can you do to stay ahead of the game and reach more seniors and their families? You can stay on top of the latest marketing trends and incorporate social media. But first, your marketing starts with having an effective online presence. 
Having an Online Presence
Before we get into senior living social media, let's talk about having an online presence in general and how it leads to transforming the assisted living industry. Having a successful online presence takes more than simply being online. It is being on multiple platforms, engaging in two-way communication with your audiences, and always evaluating your performance. When you have two-way communication with your audience, you are transforming your marketing strategies because you are doing more than just putting yourself out there. With two-way communication, assisted living businesses are willing to take criticism, be truthful, and hold themselves accountable for their work. 
Create a Website
The first step to making your assisted living business thrive online is to create a website. Websites give your company a space to provide basic information while also making your business your own. Create different tabs within the website that holds key information along with unique graphics and fun side content. The more content you have on your website, the better. 
Prepare Content Creation 
Make sure you are prepared with writers for the creation of your content. Whether it is you or a hired writing team, it is important to ensure that you have enough support to create content constantly and keep your website updated. When your website is updated, it draws more people in and keeps you relevant. We'll talk more about how social media does this later in the article. 
Create Blogs
One way to constantly be keeping your website up to date is through blogs, which are very important for senior living businesses. Assisted living blogs will spark interest and make your accounting website thrive. Make sure to come up with a calendar for your blogs to hold yourself accountable for posting frequently. The more organized you are, the more likely you will be successful in your assisted living business. 
Assisted Living Marketing 
Due to the decline in occupancy for senior living, there should be drastic marketing improvements to bring new interest into your business. The better you market, the more likely you will get heads turning towards your community, which is essential considering the declines that have been happening recently.
It is important to connect to your audience and be focused when it comes to assisted living marketing. Keep goals in mind when coming up with a marketing plan to provide awareness, interest, and action toward your community. 
Make sure you are always evaluating your assisted living website. This can be done through Google Analytics, a free marketing platform tool that allows an audience to discover what is going on behind the scenes of their website and analyze their audience's usage so they can further improve it. Doing things like this will show that you care about your audience's needs, which will further improve your assisted living marketing. 
Another assisted living marketing tip is to optimize your website's search engine optimization so that you can stay at the top of search engine result pages. Search engine optimization (SEO) is a marketing tool used by many businesses to put their websites at the top of search engine result pages. It can be optimized through marketing by using strategies such as adding keywords to content on your website or constantly adding new blogs to keep your site updated. 
Social Media Marketing
Social media marketing is the usage of different social media platforms to market your business. It helps with increasing sales for businesses, building brands, and connecting to audiences in two-way communication. Social media will allow you to relate to your audience on a deeper level, as it provides a space to post personal highlights, not just professionalism. 
The most popular platforms are Facebook, Instagram, Twitter, LinkedIn, Pinterest, and YouTube, all of which are recommended for assisted living industries. Businesses can use social media in multiple different ways: they can use it to engage, analyze, and advertise. We'll get into these in specifics later on in the article.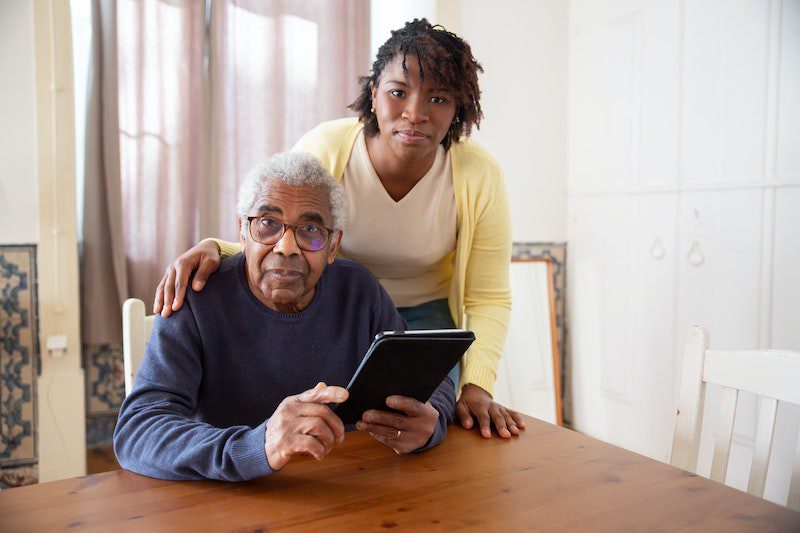 Senior Living Social Media
Now that we've gone over what social media marketing is and why it is important, let's talk about why it is important for senior living facilities specifically. There are many benefits of social media marketing for senior living communities:
Senior living facilities are all about making connections. When you use social media, you can make more personalized connections between your business and the families of the residents.

Since more senior living communities are updating their online presence, it's important to keep up with the competition and not fall behind, and staying on top of social media is a good way to do this

Having social media posts with images and videos on Instagram, YouTube, or Facebook is a good way to show the friendliness of your community and how much you care about your residents. Social media gives senior living businesses a place to show themselves off

If you aren't on social media, your facility is missing a lot of your target audience since you aren't simply targeting seniors, you are targeting families of various ages. Use a variety of social media platforms to target different people
Senior Living Social Media Tips
It can be difficult to figure out how to use all of these different social media platforms to make your business thrive. There are many to choose from and they all work differently. Once you get into a routine, you will be making regular posts as it will be a piece of cake. It all takes time and familiarity. Need more assistance optimizing social media for assisted living facilities? Not to worry, we've got you covered. Here are some assisted living social media tips:
Use senior living social media to bring awareness to your special events and activities

Create a calendar to keep yourself up with your posts, and post consistently. Don't take long breaks away from social media

Use senior living social media to get to know your audience and understand their needs

Read comments and reviews about your brand so that you know what is and isn't working

Communicate directly with residents and their families
SEO Design Chicago and Assisted Living Marketing in San Antonio 
Need an agency to help you with assisted living social media? Look no further, SEO Design Chicago is the place for you.
SEO Design Chicago is a marketing agency that has grown into one of the best digital marketing companies in the country today. We specialize in SEO of all areas, specifically Assisted Living Marketing. SEO Design Chicago has experience working with assisted living clients across the country, so we are well-versed in helping your company thrive. Knowing what has worked well in the past, we have certain strategies we recommend using: such as pay-per-click marketing, Facebook advertising, LinkedIn marketing, and content creation. 
Even though our recommendations are based on successes with senior living marketing in the past, we know that each company is unique. That's why we incorporate an in-depth analysis of your website before anything else. We want to get to know you so that we can take the proper steps to help make your brand flourish. 
Think you will be too far away to get our assistance? Not to worry. We are a virtual marketing agency with staff located around the United States, so we are flexible when it comes to location. Our skilled staff specializes in San Antonio SEO, where we are the best digital marketing company. Whether you need a full-service or short-term PPC campaign, we are here to help. Our marketing solutions will bring you to the top. We are experts in our craft and will have your back with any senior living social media needs you may have.  
FAQ:
How is social media transforming the assisted living industry?

What is social media marketing?

What is assisted living marketing?

How do senior living industries use social media?

What are some social media strategies for senior living?