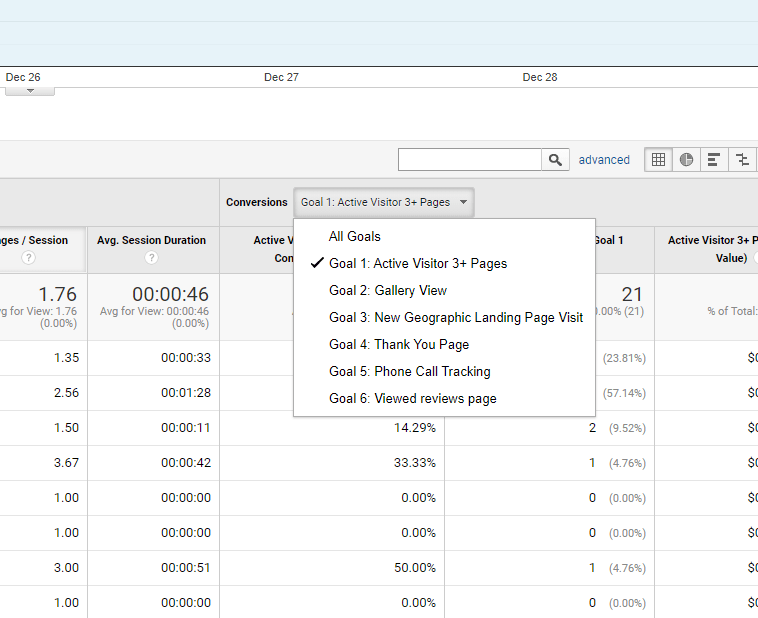 Google Analytics is an excellent analytics tool that can give you valuable information about your website and its traffic. While many use GA to learn about their target audience and how they arrived at their website, you can also use this tool to get more specific information that helps your business. For example, how many leads did your website generate and how many people purchased from one of your landing pages? In this article, we will teach you about the different goal types for tracking in Google Analytics.
Google Analytics Goals vs. Events
The main difference between a goal and an event in Google Analytics is that goals are tied to actions that affect website revenue. Events track website behavior that does not have to do with reaching a specific page on your website. (Quick GA note: On July 1, 2023, Universal Analytics properties will stop processing data. You will need to switch to Google Analytics 4.)
Google Analytics Goal Types
In Google analytics, there are four different types of goals:
1) Destination
2) Duration
3) Pages per session/screens per session
4) Events
When you set up goals in Google Analytics you can also choose goal values. This will be useful when you are keeping track of goal conversions. You can associate a specific value with each goal in Google analytics. For instance, let's say that you are running an e-commerce website and you want to keep track of purchases through Google analytics.
You can set values for things like cost per acquisition, to identify which campaigns are giving you the best ROI easily and analytics. Let's talk about the different types of goals, their Google Analytics definitions, and when you would use them.
You can access the Goals in Google Analytics by Clicking Admin and then Goals under the View settings in Google Analytics

Destination
You can use the destination goal for a website that has thank you pages or exit pages. It is also one goal to track conversion rates. A webmaster, or owner of the website can set specific goals so that when a user reaches a specific URL, Google analytics will count this in its conversion data. You can set up goals individually for destinations, or you can do multiple ad time by using this symbol (|) in between the pages.
Duration
Duration goals are typically not used as frequently as some of the other goals. An example of when you would use a duration goal may be for a website where they are trying to keep the user on the site for longer periods of time.
For instance if you are a newspaper in the Chicago market, you most likely would want users to look at several stories on the website to maximize your advertising revenue with a product like Google AdSense, or Double-click for Publishers. Duration goals may also be useful for optimization of e-commerce stores, or for websites that contain music or sound like a podcast or Spotify.
Pages per session
Pages per session is a useful goal for news or entertainment sites. When a website is serving ads, the amount of page screens per session that a user views equals more ad revenue for the website. Page views per session can also be used for types of websites to monitor what kind of interaction the users are having with the website.
For instance, an MBA program website like Adaptibar, may want to know the number of pages users are going through in their modules for the bar exam. Based on this data, they can look at various different traffic sources and identify the referral traffic that is bringing the users that are more engaged with the content. This may help to make future marketing decisions about what vendors or companies to work with.
Event tracking
Events can be triggered by a number of different user interactions. Sometimes Google analytics is unable to track goals using the other goal types. When websites contain I frames, certain clicks or actions are very valuable but can be difficult to track moving across domains.
Auto Advertising is a great example where we see this very frequently. For typical automotive websites the various tools that they use are I framed into the website so that the website manufacturer can churn out more websites at a lower cost. This makes it very difficult for the dealership to see which traffic sources are actually delivering the best traffic and leads for the dealership. Utilizing Google Tag Manager, a website can also track the mobile clicks to call from users that visit the website through the event goal type.
Many times when a company is using Google Ads, or another paid search provider, they are not getting the full picture unless they are tracking events. By looking at Google Ads data, a sophisticated marketer can see key conversion activities like phone calls and form submissions if they're connected properly and linked through Google Analytics. If you have phone tracking enabled through events, you may find out that your website is actually delivering even more phone calls that are evident in Google ads.
Do You Need Help Setting Up Goals in Google Analytics?
Setting up goals in Google Analytics is one of the most important things you can do as a business owner. If your not creating goals correctly, you may be missing out on referral sources that are making you money, or wasting money with sources that are not creating conversions with a good ROI. Good advertising agencies should be able to talk with you about your goals and what conversions make you more money. We have a team that specializes in Google Analytics, including more complicated reports like Goal Funnels. These show the steps the user completes on the way to goal completion. To learn more, contact our team today!
FAQ:
What are the differences between goals and events in Google Analytics?
What are the different goal types in Google Analytics?
How do I set up goal values in Google Analytics?
What is event tracking in Google Analytics?
What is a destination goal in Google Analytics?