Assisted living businesses are a great service that helps take care of the elderly when they can no longer take care of themselves. That being said, it can sometimes be difficult to successfully find referral sources for your assisted living facility. Luckily, there are several assisted living referral sources that you can utilize to help you get more customers. In addition to assisted living referral services, there are several assisted living digital marketing tips that can help you attract more customers. Baby boomers are the 2nd largest generation in America and as they start to get older, they will be more in need of assisted living services. Follow these tips to help you find those potential customers.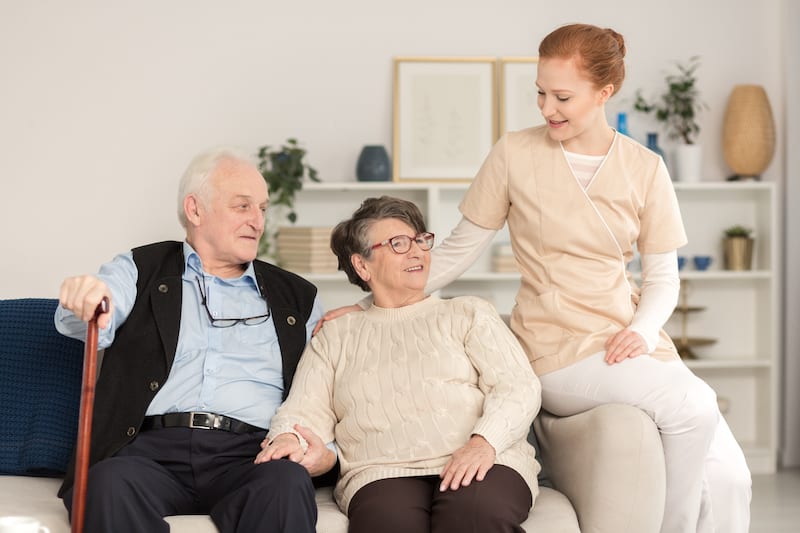 How to Find Clients for an Assisted Living Facility
These are some of our best tips for how to find clients for your assisted living facility:
Network with Social Workers 
When you are looking for referral sources for assisted living facilities, you should consider networking with local social workers in your area. Networking with social workers is very important because often when an elderly person is admitted to a hospital after an accident, a social worker is involved. The social worker will evaluate the mental fitness of the patient and determine if they are self-sufficient or not. If the social worker believes that the patient can no longer be self-sufficient living on their own, they might recommend they be admitted to an assisted living facility.
The social worker will likely be their trusted source for how to find local assisted living facilities. If you successfully network with the social worker, they might mention your assisted living business. This is a great opportunity for the prospect's family to look into your facility. Leave any business cards or informative literature with the social workers, so they can keep your business in mind and find out more information if they want.
Use a Referral Agency
If your marketing budget can afford it, you should consider using a referral agency for assisted living facilities. It is a really effective way to find new customers.
So what exactly does a referral agency for assisted living do? A referral agency for assisted living facilities has several leads and contacts in your target demographic that they can send information about your facility to. This is really convenient because it means that you do not have to spend the time finding those leads yourself through a different method. Getting leads on your own can be a really long and tedious process.
Additionally, using a referral service can actually save you quite a bit of money. In fact, depending on how much you spend you can save anywhere from 16-52% according to Marketplace Earth.. Even if you do not have a big marketing budget, you should at least look into using a referral service. It is one of the best referral sources for assisted living facilities available.
Have a User-Friendly Website
Having a user-friendly website may not be the first thing that comes to mind when you think about a referral source for assisted living facilities. That being said, it is very important because you want to make sure that anyone visiting your site is able to easily find the information they are looking for. Make sure that you have all of your information easily organized.
You should also provide different pages with similar information all together. For example, if you have several pages of your website that discuss the different services your facility offers, consider putting them all under one tab on the homepage of your website.
Finally, it is really important that you do not have too much text on your website. You want to have a balance between the amount of text and images on your site. If a prospect sees too much text, they will likely not read it and go to a competitor's website instead.
Social Media Marketing 
Having a strong social media presence can be a great referral source for assisted living facilities. Social media is transforming the assisted living industry. Just because the target demographic for assisted living facilities is older does not mean that using social media should be overlooked. It is true that the older demographic does not use social media as often as younger generations. However, a lot of people in the baby boomer generation still participate on social media. In fact, 82% of baby boomers who regularly use the internet have at least one social media account.
Different social media platforms attract different age demographics. Baby boomers use Facebook the most out of all social media sites. Additionally, you should be promoting your business to more than just baby boomers. After all, the patient's families are also a big factor in which assisted living facility they attend. This means that you should also put some of your advertising efforts towards Generation X. This is due to the fact that their parents are in the age range where they might need an assisted living facility.

Create a Blog
Assisted living facilities need a blog. Creating a blog featuring different activities residents are participating in can be a great way to get new customers. This can be one of the best referral sources for assisted facilities. This is also a great way for a resident's family members to see what their loved ones are doing while they are at your facility. Additionally, it shows prospective families the type of care their family members would be receiving if they lived at your facility.
In addition to activities that the residents are participating in, you could highlight individual residents. Celebrate any birthday your residents are celebrating, especially big milestone birthdays. Taking family pictures with a resident's grandchildren can also make for good blog content. Show your seniors living their best life!
You can also feature your staff members who take excellent personal care of your residents on your blog. Make sure you have the consent of everyone you plan on putting in your blog before you post them.
You can also write a blog about the cost of assisted living or describing the different levels of care your facility offers.
Sometimes the best assisted living referral service is just creating your own blog and doing your own promotion.
Claim Your Business Listing on Google
Before you look for referral sources for assisted living facilities, make sure you have claimed your business listing on Google. In order to get more customers for your business, you need to make sure prospects can find your business as easily as possible on Google. When someone searches for assisted living facilities near them, you want your facility to be in the top three.
If you do not claim your Google business listing you could be missing out on a lot of potential customers. You want to make customers in your area aware of your business. When you claim your business listing on Google, make sure you have the correct location. Many prospects search for a business based on location. 46% of Google searches that are looking for businesses have the terms "near me" or "close by" in their searches. In addition to your address, clarify that your contact information like your phone number and website are correct.

Offer Tours of Your Business
Prospects and the prospect's family will likely want to tour your facility before they admit their family members into your care. Offering tours can be a great referral source for assisted living facilities. Not only can you allow the prospect to schedule tours, but you can also invite groups within the community to tour your facility. Invite members of your community from local churches and community centers.
When you give the tour, make sure you show off everything your facility offers without violating any of your residents' privacy. Instead of going into a resident's room while they are in there, maybe show off an empty room to show the prospects where they would be living. Showing residents in common areas like a dining hall or game room is encouraged. This is not violating their privacy because they are in a public area of your facility.
Host Events
Hosting events can also be a great referral source for assisted living facilities. This will give prospects and prospect's families insight into how you run your facility. Additionally, prospects can interact with your residents and see if your facility would be a place they are interested in living at.
You can host any number of events. Cookouts are an affordable way to host a small event. Your residents will enjoy the change of pace and it will give everyone the opportunity to get some fresh air. Additionally, all you will need to provide is the food. Another good idea for an event would be to hire a local musician, which you can advertise as a concert.
SEO Design Chicago Offers Marketing Services for Assisted Living Facilities
SEO Design Chicago offers digital marketing services for your assisted living community, memory care center, senior care, nursing home, skilled nursing home, long term care for older adults, independent living, and other health care facilities. We can help you market your care services to those who are finding assisted living facilities for themselves or a loved one. We can help you start an assisted living business or market your existing business. Contact us today to create an effective marketing strategy for assisted living facilities!
FAQ:
How do you market assisted living facilities?
What is a placing agency?
How do I find clients for my home care business?
What events can I host at my assisted living business?
How do you get referrals for assisted living?