Whether you realize it or not, you probably see several examples of native advertising each day as you browse the internet. Native ads are everywhere now, but they are getting more difficult to spot. In this blog post, we will discuss the definition of native advertising, why it is controversial, and some of the best and worst native advertising examples on the web.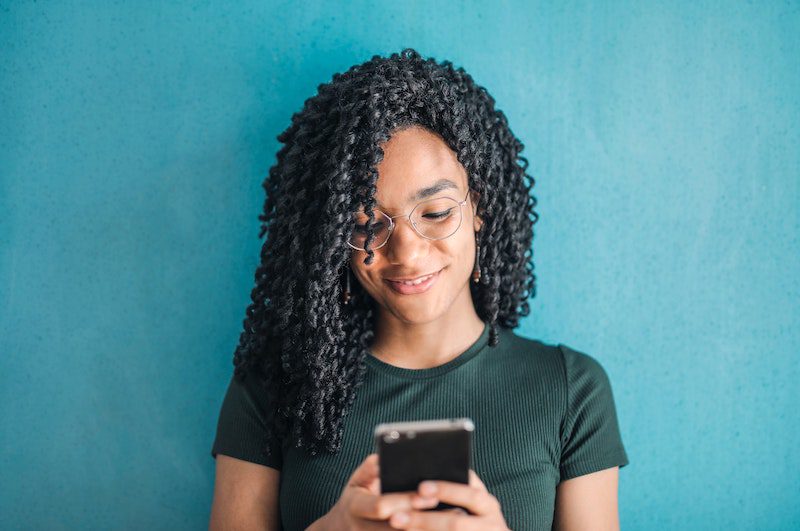 What is Native Advertising? 
Before we get into native ad examples, let's define native ads. Native advertising is the use of paid ads that align with the look and aesthetic of the website on which they appear. This is what makes native ads difficult to pick out. They blend in extremely well with the organic content on the page, which is also what makes them so effective. Consumers are able to ignore ads these days. In fact, it's more likely that you will survive a plane crash or win the lottery than click on a banner ad, according to one study. However, there are some native ad platforms, such as Yahoo Gemini, that offer a good user experience and have many targeting options. There are several different ways you can use native ads for your business.
Programmatic Native Advertising
Programmatic native advertising is a technique devised to incorporate the marketers' messages and assets in a publisher's feed.
Native Advertising Controversy 
Now you know the native advertising definition, but do you know about the controversy around native content? Because of the nature of native ads, they can be controversial. There are currently no rules or guidelines that dictate how publishers have to note or label native ads. Certain publishers are more transparent than others in how transparent they are with their audience in specifying what is sponsored content and what isn't. Some advertisers believe it is unfair or unethical to "trick" readers with native ads. However, some say that native ads actually help audiences find products and content that is relevant to their interests. Some native examples look like content recommendations.
Native Ads vs. Content Marketing 
Before we get into native Sometimes, people confuse native advertising with content marketing. So what's the difference? Native ads are paid content that are placed on another company or publisher's website. On the other hand, content marketing is content produced and published by a company to provide valuable insight to its audience. Native ads campaigns are not always the best advertising option for your target audience or to improve conversion rates.
Let's take a look at some of the best examples of native advertising and see why publishers and advertisers sometimes choose this advertising option. This will help you get an idea of how to use and create the best native ads experience for your own company.
Best Native Content Examples
Now that you know the native content definition, let's get into some of the best native website advertisement examples.
The Onion Branded Content 
As you probably know, the Onion is a satirical website that also makes excellent use of branded content. The Onion created this piece of content specifically for the client, H&R Block. Even though it is an ad, the article reads just like a typical Onion article. Though this example is slightly different than traditional examples of native advertising, it still qualifies. At the bottom of the article, it reiterates "Brought to you by H&R Block." This is a great example of native advertising because it is fun, relatable, and entertaining. It increases brand awareness for the client, and still represents The Onion well.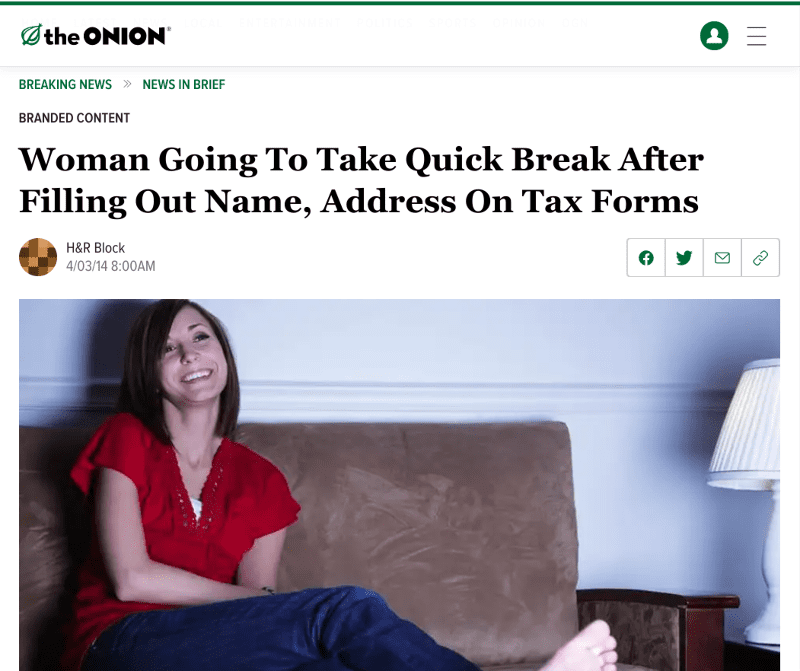 Fast Company's UPS Infographic
Fast Company published this infographic that is actually an advertisement highlighting UPS' innovations in its supply chain management operations. (It is even noted as an advertisement at the top of the infographic.) It is an example of one of the best native ads. What makes it native advertising? The infographic looks almost exactly like Fast Company's usual content. The colors of the infographic match UPS' branding. It both increases brand awareness for UPS and sells its services.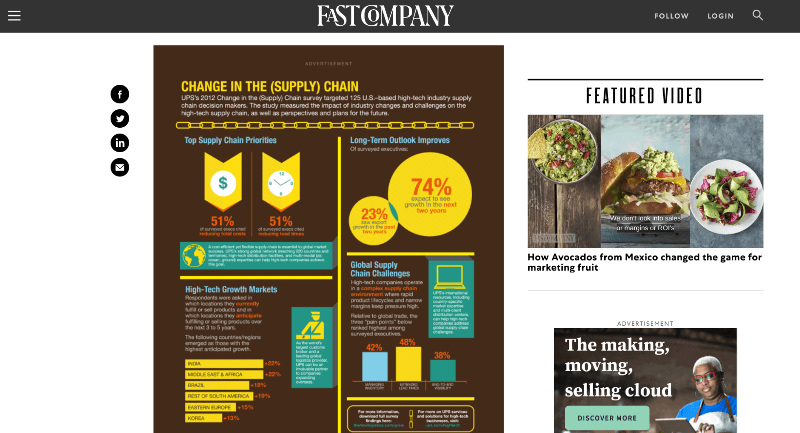 Buzzfeed's "Community" Pages
Buzzfeed is the sixth most popular news website, so who wouldn't want their ads to appear on the site? Buzzfeed native advertising is excellent. Here's a great example of native advertising from Buzzfeed, entitled "10 Quotes Every Grad Needs to Read." It looks just like any other Buzzfeed listicle, right? However, the author of the article is "Buzzfeed User HarperCollins." HarperCollins is one of the largest book publishers in the world.
There is also a box on the article noting that the post has not been vetted or endorsed by its staff. This is a good example of content marketing because it was published in late spring, during graduation season. It was also based on a viral commencement speech. Plus, as already noted, it looks just like typical Buzzfeed content. It's effective, blends in, and timely, all elements of classic native advertising.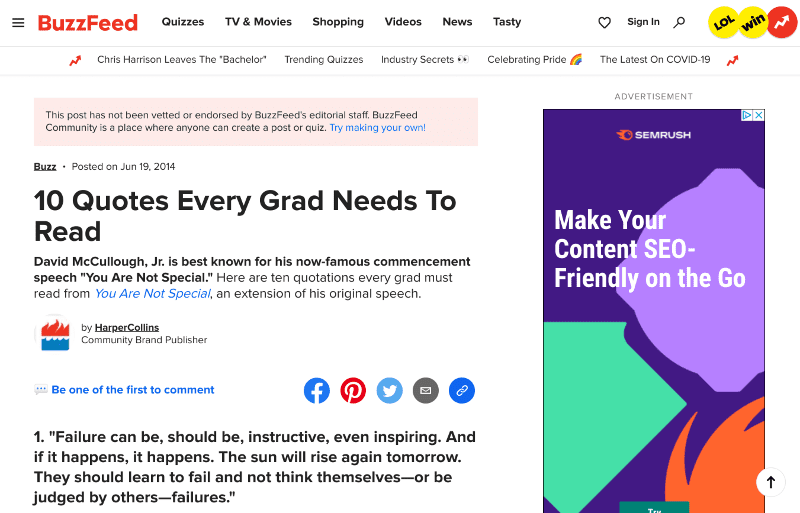 Forbes' BrandVoice Content
Choosing a native advertising platform depends on your target audience. Forbes has been running its BrandVoice marketing platform for a decade now. It remains an excellent example of how to use native content. The program and its native ad networks boast 343 partners and 316 million page views. The program is known for creating valuable content that resonates well with Forbes' audience. Forbes also noted that the piece is branded content.
A recent example from the program is "Lasting Legacy: Key Strategies to Preserve Wealth," which appears in the format of a Forbes long-read article but is actually an ad by BNY Mellon Wealth Management.
Hennessy's Sponsored Content for Vanity Fair
At first glance, you might not realize this article was an ad because it looks like a typical Vanity Fair feature. However, at the top, you'll notice the "Sponsor Content" tag. This is a combined text and video feature about English race car driver Sir Malcolm Campbell, who was the first man to break the 300 miles per hour land speed record. Hennessy produced the video for its "Never Stop, Never Settle" campaign. Just like any other VF piece, the article is fun and interesting, which makes it an exceptional example of native advertising.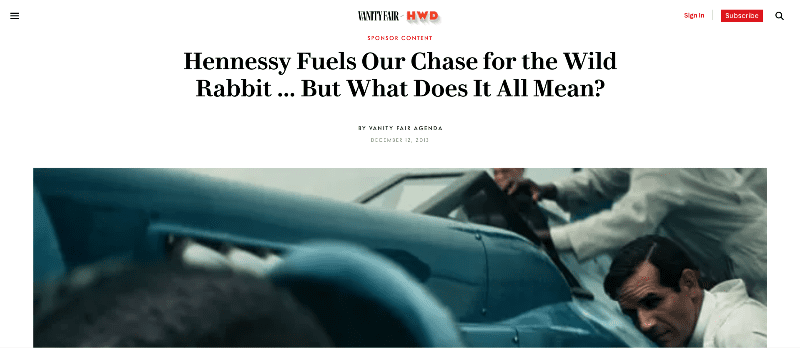 Worst Native Advertising Examples
Now, let's check out some of the worst examples of native advertising so you know what not to do for your own campaign.
The Atlantic's Scientology Ad
The Atlantic displayed an ad/article in 2013 titled "David Miscavige Leads Scientology to Milestone Year." Though the article was labeled "Sponsor Content," many readers took issue with the promotional piece for what many believe is a cult. The Atlantic quickly pulled the article and issued an apology, though it is still considered a classic native advertising mistake.
Now that you know what to look for, you can probably spot both great and terrible native advertising examples next time you're browsing the internet. Though many publishers have over time improved how they incorporate native advertising onto their websites, bad examples of native ads are still out there.
Try Native Advertising 
Native advertising can help bring your brand front and center. If you want to get started with a native campaign, but you don't want to end up on a list of bad examples of native ads, then trust the digital advertising professionals at SEO Design Chicago. We will help you create a native advertising campaign that works for your company! Our online advertising specialists specialize in creating content, including all different ad types. Whatever type of online ad you need, from videos ads or promoted listings or feed ads on social media to promote your products or services, we can help you.
FAQs: 
What is the definition of native advertising?
What is the difference between native advertising and content marketing?
Why is native advertising controversial?
What are the best examples of native advertising?
What are the worst examples of native advertising?